If you hate washing dishes, then you'll love these one-pot recipes! These recipes are easy to make and only require one pot, so there's minimal cleanup involved. Here are 12 yummy one-pot recipes that are perfect for people who hate washing dishes. Be sure to try them all!
Chicken Paprikash recipe
This Chicken Paprikash recipe is a delicious one-pan weeknight dinner meal that features perfectly browned chicken that's braised in a creamy, sour cream based paprika sauce. What's best is that you only need some pantry staples to make this at home and it's a total crowd-pleaser! This is one of our favorite dinner meals that's kids and husband approved! Get the recipe.
Eggplant Potato Stew Recipe
This thick and hearty Eggplant Potato Stew Recipe features chewy eggplants, tender potatoes, and aromatics full of flavor. Made with plenty of veggies in just under an hour, it's really wonderful stew. Get the recipe.
White Bean Mushroom Soup
This White Bean Mushroom Soup is super easy to make, comforting, and satisfying. Made with fresh vegetables and pantry staples, this is an easy soup packed with plant-based protein and lots of flavors. Get the recipe.
One Pot Chicken and Rice with Brussels Sprouts and Bacon
This baked chicken rice casserole is a hearty, filling and tasty, and something the whole family will love, especially during the cooler months. You will love this tasty rice recipe! Get the recipe.
Chicken Mushroom Stroganoff
This Chicken Mushroom Stroganoff is the perfect one-pot meal that'll be ready in under 30 minutes to give you a deliciously satisfying meal without having to slave away in the kitchen all day! It features chicken stroganoff, the chicken version of this incredibly popular East European dish that we've all come to know and love. Get the recipe.
Easy Beef and Potato Bake – One Pot Meal
This is a very easy beef and potato bake which uses tasty ingredients and is really filling! It's a one pot beef recipe with a layered potato topping, meaning you don't have to get a whole bunch of pots, pans and dishes dirty to make it. So if you're looking for ideas for dinner on a busy weeknight, here you go! Get the recipe.
Spicy Chickpea, Broccoli and Potato Vegan Sheet Pan Dinner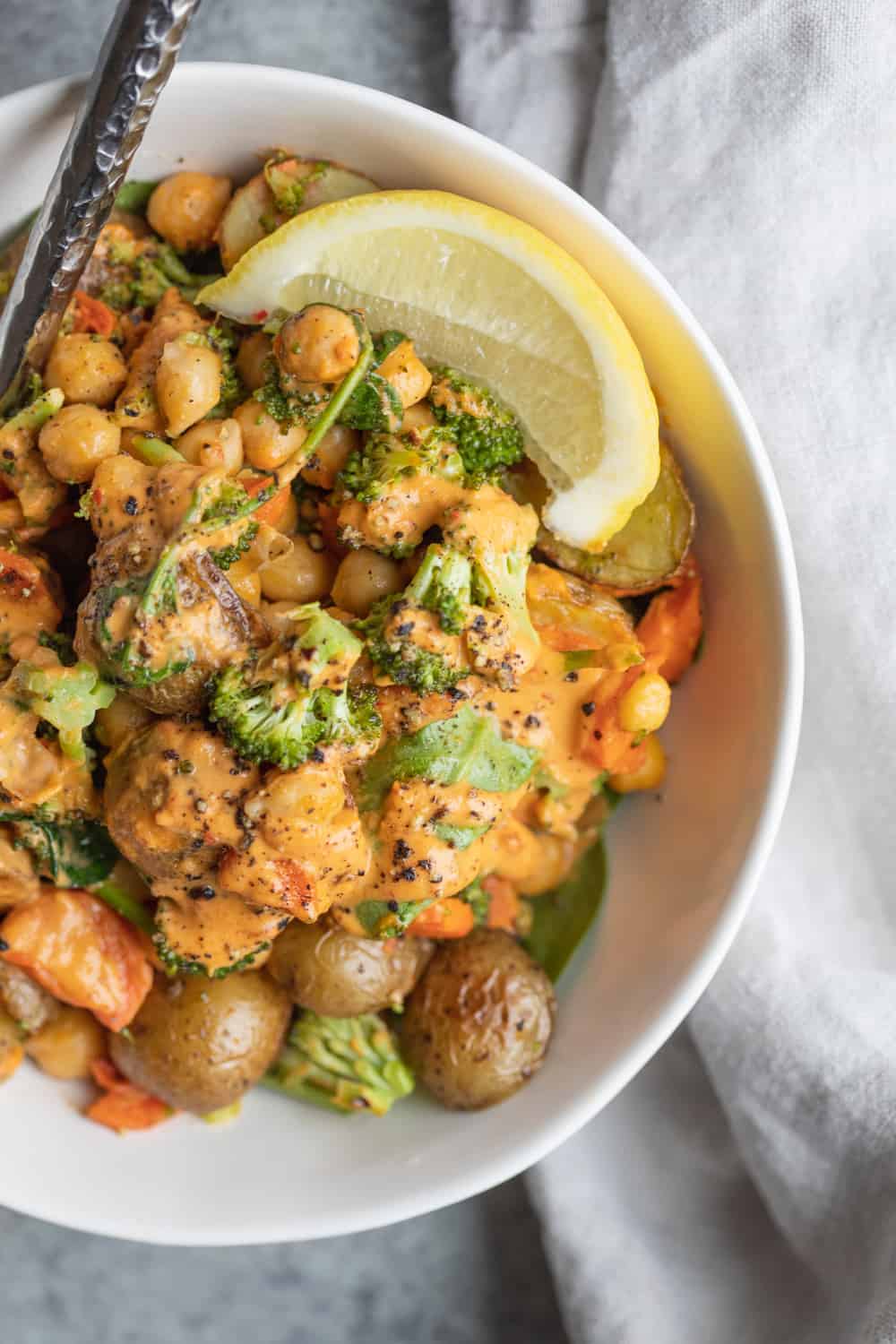 Looking for a healthy vegan sheet pan dinner recipe? Then you've gotta try this one! Roasted broccoli, potatoes and chickpeas with a spinach and a spicy harissa sauce on top. Get the recipe.
Oven Baked Pork Chops & Broccoli One Pan Meal (Easy)
If you are looking for a simple but tasty dinner, you'll love keto Oven Baked Pork Chops and Broccoli One Pan Meal. It's a super quick and delicious keto pork recipe that will become a family favorite everyone will love. Since it's a one-pan meal, clean-up is a snap, which is always a bonus. Get the recipe.
One Pot Creamy Tomato Tortellini Soup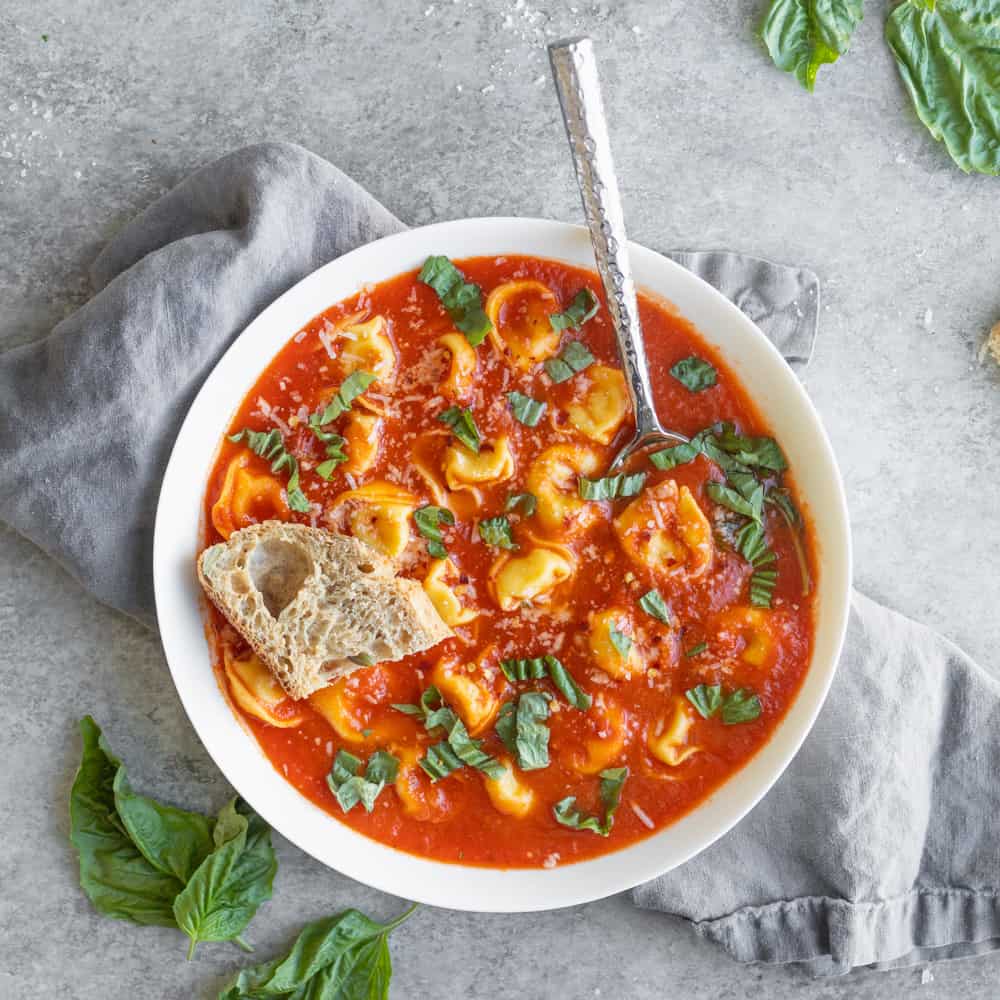 An easy weeknight one pot dinner idea, kid-friendly and delicious. Get the recipe.
One Pot Hummus Pasta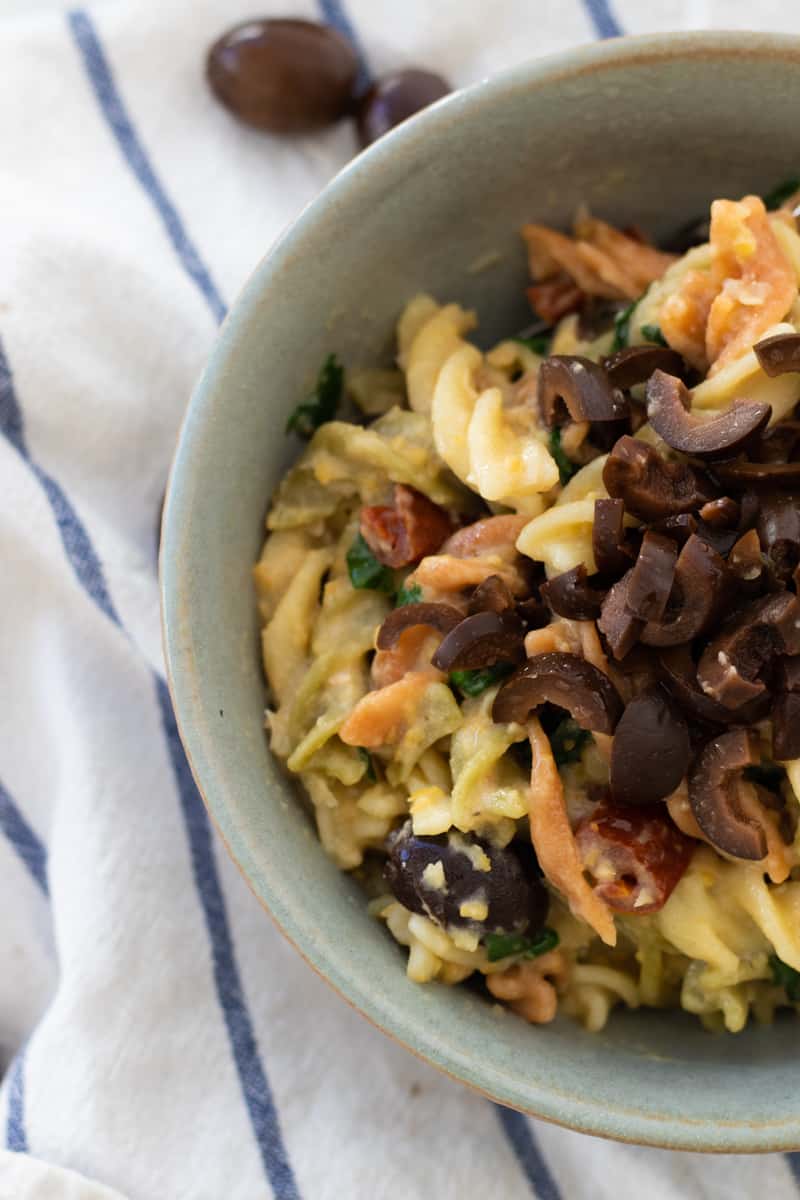 12 minutes, 5 ingredients and one pot - dinner doesn't get much easier than this! This super creamy hummus pasta is naturally vegan and nut-free and can be made with either homemade or store bought hummus. Get the recipe.
Garlic Mussels In Sour Cream Sauce
Ridiculously quick and easy recipe for dinner that requires just a handful of ingredients. These Garlic Mussels In Sour Cream Sauce are such a comforting seafood dish, perfect for those busy weeknights when you just don't feel like cooking. Get the recipe.
Butternut Squash Curry
This Thai Coconut Butternut Squash Curry recipe is the easiest one-pot curry packed with flavor and the ultimate comfort food! This dish is a beautiful blend of sweet butternut squash, hearty chunks of ham, and savory onions, all in a creamy, spicy curry sauce made with coconut milk and Thai red curry paste. Get the recipe.
More from Lavender & Macarons
Ready for a tasty adventure with cod fish? These 15 amazing recipes will introduce you to exciting flavors you haven't tasted before. 15 Fantastic Recipes With Cod Fish You Haven't Tried Yet
13 Dessert Recipes That Are So Good, They'll Never Guess You Didn't Make Them Yourself
Indulge in these 13 delectable dessert recipes that taste so amazing, nobody will suspect you didn't create them from scratch. 13 Dessert Recipes That Are So Good, They'll Never Guess You Didn't Make Them Yourself.
15 Noodle Recipes That Are So Good, You'll Want to Make Them All
Discover 15 amazing noodle recipes that taste so fantastic, you'll be excited to cook and enjoy every single one. 15 Noodle Recipes That Are So Good, You'll Want to Make Them All
27 Really Good Comfort Food Dishes You Need To Be Cooking All Year Long
Explore a collection of 27 truly satisfying comfort food dishes that are perfect to cook year-round. 27 Really Good Comfort Food Dishes You Need To Be Cooking All Year Long
13 Really Good Slow Cooker Recipes You Haven't Made Yet
Explore 13 fantastic slow cooker recipes that you haven't tried yet but are really delicious. 13 Really Good Slow Cooker Recipes You Haven't Made Yet