Looking to spread some culinary joy among your church family? We've got your back with 17 incredible potluck recipes that'll have everyone singing praises at the next gathering. Whether it's a Sunday feast or a midweek fellowship, these dishes are sure to bring people together around the table.
Sheet Pan Pancakes
Ham and pineapple have a natural affinity for one another and now you can make Ham with Pineapple that will be right at home on your Easter table because ham feeds a crowd! Get the recipe.
Chocolate Brownie Cookies
These Brownie Cookies are the tastiest ones you'll ever make, and what's best is that this recipe is incredibly easy and is also vegan! It's a healthy brownie cookie recipe that doesn't compromise on flavor at all! Get the recipe.
Ultimate Pasta Salad
Easy and fun Marinated Mushroom Pasta Salad With Green Olives is perfect for picnics or potlucks. Mushrooms make this pasta salad hearty and rich. They also stand up to the bold flavors of the dressing. Be sure to slice the mushrooms thin to make sure they absorb plenty of flavor from the marinade. Get the recipe.
Savory Potato Salad
This Potato Salad with cucumber and tomato in a garlicky yogurt sauce is all you need for potlucks, picnics, or BBQs. This simple salad is so easy to make and creamy and delicious. Get the recipe.
The Best Slow-Cooker Chili
So incredibly flavorful, rich, and hearty Crockpot Chili Recipe is easy to make and is delicious. Perfect soul food for potlucks or cozy dinner. Get the recipe.
Potato And Zucchini Casserole
Cheesy Potatoes And Zucchini Au Gratin is a simple recipe that requires little preparation and great rewards. Get the recipe for cheesy potatoes and zucchini au gratin here. It's an ultimate comfort food side dish for any occasion. Get the recipe.
Smashed Potatoes With Garlic-Dill Sauce
So easy and delicious, these Crispy Smashed Red Potatoes With Garlic And Dill are a comfort side dish that never disappoints. Made with just 4 simple ingredients, these crushed red potatoes are great for any occasion. Get the recipe.
Baked Zucchini With Tomatoes And Mozzarella
Baked Zucchini with Mozzarella and Tomatoes is a light and easy side dish and makes a perfect addition to your summer dinners. Get the recipe.
Pesto Orzo Salad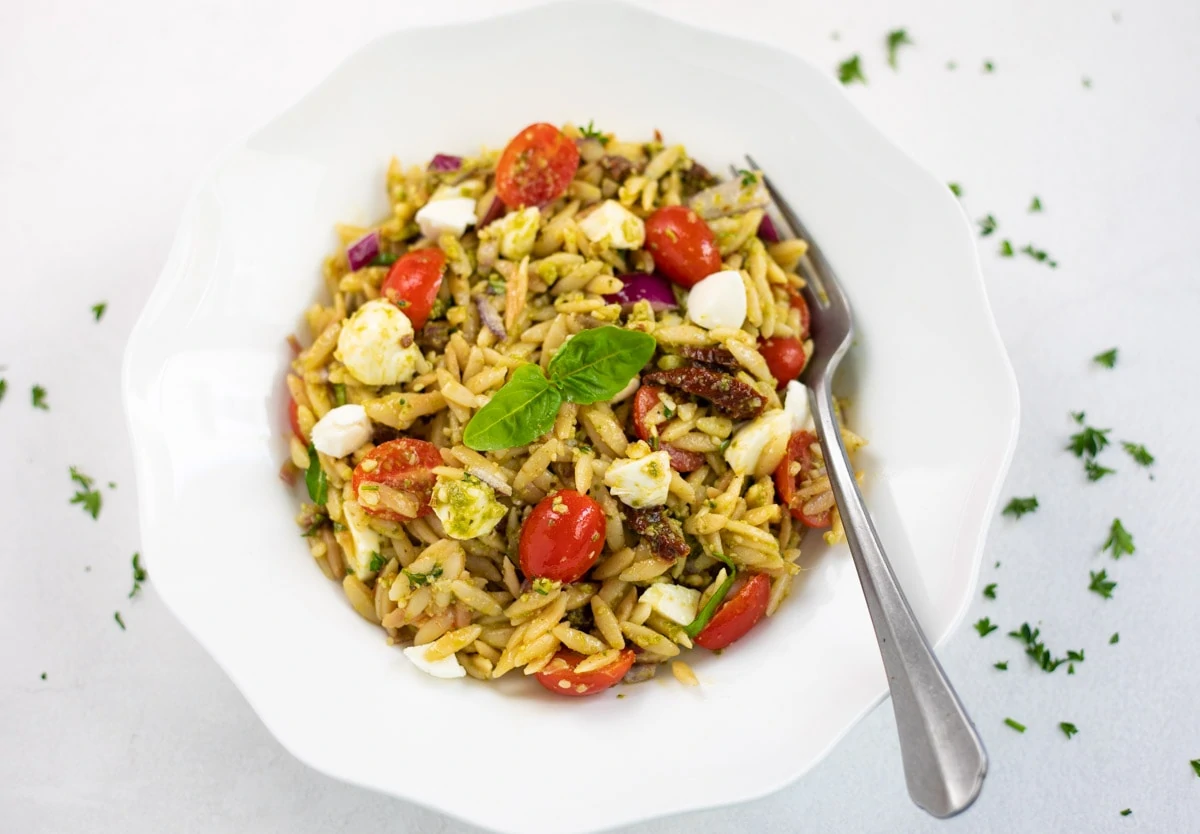 Sun-Dried tomatoes, basil leaves, and fresh mozzarella make this Pesto Orzo Salad a summer favorite. It's fresh, flavorful, and so easy to make! Perfect for a picnic, potluck, or weeknight meal. Get the recipe.
Fully Loaded Potato Skins
Potatoes are the perfect vehicle for various toppings, as this recipe for Fully Loaded Stuffed Potato Skins showcases. You can't go wrong with potatoes, bacon, cheese and all the fixings! Get the recipe.
20-Minute Spicy Korean-Style Salad
Crunchy and Spicy Korean Carrots Salad will win people over at potlucks, picnics, and as a unique side dish in any home. Made with fresh carrots, coriander, garlic, and oil, these Korean-style marinated carrots are easy, quick and always delicious! Ready in 20 minutes. Get the recipe.
Italian Cannellini Bean Salad
This Italian Cannellini Bean Salad is healthy, flavorful, and satisfying. Made with white beans, juicy roasted bell peppers, olives, marinated red onions, and dollops of cashew cheese, it's the perfect cold side dish or easy lunch. A good option for picnics, potluck, or work lunches too. Get the recipe.
Oven-Roasted Five Spice Peking Chicken
A cross between a roasted chicken & Peking duck, this Peking chicken recipe is for days when you have that craving for a Peking duck but chicken is all you have to work with. Get the recipe.
Easy Hawaiian Roll Meatball Sliders Recipe
One bite of this Hawaiian roll meatball sliders recipe and you'll be hooked! These baked meatball sliders feature layers of Hawaiian sweet rolls, juicy meatballs, marinara sauce, and mozzarella cheese for the cheesiest mini meatball subs that the whole family will love. Get the recipe.
Roasted Garlic Mashed Potatoes
A side dish that goes with everything. These Mashed Potatoes With Creme Fraiche And Roasted Garlic are creamy and so flavorful. Put this recipe in your cookbook, it's going to become your favorite mashed potato recipe ever! Get the recipe.
Tater Tot Casserole
Let's introduce a delicious, comfort food classic: Tater Tot Casserole. This dish is simple, yet rich in flavors, bringing together crispy tater tots, creamy condensed soup, and savory ground meat in one satisfying package. It's a convenient, budget-friendly option that serves as a perfect weeknight dinner. Get the recipe.
Apple Cake With Crispy Top
Super delicious and moist Apple Sponge Cake, also called Sharlotka will become your new favorite apple dessert. It's so easy to make, topped with a sweet and crispy almond layer that literally melts in your mouth. Give this decadent fall treat a try and it won't disappoint! Get the recipe.
More Recipes from Lavender & Macarons
13 One-Pot Dishes That Are So Easy to Make, You'll Wonder Why You Haven't Tried Them Before
5-Ingredient Desserts That Are So Good, You Won't Believe They're So Easy
12 One-Pot Fall Dinners That Are So Cozy and Comforting, You'll Never Want to Leave Your Kitchen
29 Comfort Food Dishes That Are So Good, You'll Never Want to Leave Your House on a Rainy Day