Plant-based diets are becoming increasingly popular, they are good for you and for the environment. But what about the taste? Are plant-based recipes really good? The answer is a resounding yes! There are plenty of delicious and easy plant-based recipes that are sure to keep you energized and satisfied, and will please everyone at the table. Try these 28 ones - really easy and delicious.
Easy Mushroom White Bean Soup
This White Bean Mushroom Soup is incredibly simple to prepare, satisfying, and soothing. This simple vegan soup is loaded with plant-based protein and a variety of flavors and is made with fresh veggies and pantry mainstays. Get the recipe.
Creamy Vegan Pad Thai
This Vegan Pad Thai dish combines the essence of Thai cuisine with plant-based goodness. This vibrant and satisfying recipe features tender rice noodles, crispy tofu, and a colorful array of fresh vegetables, all tossed in a luscious peanut sauce. Get the recipe.
Best Vegetable and Chickpea Curry
Clean out the freezer with this simple vegan curry recipe with chickpeas and coconut milk. Use any veggies you have, combine them with some savory spices and coconut milk, and presto! A delicious and nutritious plant-based meal ideal for busy days. Get the recipe.
30-Minute Stir-Fry Noodles
These Vegan Stir Fry Noodles are incredibly easy to make, packed with flavor, and the perfect recipe for busy weeknights! It features perfectly stir-fried veggies, tasty tofu, and delicious noodles coated in a simple, flavorful homemade stir-fry sauce! Get the recipe.
Turkish Lentil Soup
This traditional Turkish Lentil Soup also called Mercimek çorbası is a uniquely fragrant, cozy and satisfying soup perfect for chilly days. You can make it in no time and enjoy for lunch or hearty dinner. This soup is vegan and gluten-free. Get the recipe.
Hearty Potato and Eggplant Stew
This cozy and filling recipe for eggplant and potato stew includes tender potatoes, chewy eggplants, and flavorful aromatics. It's the best vegan stew, made with tons of vegetables in under an hour. Get the recipe.
Mashed Potato Pancakes
These Vegan Potato Patties are the perfect solution when you don't feel like spending hours in the kitchen. These simple savory pancakes are made from mashed potatoes and a few delectable ingredients, and they are crisp and golden. They work well as a side meal, vegan dinner, or even breakfast. Get the recipe.
The Best Vegan Chili
This Vegan Chili is sure to become a mainstay in your household with its spicy and hearty flavor. Pour it over some baked potatoes, top it with vegan cheese and sour cream, and it will transform itself into a cozy bowl of deliciousness. Get the recipe.
Thai Coconut Curry
This Thai Eggplant Red Curry is simple yet flavor packed meal perfect for meal prep or busy weeknights. Zucchini and tofu add richness and nutrients to this already healthy freezer-friendly dish. Made in one pot and ready in just 30 minutes. Get the recipe.
Easy Moroccan Slow Cooker Bean Stew
This Moroccan Slow Cooker Bean Stew is the ultimate comfort food full of flavor. Made with white Beans, tomatoes, and spices, this slow cooker recipe is sure to warm you up on a chilly night. Get the recipe.
Roasted Bell Pepper Pasta With Olive Gremolata
This Bell Pepper Pasta features easy-roasted sweet red pepper sauce tossed with Fettuccine and a simple Olive Gremolata. It's a super quick and satisfying recipe that you can make on a whim. Perfect for lunch or late dinner. Get the recipe.
Mushroom Stroganoff
This creamy and one-pot Vegan Mushroom Stroganoff is as easy to make as it is delicious to eat. It's the ultimate comfort dish that gets along nicely with mashed potatoes, rice, or pasta. What's even better? It's easy to make with everyday ingredients. Get the recipe.
Vegan Shawarma
Vegan shawarma with fresh vegetables and homemade garlic yogurt sauce is a real crowd-pleaser. This traditional Middle Eastern recipe is quick, easy, and perfect for dinner or a party. Get the recipe.
Savory Mushroom Risotto
This is the BEST Creamy Vegan Mushroom Risotto. It's uniquely flavorful, rich, and indulgent. Ready in just 30 minutes, this easy, gluten-free risotto is a perfect choice for a date night or family dinner. Get the recipe.
15-Min Cashew Alfredo Sauce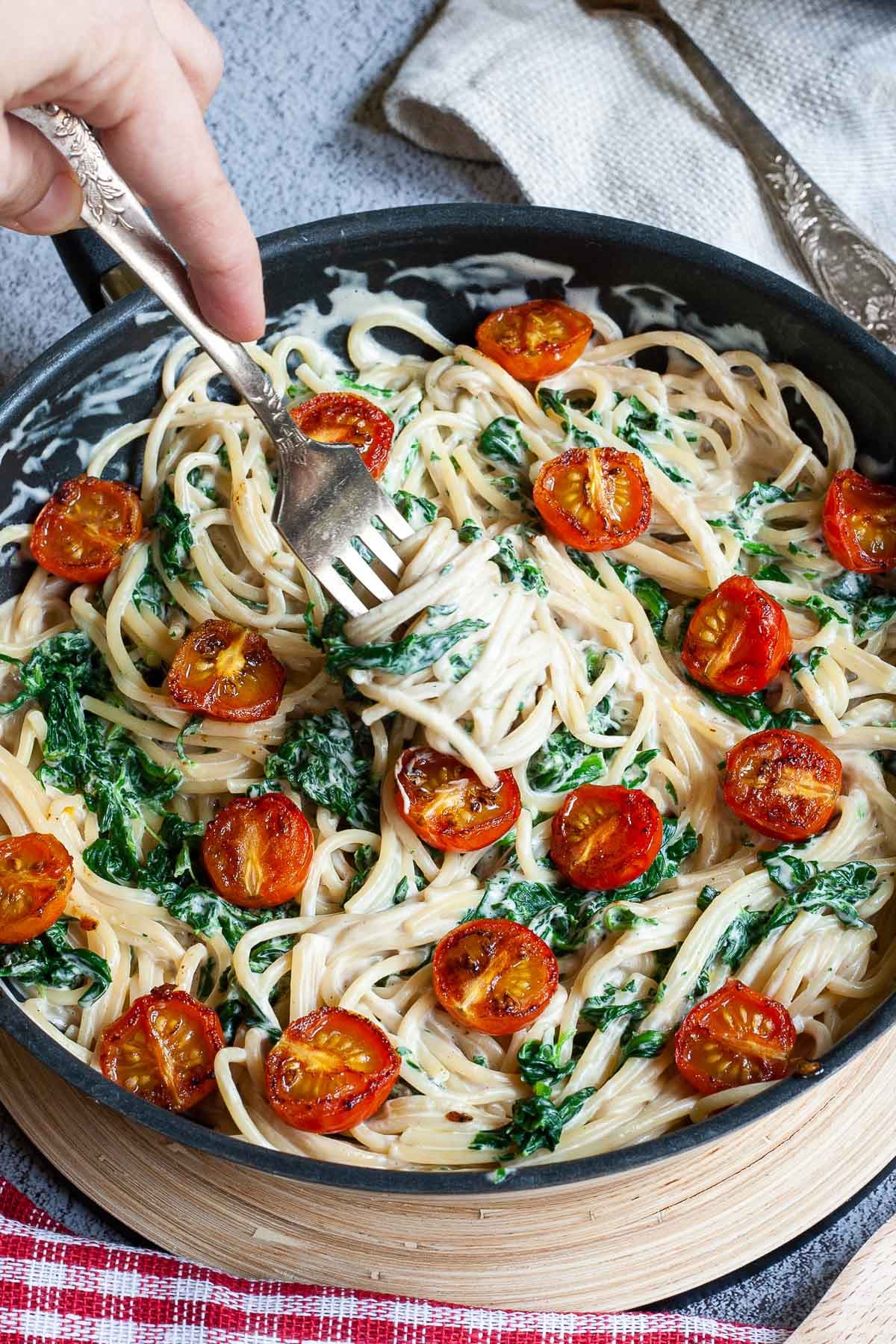 If you are looking for the easiest vegan alfredo sauce recipe, look no further. Our recipe needs only 5 ingredients, not to mention it is absolutely creamy, delicious, and ready in 15 minutes since no cooking is involved. We even included 10+ creative recipes to use this cashew alfredo. Get the recipe.
Baked and Stuffed Potatoes
This Healthy Vegan Baked Potato is stuffed with the tastiest vegetables like spinach and mushrooms. It's easy, healthy, and makes the ultimate comfort food. This Healthy Loaded Vegan Baked Potato is perfect for any occasion. Get the recipe.
Pumpkin and Zucchini Fritters
These vegan Pumpkin And Zucchini Fritters are super easy, ready in just 30 minutes, and perfect for lunch or dinner. Your family will love these savory patties. Get the recipe.
Instant Pot Chana Masala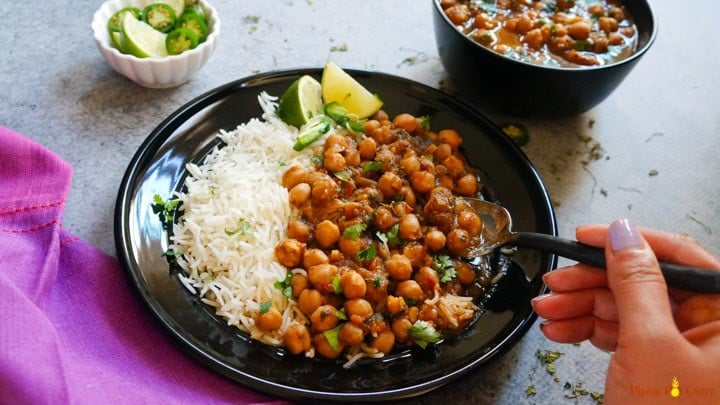 Punjabi Chole Masala or Chana Masala is an Indian favorite chickpea curry. This one-pot recipe for the authentic Chana Masala can be made in the Instant Pot or stovetop Pressure Cooker. A healthy protein-rich vegan and gluten-free chickpea recipe. Get the recipe.
Creamy Polenta With Roasted Mushrooms
This 30-minute Vegan Polenta Recipe gets its unique flavor from an umami-packed Miso Paste. Served with quick vegan sautéed mushrooms, this dairy-free polenta is SO creamy and perfect for busy days. It's healthy, comforting, and easy to make. Get the recipe.
Miso Pesto Pasta
This 30-minute Creamy Miso Pesto Pasta with Pecans is simply the best. Packed with a savory white Miso paste, garlic, and crunchy pecan, this easy vegan pasta makes a perfect recipe for busy weeknights. Get the recipe.
Instant Pot Vegetable Biryani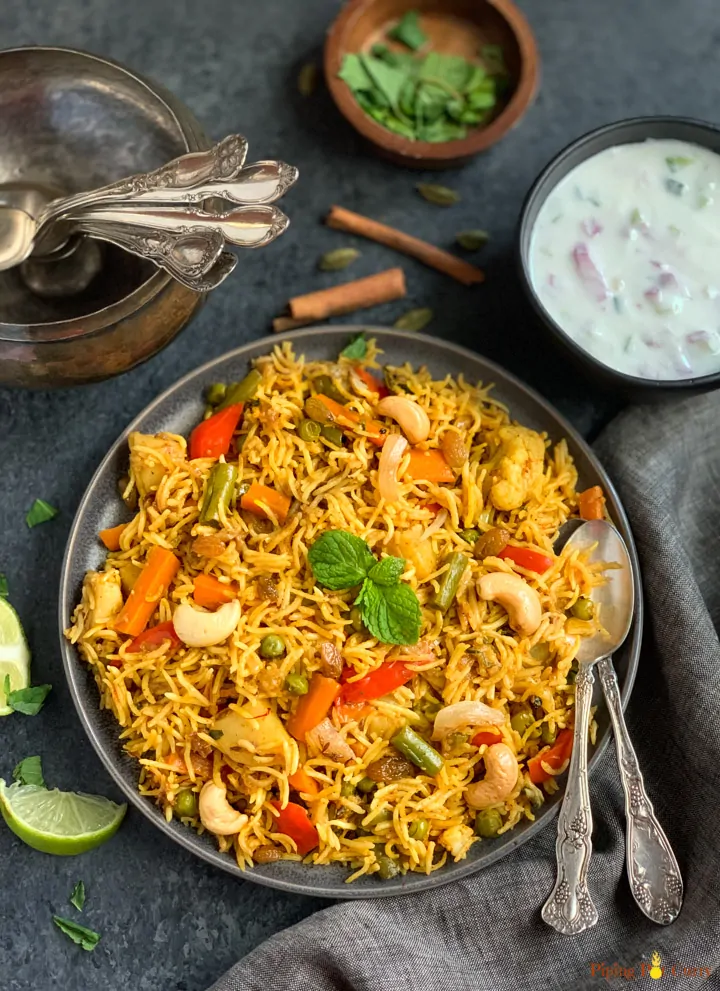 One-pot Vegetable Biryani made in the instant pot, is so easy to cook with the same authentic flavors! Fragrant basmati rice cooked with lots of vegetables, and aromatic whole spices and herbs. This delicious flavorful Veg Biryani ready in less than 40 minutes, and is perfect for a weeknight dinner with a side of raita or for special occasions. Get the recipe.
Broccoli And Mushroom Salad
This Broccoli And Mushroom Salad Recipe features some of my favorite ingredients. Shiitake mushrooms, fresh crunchy broccoli, Kalamata olives, and amazing red onion vinaigrette. So healthy, clean, and perfect for a light dinner or a colorful side. Get the recipe.
Creamy Tomato Risotto
Creamy Vegan Tomato Risotto is a simple yet super flavorful recipe that is sure to become a family's favorite. Get the recipe.
Zoodles & Tofu with Garlicky Peanut Sauce
This meatless dish is hardy enough for dinner but we like it for lunch, too. It's like your favorite peanut noodle dish from the local Chinese restaurant only made with vegetable "zoodles". Get the recipe.
Easy Lemon Pepper Pasta with Asparagus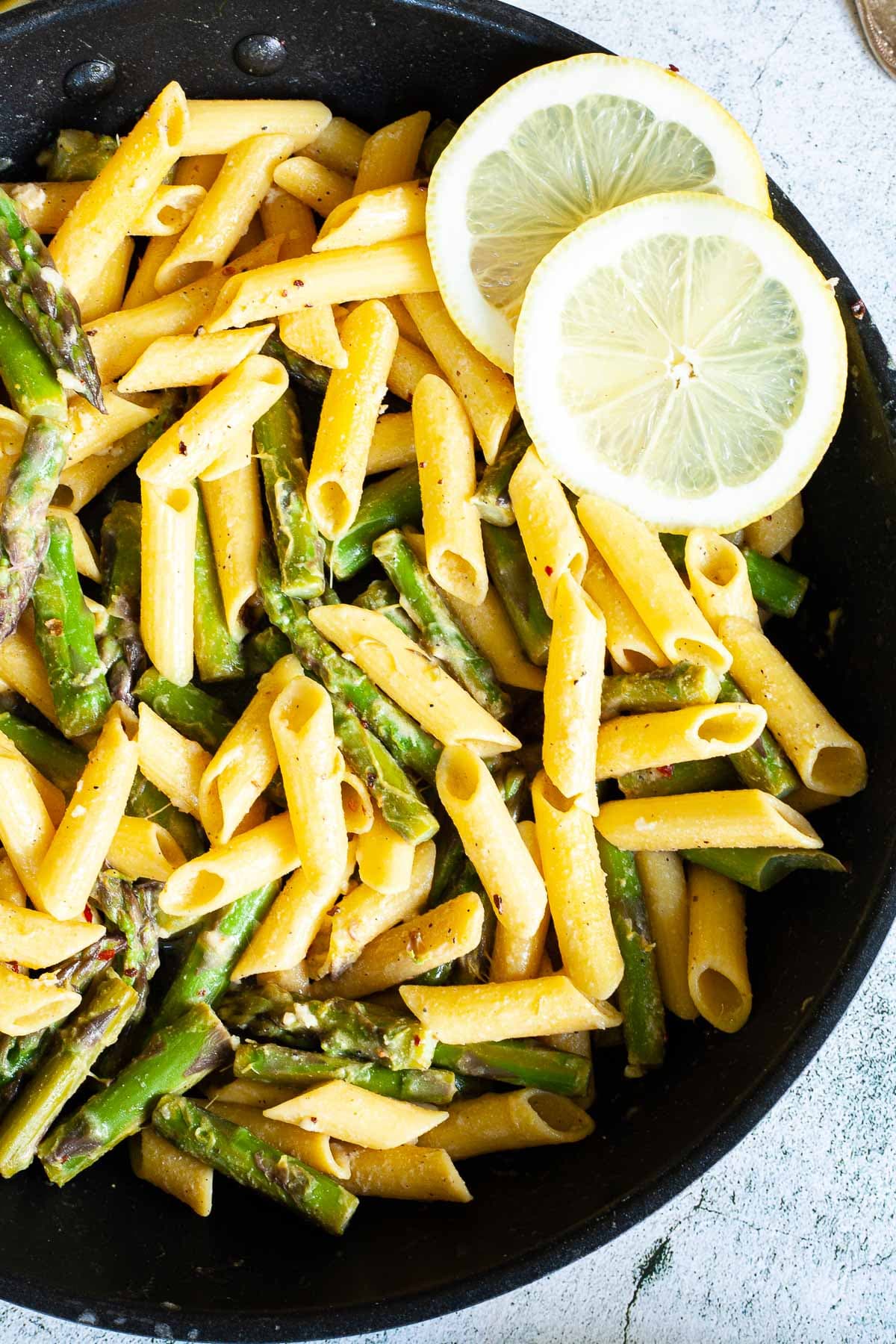 One of the easiest pasta you can make is this lemon pepper pasta. It is laughingly simple and quick to make. You only need 5 ingredients and 15 minutes. We love to enjoy this refreshing pasta recipe with some green veggies. Our favorite version is this asparagus lemon pasta. Get the recipe.
Tofu Shepherd's Pie
This Easy Vegan Shepherd's Pie With Tofu is a hearty and delicious dinner recipe made with pantry ingredients. Simple, easily oil-free and gluten-free. Get the recipe.
Black Bean Soft Tacos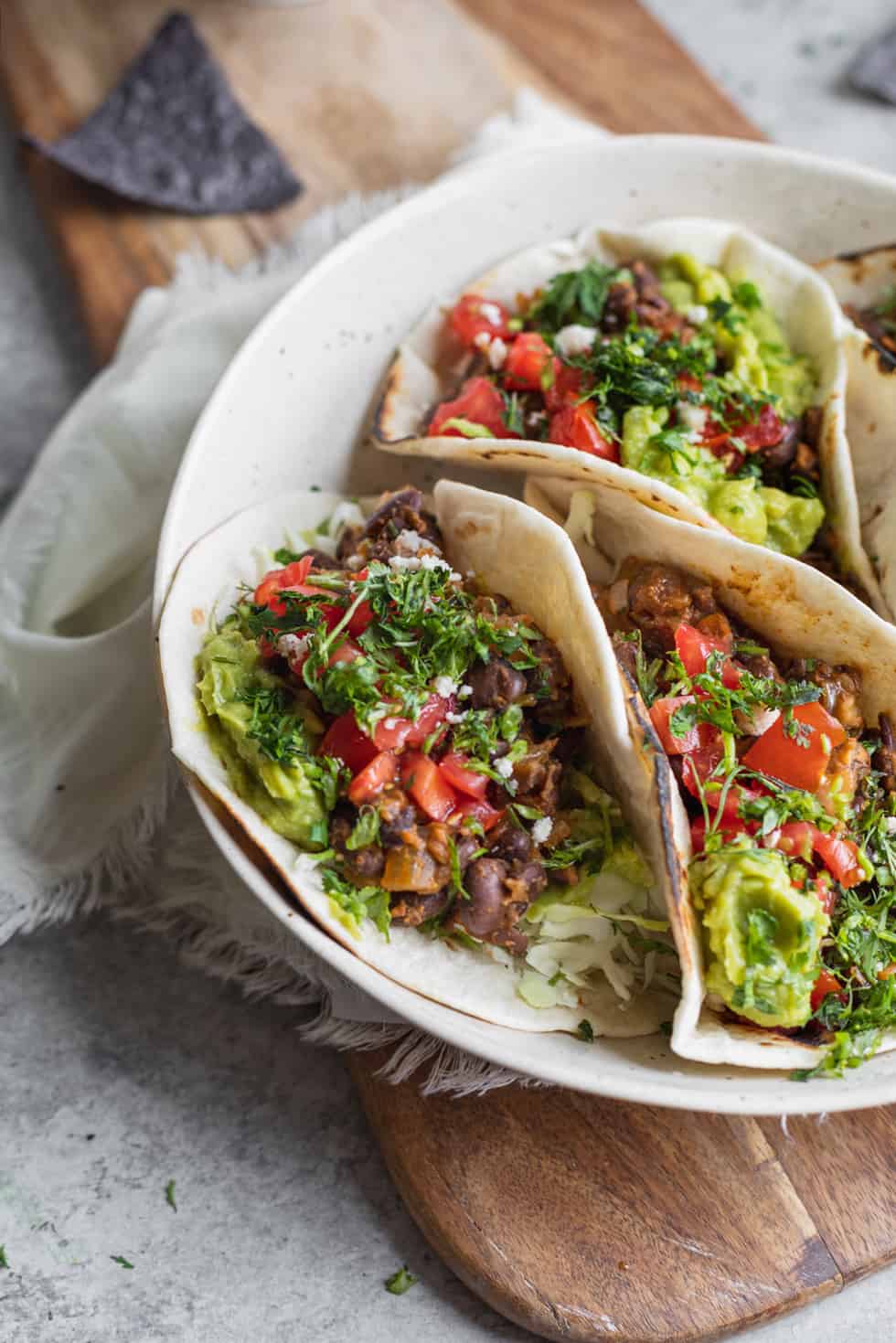 Craving some hearty and tender black bean soft tacos? These tacos are full of fiber and protein and come together in about ten minutes. Fresh flavors of tomato and onion are mixed with warm spices such as chili powder and cumin to make these tacos as flavorful as possible. Get the recipe.
Crispy Rice Paper Spring Rolls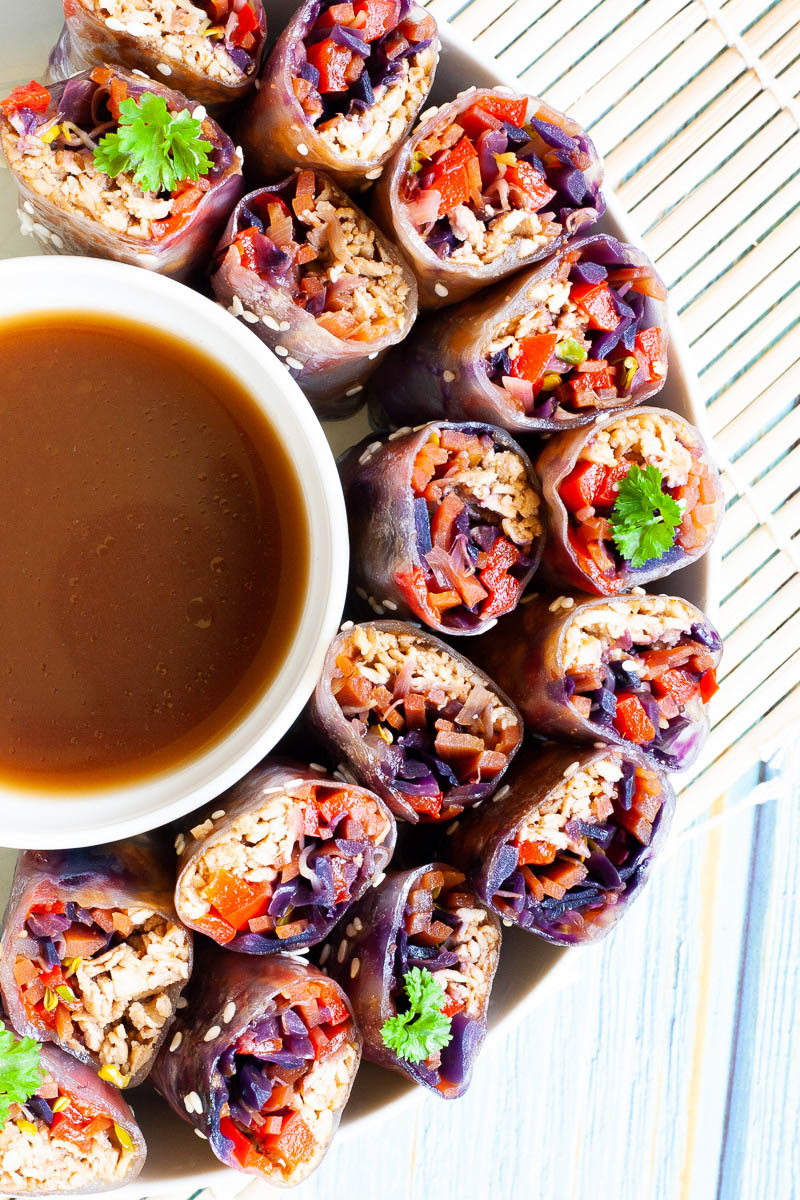 These rice paper spring rolls are the best Chinese spring rolls using rice paper instead of classic spring roll wrappers. These crispy, savory rolls have a colorful, pre-cooked veggie filling (with julienne carrots, red cabbage, scallion, and bean sprouts) as well as marinated shredded tofu. Get the recipe.
More from Lavender & Macarons
All of these recipes are easy to follow and can be made at home with relatively simple ingredients. Bring the European Cafe to Your Kitchen With These 28 Amazing Recipes
A Taste of France: 17 Delicious Desserts That Are Worth Making At Home
France is known for its delicious food, and its desserts are no exception. From the traditional chocolate eclairs to the delicate creme brûlée, there's something for everyone in French pâtisserie. A Taste of France: 17 Delicious Desserts That Are Worth Making At Home
17 Salad Recipes That Will Change Your Mind About Salad
Salads get a bad rap. They're often seen as boring and bland, or as something you only eat when you're trying to be healthy. But that's not the case! Salads can be incredibly delicious and satisfying, and they're a great way to get your daily dose of fruits, vegetables, and whole grains. 17 Salad Recipes That Will Change Your Mind About Salad
17 Ways to Cook Broccoli That You'll Actually Enjoy
Find out how to make broccoli delicious in 17 different ways. These fantastic recipes will make you actually enjoy eating this healthy vegetable! 17 Ways to Cook Broccoli That You'll Actually Enjoy
17 Fantastic & Easy Seafood Recipes Everyone Needs To Try At Least Once
Indulge in the freshest seafood dishes with these 17 easy and delicious recipes. This blog post features a variety of seafood recipes that are perfect for any occasion, from risotto to baked salmon. 17 Fantastic & Easy Seafood Recipes Everyone Needs To Try At Least Once