Pancakes are not just a breakfast item, but a classic that people of all ages love. But why settle for boring old pancakes when you can make them even better? Get 14 pancake recipes that are so good you'll have to make more, so that there is enough for everyone.
Cassava Crepes
These Cassava Flour Crepes are thin, light and delicious crepes made without dairy, eggs, refined sugar or grains. This 30-minute recipe is a wonderful choice for a cozy Sunday breakfast, brunch or even dessert. Stuff them with jam, berries or even hummus for a healthy savory wrap. Cassava Flour Crepes.
Zucchini Pumpkin Pancakes
These vegan Pumpkin And Zucchini Fritters are super easy, ready in just 30 minutes and perfect for autumn lunch or dinner. Your family will love these savory patties. Pumpkin And Zucchini Fritters.
Lacy Moroccan Pancakes
Baghrir are spongy Moroccan semolina pancakes that are perfect for soaking up some topping for a cozy weekend breakfast or brunch. They're uniquely spongy, lacy and easy to make! Moroccan semolina pancakes.
Fluffy Apple Pancakes
People can't get enough of fluffy interior and crispy edges of these "Oladi" pancakes. Cozy, sweet and so delicious, these homemade Ukrainian pancakes are a staple on a weekend breakfast menu. The recipe is so easy to make and it will sure become a family's favorite. Fluffy Apple Pancakes.
Oat Banana Pancakes
These banana pancakes are super easy to make and give you the lightest and fluffiest pancakes ever! Plus, they have a delicious banana flavor you'll love! Oat Banana Pancakes.
Thin Cassava Pancakes
These Paleo Cassava Flour Pancakes are a perfect recipe for when you want a simple but healthy breakfast without having to use many ingredients. Cassava Pancakes.
Cottage Cheese Pancakes
Healthy Cottage Cheese Pancakes are fluffy on the inside and slightly crispy on the outside. These delicious Ukrainian fried Cottage Cheese Patties will soon become your new favorite breakfast or even dessert. Super easy to make (under 30 minutes) and so good! Cottage Cheese Pancakes.
Mashed Potato Pancakes
When you don't feel like spending hours cooking, these Potato Pancakes are just the answer. Crisp and golden, these easy savory pancakes are made from mashed potatoes and a few delicious additions. They're good for a vegan breakfast, side dish, or even dinner. Potato Pancakes.
Quinoa Pancakes With Feta
You'll love these Mediterranean Style Quinoa Patties with Zucchini and Feta Cheese. They are crispy, delicious and easy to make.
Cook quinoa the night before or in the morning and finish the patties just before lunch or dinner and you'll have a complete meatless meal that is full of healthy goodness. Quinoa Patties with Zucchini and Feta Cheese.
Beet And Zucchini Pancakes
Whatever you call these mini vegetable pancakes, there is no denial, - they taste great and always go fast. Beet And Zucchini Pancakes.
Swiss Potato Rosti
Call it a giant potato pancake, latkes or potato pie, one thing is for sure. This Swiss rosti is the potato side dish taken up a notch. Grated potatoes are mixed with shredded Parmesan cheese and fresh thyme and layered with a pungent goat cheese. Baked until crispy perfection and devoured in no time. Swiss Potato Rosti.
Scallion Pancakes
Scallion Pancakes are easy to make, with readily available ingredients. Enjoy these toothsome, savory Chinese restaurant specialties at home with a tangy, sweet/hot dipping sauce. Serve as a starter or alongside a protein for a meal. Scallion Pancakes.
Oatmeal Dutch Baby Pancake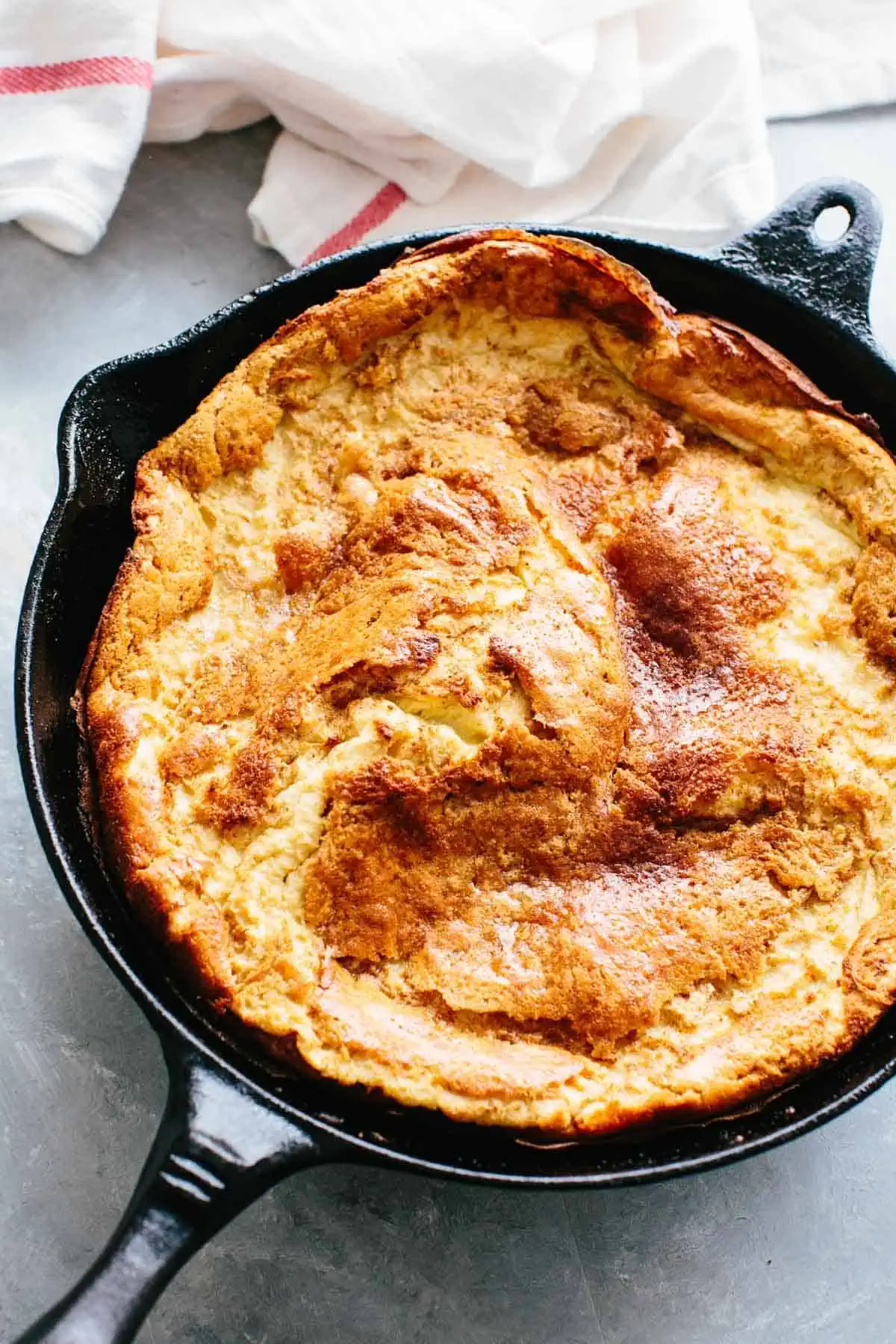 This Oatmeal Dutch Baby Pancake is an easy-to-make, healthy breakfast recipe that takes minutes to prepare and can be adapted in a number of different ways. Oatmeal Dutch Baby Pancake.
Lemon Pancakes
Fluffy, lemon pancakes topped with candied maple bacon with a cinnamon condensed milk drizzle! Dessert or breakfast? You decide! Lemon Pancakes.
More from Lavender & Macarons
All of these recipes are easy to follow and can be made at home with relatively simple ingredients. Bring the European Cafe to Your Kitchen With These 28 Amazing Recipes
A Taste of France: 17 Delicious Desserts That Are Worth Making At Home
France is known for its delicious food, and its desserts are no exception. From the traditional chocolate eclairs to the delicate creme brûlée, there's something for everyone in French pâtisserie. A Taste of France: 17 Delicious Desserts That Are Worth Making At Home
17 Salad Recipes That Will Change Your Mind About Salad
Salads get a bad rap. They're often seen as boring and bland, or as something you only eat when you're trying to be healthy. But that's not the case! Salads can be incredibly delicious and satisfying, and they're a great way to get your daily dose of fruits, vegetables, and whole grains. 17 Salad Recipes That Will Change Your Mind About Salad
17 Ways to Cook Broccoli That You'll Actually Enjoy
Find out how to make broccoli delicious in 17 different ways. These fantastic recipes will make you actually enjoy eating this healthy vegetable! 17 Ways to Cook Broccoli That You'll Actually Enjoy
17 Fantastic & Easy Seafood Recipes Everyone Needs To Try At Least Once
Indulge in the freshest seafood dishes with these 17 easy and delicious recipes. This blog post features a variety of seafood recipes that are perfect for any occasion, from risotto to baked salmon. 17 Fantastic & Easy Seafood Recipes Everyone Needs To Try At Least Once