Almond paste and almond flour are two unique ingredients that can be used to create a variety of delicious desserts. From classic French pastries to modern fusion creations, there's something for everyone to enjoy.
Explore 12 unique desserts with almond paste or flour that you wish you've tried a whole lot sooner:
Almond Flour Cookies
These Almond Flour Cookies are flavorful and delicious. Made with just 5 ingredients, these cookies with ripe banana and maple syrup are sure to become your new favorite healthy snack. Get the recipe.
Dutch Almond Pastry (Banketstaaf)
Banketstaaf is an amazingly simple Dutch almond pastry that takes only 10 minutes to assemble. The oven will do the rest of the work.
Flaky puff pastry is stuffed with a mixture of sweet almond paste and orange zest, rolled into a log, and baked until crispy perfection. It's an easy and delicious Dutch Christmas food made in no time. Get the recipe.
Hausfreunde Cookies with Caramelized Cashews
Layers of crispy shortcrust pastry are slathered with apricot jam and covered with sweet almond paste. Dipped in rich dark chocolate and garnished with caramelised cashews. These cookies are a crowd-pleaser and sure to delight your family and friends over the holidays. Get the recipe.
Chocolate Ladoo (Chocolate Almond Truffles)
These Chocolate Ladoos made with almond flour, condensed milk and cocoa are sure to satisfy your cravings for Indian sweets! They take only 20 minutes to make, and can be served as a festive dessert for special occasions, or just a quick weekday treat. Get the recipe.
German Christmas Cake (Stollen)
Christmas is right around the corner and it's about time to bake traditional German Christmas Cake - Stollen. Packed with a delicious mixture of dried and candied fruits, almonds and marzipan, this decadent cake is a true Christmas treat. Get the recipe.
German Almond Horns (Mandelhörnchen)
I make this German almond horns recipe every year for Christmas. For me, these Christmas cookies have a personal history. Wonderful memories I love to relive each year, of my time living in Germany. Get the recipe.
Almond Dacquoise Recipe
Dacquoise is a classic French dessert that features super delicate layers of almond meringue, filled with mascarpone whipped cream, and fresh berries. It looks stunning and is a great sophisticated dessert without all the hassle, and my recipe is an incredibly easy one that even first-time bakers can try. Get the recipe.
Italian Pignoli Cookies
Gluten free Italian pignoli cookies, also known as Amaretti con Pignoli, are perfect for Christmas. You might like to add these wonderful Italian almond and pine nut cookies to your easy gluten free baking list for the holidays. You only need 5 ingredients to make the best Italian Christmas cookies too. Get the recipe.
Almond Flour Blueberry Muffins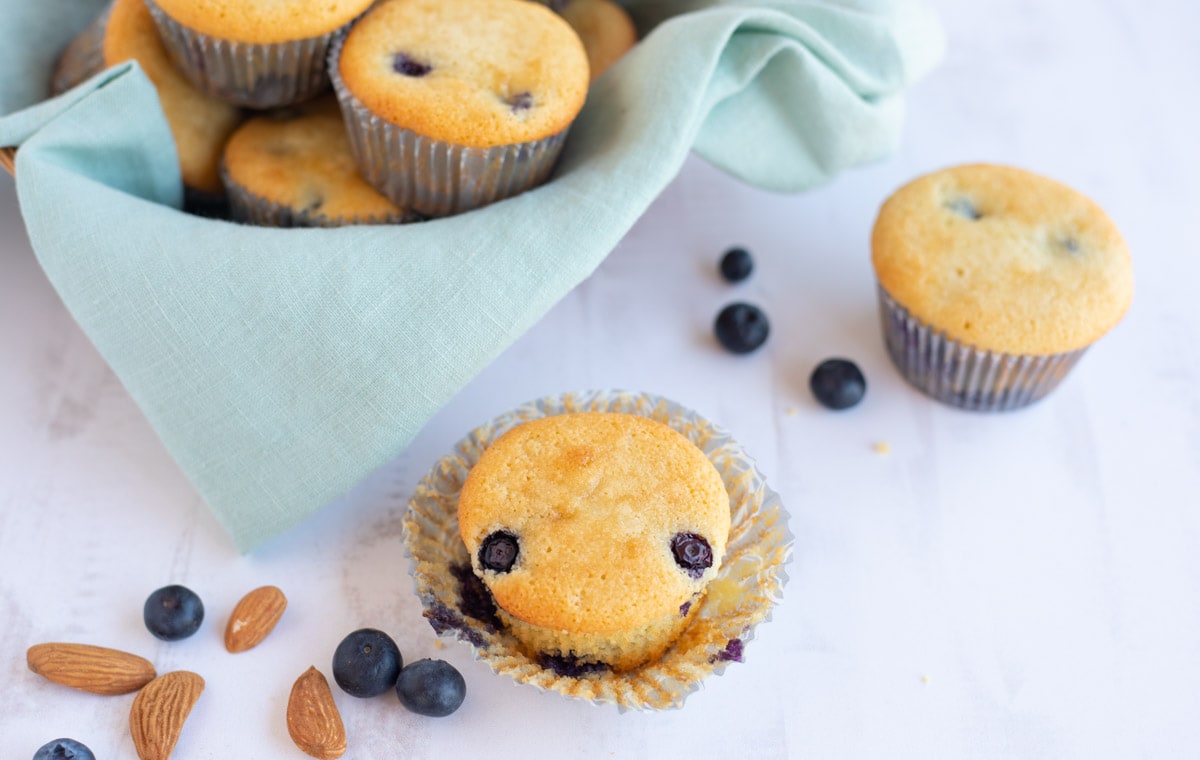 These Almond Flour Blueberry Muffins are so moist and delicious. These gluten-free muffins are also high protein and low carb, which makes them perfect for a healthy grab-and-go breakfast or snack. Get the recipe.
Apple Almond Shortbread Bars
These Apple Almond Shortbread Bars are intensely buttery, not too sweet and loaded with apples. This recipe is super easy and perfect for fall! Get the recipe.
Almond Flour Brownies
These almond flour brownies are rich, fudgy and chocolatey similar to traditional brownies. Made with simple ingredients, this easy paleo brownie are a crowd pleaser! Get the recipe.
Vanilla Almond Tea Cake
Everyone needs an easy and pretty vanilla cake in his or her repertoire. This Vanilla Almond Tea Cake is buttery and just sweet enough; no frosting or glaze needed. Get the recipe.
More from Lavender & Macarons
Ready for a tasty adventure with cod fish? These 15 amazing recipes will introduce you to exciting flavors you haven't tasted before. 15 Fantastic Recipes With Cod Fish You Haven't Tried Yet
13 Dessert Recipes That Are So Good, They'll Never Guess You Didn't Make Them Yourself
Indulge in these 13 delectable dessert recipes that taste so amazing, nobody will suspect you didn't create them from scratch. 13 Dessert Recipes That Are So Good, They'll Never Guess You Didn't Make Them Yourself.
15 Noodle Recipes That Are So Good, You'll Want to Make Them All
Discover 15 amazing noodle recipes that taste so fantastic, you'll be excited to cook and enjoy every single one. 15 Noodle Recipes That Are So Good, You'll Want to Make Them All
27 Really Good Comfort Food Dishes You Need To Be Cooking All Year Long
Explore a collection of 27 truly satisfying comfort food dishes that are perfect to cook year-round. 27 Really Good Comfort Food Dishes You Need To Be Cooking All Year Long
13 Really Good Slow Cooker Recipes You Haven't Made Yet
Explore 13 fantastic slow cooker recipes that you haven't tried yet but are really delicious. 13 Really Good Slow Cooker Recipes You Haven't Made Yet