Explore the delicious flavors of Ukraine with our collection of 14 easy-to-make recipes that you can enjoy at home. From traditional dishes to mouthwatering desserts, these Ukrainian recipes will transport your taste buds to a culinary adventure. Discover the joy of cooking Ukrainian cuisine and savor the authentic tastes in your own kitchen!
Pork And Vegetable Stew
Easy to prepare One Pot Pork Vegetable Stew is a delicious and comforting weeknight meal your family will enjoy. Get the recipe.
Ukrainian Red Borscht
Discover all you need to know about preparing the classic Ukrainian dish, Borscht. This nutritious recipe is a hit with picky children and packs a punch of taste. Get the recipe.
Cottage Cheese Pancakes
Healthy Cottage Cheese Pancakes are fluffy on the inside and slightly crispy on the outside. These delicious Ukrainian fried Cottage Cheese Patties will soon become your new favorite breakfast or even dessert. Super easy to make (under 30 minutes) and so good! Get the recipe.
Green Borscht
This Green Borscht is a classic Ukrainian recipe your whole family will enjoy. Prepare to indulge in the unexpected flavors. This delicious soup is ready to be served in 30 minutes. Get the recipe.
Oladky (Fluffy Pancakes)
People can't get enough of the fluffy interior and crispy edges of these "Oladky" pancakes. Cozy, sweet and so delicious, these homemade Ukrainian pancakes are a staple on a weekend breakfast menu. The recipe is so easy to make and it will surely become a family's favorite. Get the recipe.
Buzhenina (Pork Roast)
There's so much flavor in this JUICY and flavorful Buzhenina (Herb Roasted Pork Tenderloin). It hardly takes any effort to make and is perfect for dinner or holidays. Classic Ukrainian recipe uses 4 ingredients and never disappoints. Get the recipe.
Vinegret (Beet, Potato, and Pickle Salad)
The Vinegret Salad offers a delectable and more wholesome option compared to the American Potato Salad. This dish combines cooked beets, potatoes, and carrots with zesty dill pickles and fresh green peas. It is a classic recipe that bursts with flavor and makes an excellent choice as a side dish or for dinner. Get the recipe.
Chicken Kiev
Tender chicken fillet is stuffed with herbed butter, double breaded, and cooked to crispy perfection. It's a true comfort food on a plate. Get the recipe.
Garlic Mussels
A quick and easy recipe for dinner requires just a handful of ingredients. These Garlic Mussels In Sour Cream Sauce are such a comforting seafood dish, perfect for those busy weeknights when you just don't feel like cooking. Get the recipe.
Slow-Cooker Borscht
It's a Slow Cooker Borscht time. Classic Ukrainian Beet Soup doesn't need a special introduction. It's vibrant, hearty, healthy and absolutely delicious! No wonder, it's on a weekly menu of every Ukrainian homemaker. Get the recipe.
Potato And Mushroom Varenyky
These Vegan Pierogies are an ultimate Eastern European recipe that everyone loves. Made with just 6 ingredients, these potato and mushroom dumplings are sure to satisfy your comfort food craving. Get the recipe.
Fried Potatoes and Mushrooms
This Fried Chanterelle Mushrooms And Potatoes Recipe is an easy and delicious comfort food that never fails! Made in one pan and with just 5 ingredients, this cozy and flavorful dish is sure to become a hit. Get the recipe.
Instant Pot Buckwheat Kasha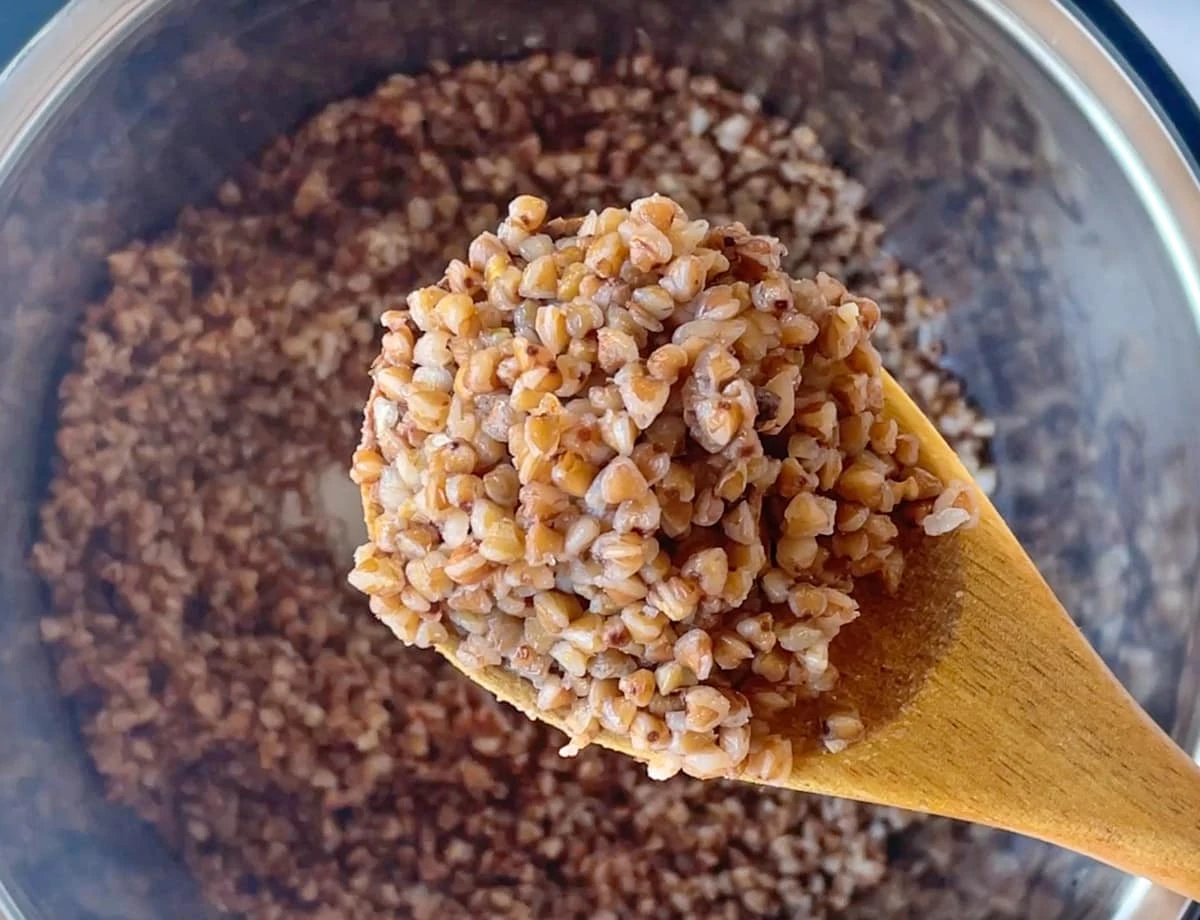 Buckwheat is a nutritious, gluten-free seed with a nutty flavor. It can be used in a variety of dishes including salads and soups, or enjoyed as a side dish. Learn how to cook buckwheat perfectly in the instant pot with this easy recipe. Get the recipe.
Baked Apples
Traditional Ukrainian recipe, these Healthy Baked Apples are made using pantry ingredients. Simple and so good! Great for a healthy breakfast or even dessert. Get the recipe.
More Articles from Lavender & Macarons
Easy, quick, and delicious. 15 Amazing 5-Ingredient Recipes That Are So Good, You'll Never Cook Anything Else Again!
12 Really Delicious Breakfast Ideas You'll Regret Not Trying Sooner
Hurry to the kitchen! 12 Really Delicious Breakfast Ideas You'll Regret Not Trying Sooner.
15 Pasta Recipes That Are So Good, You'll Never Cook Anything Else Again!
These pasta recipes won't let you down. 15 Pasta Recipes That Are So Good, You'll Never Cook Anything Else Again!
20 Delicious Recipes Worth Doubling Up As They Make Even Better Leftovers
Leftovers never tasted that good. 20 Delicious Recipes Worth Doubling Up As They Make Even Better Leftovers
25+ Unique New Recipes That Will Make You The Best Cook On The Block
Your guests will ask for seconds. 25+ Unique New Recipes That Will Make You The Best Cook On The Block