Chicken is a versatile protein that can be transformed into a fantastic meal in many different ways. From simple weeknight dinners to elaborate feasts, chicken is always a crowd-pleaser.
Here are a few unique ideas for making chicken into a fantastic meal.
Grilled Chicken Souvlaki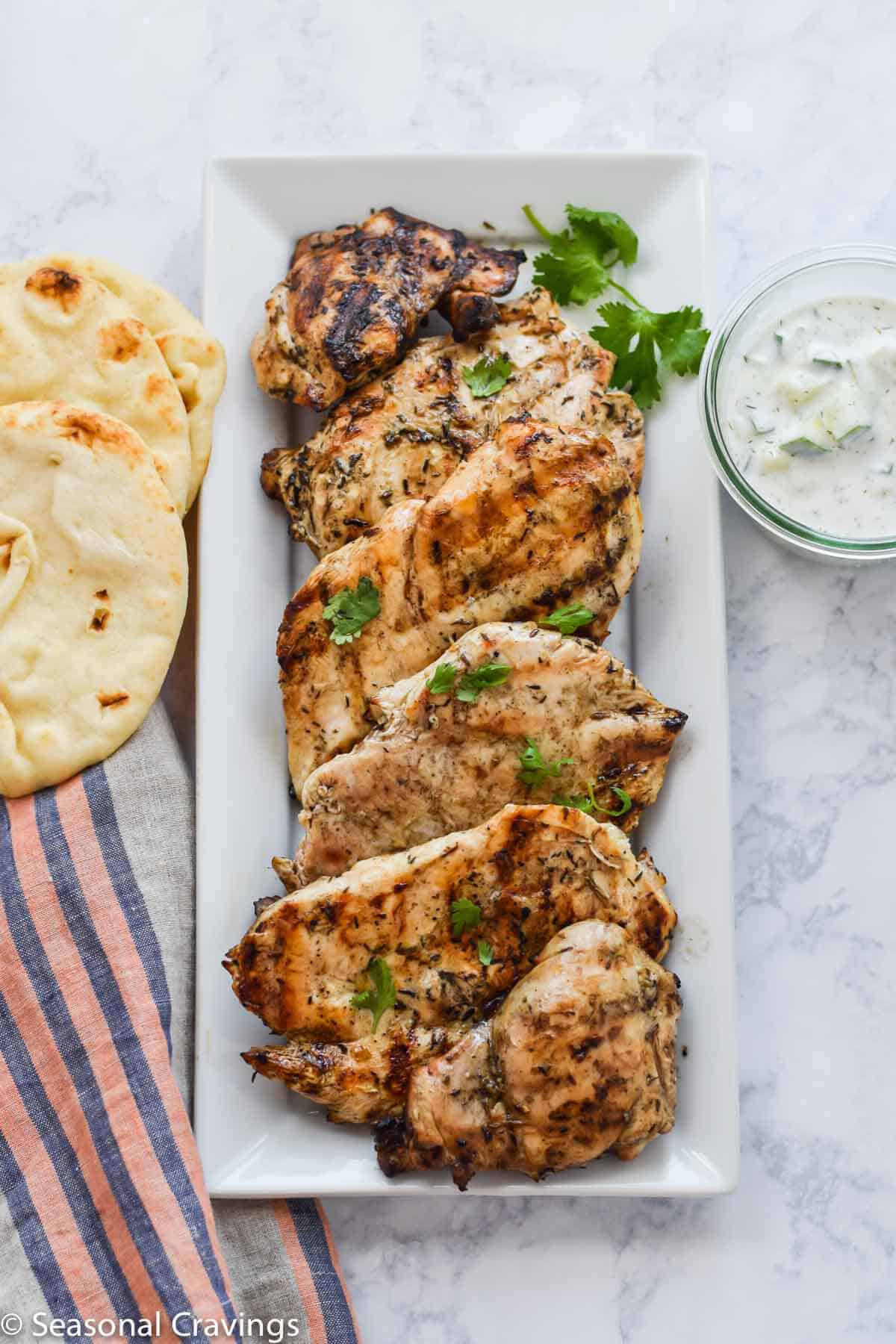 Grilled Chicken Souvlaki is always a favorite grilled chicken at my house. The marinade makes the most tender, moist and flavorful chicken. This chicken is gluten-free and easy to prepare. Get the recipe.
Chicken Tartiflette
Chicken Tartiflette is an ultimate French potato bake taken up a notch. So creamy and insanely delicious, this comforting Chicken Gratin packs a serious flavor punch. Perfect entree for when that comfort food craving kicks in. Get the recipe.
Amazing French Mustard Chicken
Prepare to fall madly in love with this Creamy Dreamy Mustard Chicken Recipe. Classic French dish that tastes outstanding. Get the recipe.
Hungarian Chicken Paprikash
Hungarian Chicken Paprikash is an easy, one-pan weeknight dinner recipe with a finger-licking good sour cream sauce made of the pantry staples. Husband's approved recipe that your family will love. Get the recipe.
Stovetop Creamy Honey Chicken
Decadent and delicious, this Stovetop Creamy Honey Mustard Chicken skillet meal is just 30 minutes away. Filled with rich flavors and made in one pan, this simple and easy recipe is sure to be your new fave. And the creamy honey mustard cream sauce is amazing on rice, potatoes, and roasted veggies, too! Get the recipe.
Chicken Mushroom Stroganoff
This Chicken Mushroom Stroganoff is a creamy, savory, luxurious dinner inspired by delicious Eastern European cuisine and it's ready to eat in just half an hour! You simply can't beat this easy stroganoff recipe for a one-skillet, thirty-minute dinner when you're ready for a satisfying, comforting meal that doesn't involve slaving in the kitchen all afternoon. Get the recipe.
Chicken Ragu Pasta
This simple chicken ragu pasta may be easy to make and use everyday ingredients, but there's nothing basic about its flavor. This yummy, savory, and quick-to-make dinner idea is bound to become a favorite family meal. Enjoy this homemade pasta with ground chicken in just half an hour. Get the recipe.
Pumpkin Chicken Curry
Pumpkin Chicken Curry is juicy, tender chicken breasts cut into bite-size pieces and simmered in a flavorful and creamy canned pumpkin sauce. This easy and quick one-skillet recipe is bursting with flavor and is perfect for a cozy family meal. Get the recipe.
Spanish Chicken And Rice
Bursting with flavor, juicy, hearty, and comforting, this Spanish Chicken And Rice makes a delicious one-pot recipe for the whole family. Perfect for a weeknight or Sunday dinner. Get the recipe.
Mustard Chicken Meatballs
These baked mustard chicken meatballs feature lightly seared balls of ground chicken, rice, and spices baked in a creamy mustard sauce. The recipe makes plenty of meatballs to satisfy your hungry family on busy weeknights. Get the recipe.
Ground Chicken Skewers
I have no doubt, you will quickly become a fan of this juicy and tender Lula Kebab. The recipe is easy to make and uses just 6 ingredients not counting salt and pepper. Great for summer grilling and picky eaters approved. You can also prepare this in the oven, see my tips below. Get the recipe.
Chicken Riganati
One of the easiest recipes in Mediterranean cuisine... Chicken Riganati, or Greek Lemon Roasted Chicken, is juicy and tender and requires just a handful of ingredients. Prepare it for a weeknight dinner or a special occasion. You'll love the lemon and oregano flavor of the dish and the easiness of putting it together. Get the recipe.
Chicken And Vegetables Orzo Risotto
One Pot Dinners have never been more delicious! If you're a fan of risotto, then you'll like this new twist on Italian classic. Chicken And Vegetable Orzo Risotto is loaded with comforting flavors and is made entirely in one pot. Weeknight comforting meals made easy! Get the recipe.
Pollo Guisado
Want to impress your family and friends? Here's an easy but tasty Dominican Pollo Guisado recipe you can serve at home any day of the week. Make this braised chicken – one of the most popular dishes in Dominican cuisine. Get the recipe.
Balsamic Chicken With Roasted Blueberries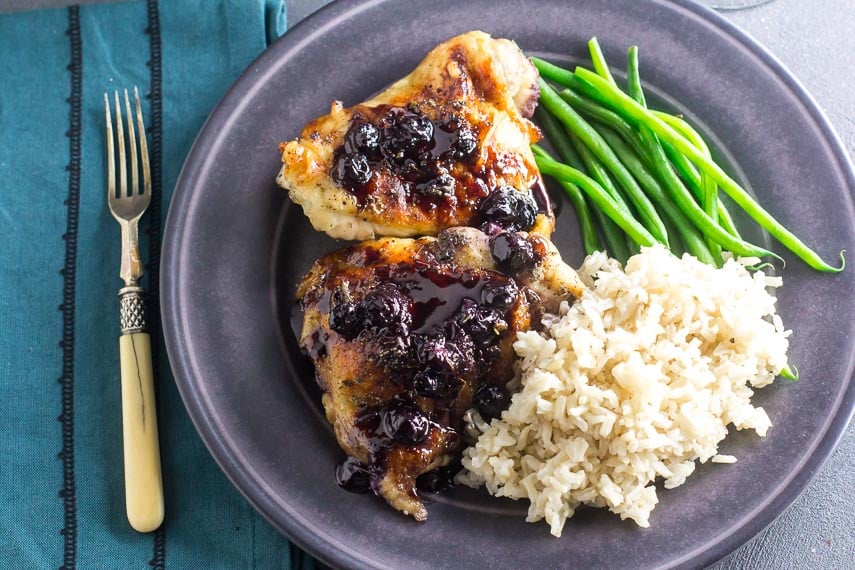 This Balsamic Blueberry Chicken Recipe is a quick and easy dish using economical, juicy chicken thighs, maple syrup and balsamic vinegar, and fresh blueberries. Get the recipe.
Chicken Milanesa
Look no further, this is the BEST recipe for Chicken Milanese EVER! Super crispy Italian chicken cutlets served with a lemony arugula tomato salad. SO good! Get the recipe.
Sun Dried Tomato Chicken Pasta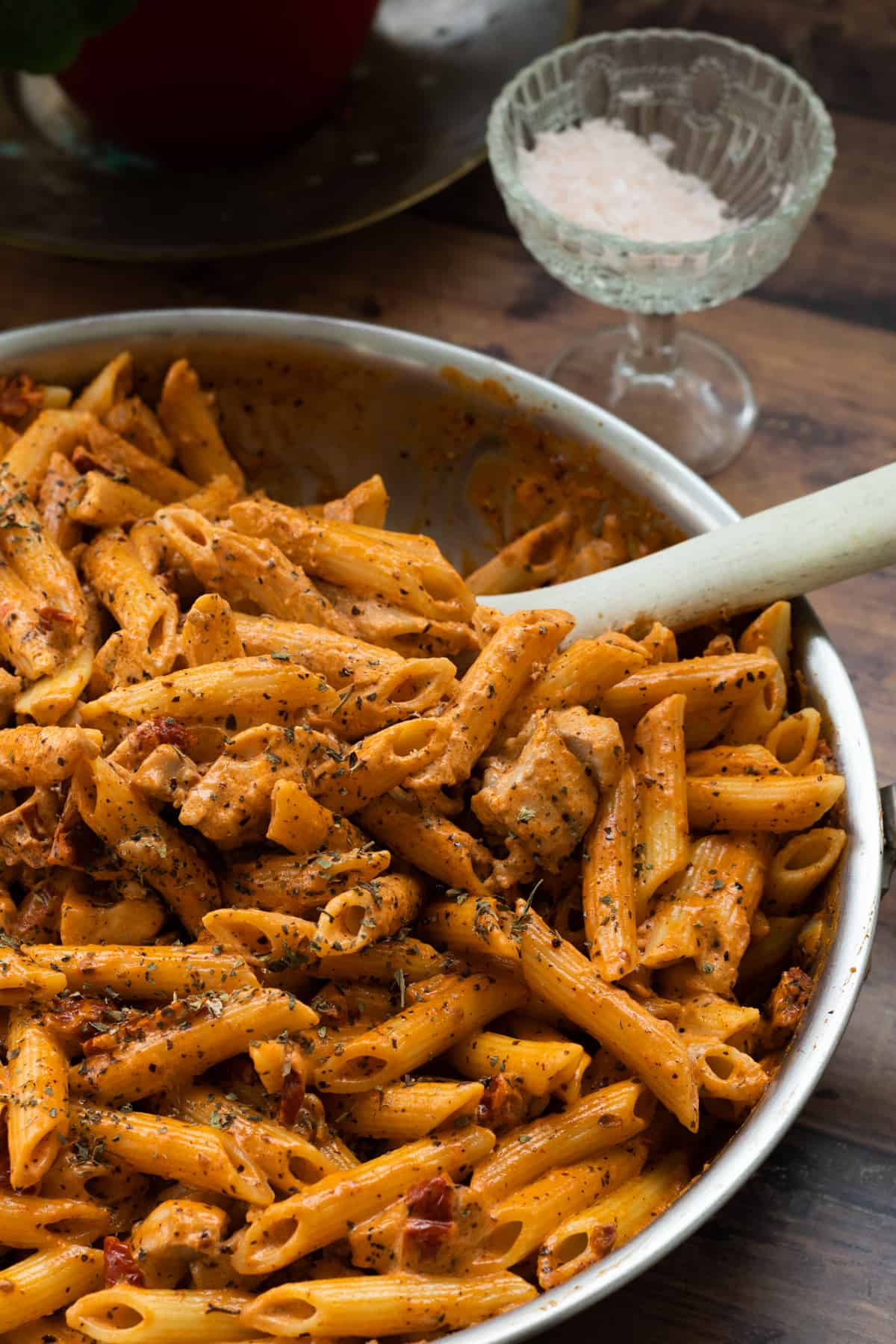 Make this flavor-packed Sun Dried Tomato Chicken Pasta in just 20 minutes - and don't be surprised if everyone asks for seconds! It's a delicious flavor combo of crème fraîche, sun-dried tomatoes, basil, paprika & oregano - achieved with pantry staple dried herbs & minimal prep. Get the recipe.
Instant Pot Chicken Biryani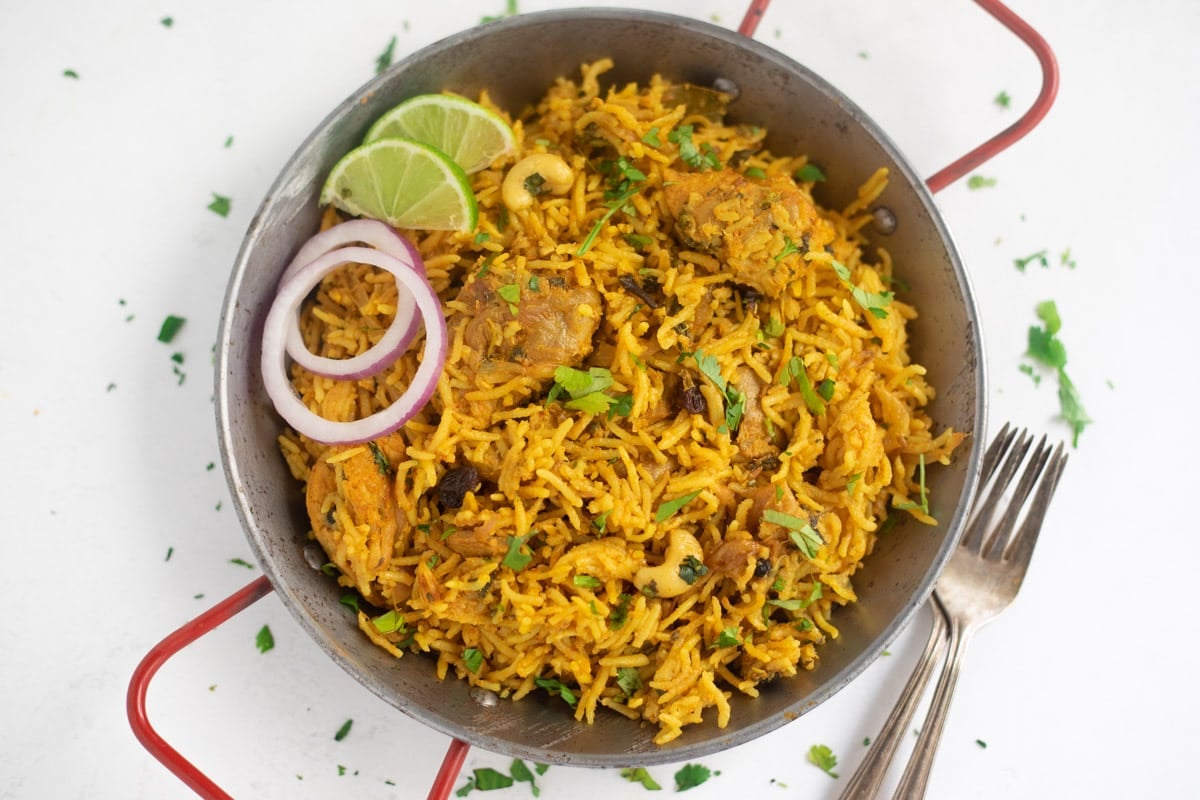 This Instant Pot Chicken Biryani has fragrant rice cooked with tender juicy chicken along with lots of warming spices and caramelized onions. This Indian chicken and rice dish is popular all over the world. This one-pot version made in a pressure cooker is easy to make even on busy weeknights in less than an hour. Get the recipe.
Easy Chinese Lemon Chicken
This easy Chinese lemon chicken recipe has an incredibly flavorful crispy batter and is tossed with a perfectly balanced sweet and tangy, sticky lemon sauce. A classic Asian takeout dish you can easily make at home! Get the recipe.
Black Pepper Chicken
Black pepper chicken is a tasty copycat Panda Express recipe that will get rave reviews. Although this Chinese inspired chicken is restaurant style, it's so much better than takeout. You can have it on the table in just 30 minutes. So if you're craving Asian food or stir fry but don't want to spend hours making it, this is a great recipe to pick. Get the recipe.
More from Lavender & Macarons
All of these recipes are easy to follow and can be made at home with relatively simple ingredients. Bring the European Cafe to Your Kitchen With These 28 Amazing Recipes
A Taste of France: 17 Delicious Desserts That Are Worth Making At Home
France is known for its delicious food, and its desserts are no exception. From the traditional chocolate eclairs to the delicate creme brûlée, there's something for everyone in French pâtisserie. A Taste of France: 17 Delicious Desserts That Are Worth Making At Home
17 Salad Recipes That Will Change Your Mind About Salad
Salads get a bad rap. They're often seen as boring and bland, or as something you only eat when you're trying to be healthy. But that's not the case! Salads can be incredibly delicious and satisfying, and they're a great way to get your daily dose of fruits, vegetables, and whole grains. 17 Salad Recipes That Will Change Your Mind About Salad
17 Ways to Cook Broccoli That You'll Actually Enjoy
Find out how to make broccoli delicious in 17 different ways. These fantastic recipes will make you actually enjoy eating this healthy vegetable! 17 Ways to Cook Broccoli That You'll Actually Enjoy
17 Fantastic & Easy Seafood Recipes Everyone Needs To Try At Least Once
Indulge in the freshest seafood dishes with these 17 easy and delicious recipes. This blog post features a variety of seafood recipes that are perfect for any occasion, from risotto to baked salmon. 17 Fantastic & Easy Seafood Recipes Everyone Needs To Try At Least Once