Sunday is the perfect day to relax, unwind, and enjoy a delicious meal. Whether you're cooking for your family, friends, or just yourself, there's nothing better than sitting down to a home-cooked meal on a lazy Sunday afternoon.
Discover these 18 amazing recipes that are sure to please everyone.
Super Cozy Potato Stew
This thick and hearty Eggplant Potato Stew Recipe features chewy eggplants, tender potatoes, and aromatics full of flavor. Made with plenty of veggies in just under an hour, it's the ultimate vegan stew. Get the recipe.
Creamy Chicken Stroganoff
This Chicken Mushroom Stroganoff is a creamy, savory, luxurious dinner inspired by delicious Eastern European cuisine and it's ready to eat in just half an hour! You simply can't beat this easy stroganoff recipe for a one-skillet, thirty-minute dinner when you're ready for a satisfying, comforting meal that doesn't involve slaving in the kitchen all afternoon. Get the recipe.
30-Minute Veggie Stir Fry Noodles
These Stir Fry Noodles are incredibly easy to make, packed with flavor, and the perfect recipe for busy weeknights! It features perfectly stir-fried veggies, tasty tofu, and delicious noodles coated in a simple, flavorful homemade stir-fry sauce! Get the recipe.
Polish Pickle Soup
Dill Pickle Soup is my all-time favorite soup recipe for busy weeknights. It requires merely 30 minutes of your time and provides you with a hearty and satisfying bite. This easy soup is savory and creamy and kids love it too. Perfect for lunch or dinner, especially in cold winter weather. Get the recipe.
Easy Creamy Salmon Pasta
This Easy and Creamy Salmon Pasta features quickly seared salmon tossed in a creamy smoky sauce along with your favorite pasta. This hearty and satisfying dish is loaded with flavor and comes together in no time. Get the recipe.
Beef And Broccoli
Beef and broccoli is a timeless combination, celebrated for its rich flavors and the satisfying bite of both the meat and the green veggie. This dish is an iconic staple of Chinese-American takeout menus, but it's also simple enough to whip up in your own kitchen. Get the recipe.
Cod Piccata
This Easy Cod Piccata in a creamy Picatta sauce makes a quick 30-minute dinner recipe your family will love. Creamy, a bit briny and so so good! Get the recipe.
One Pot Turkish Lentil Soup
This traditional Turkish Lentil Soup also called Mercimek çorbası is a uniquely fragrant, cozy and satisfying soup perfect for chilly days. You can make it in no time and enjoy for lunch or hearty dinner. Get the recipe.
Mushroom Bean Soup
This White Bean Mushroom Soup is super easy to make, comforting, and satisfying. Made with fresh vegetables and pantry staples, this is an easy vegan soup packed with plant-based protein and lots of flavors. Get the recipe.
Chicken In Honey Mustard Sauce
Decadent and delicious, this Stovetop Creamy Honey Mustard Chicken skillet meal is just 30 minutes away. Filled with rich flavors and made in one pan, this simple and easy recipe is sure to be your new fave. And the creamy honey mustard cream sauce is amazing on rice, potatoes, and roasted veggies, too! Get the recipe.
15-Minute Garlic Mussels
A ridiculously quick and easy recipe for dinner requires just a handful of ingredients. These Garlic Mussels In Sour Cream Sauce are such a comforting seafood dish, perfect for those busy weeknights when you just don't feel like cooking. Get the recipe.
Easy Chicken Paprikash
Hungarian Chicken Paprikash is an easy, one pan weeknight dinner recipe with a finger licking good sour cream sauce made of the pantry staples. Husband's approved recipe that your family will love. Get the recipe.
Pumpkin Mushroom Risotto
One of the great ways to use pumpkin puree is to add it to a risotto. My Mushroom And Pumpkin Risotto is easy and delicious one-pan dinner recipe your family will love. Get the recipe.
Instant Pot Lemon Asparagus Pasta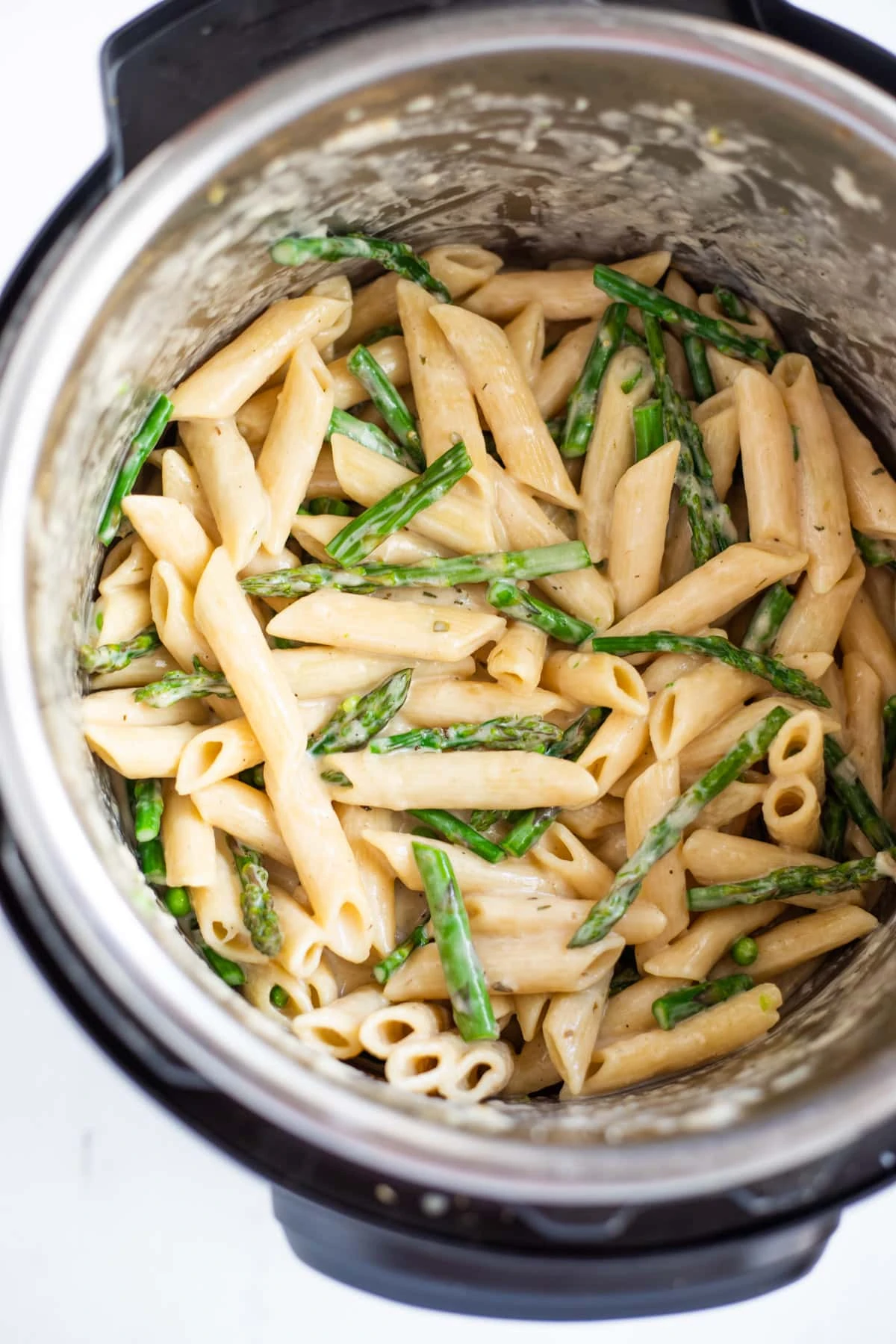 Get all spring flavors in a bowl with this Lemon Asparagus Pasta. Make it in the Instant Pot in just 30 minutes, and the result will be a creamy bowl of pasta filled with fresh greens! It contains peas, asparagus, and a splash of lemon juice, creating a symphony of tangy and savory flavors. Try this delicious, vegetarian, one-pot meal tonight! Get the recipe.
15-Minute Spicy Sausage Pasta
Make this Spicy Sausage Pasta in under 15 minutes with just 6 ingredients. Packed with flavor from fresh sausage, garlic, parmesan and bacon - with a lighter touch from spinach. Get the recipe.
Easy Lemon Ricotta Pasta
When you're on the lookout for a quick and easy dinner idea (every night around here!), you've got to try this delicious and nutritious lemon ricotta pasta recipe! Get the recipe.
In-N-Out Style Turkey Burger Recipe
You'll love this In-N-Out Style Turkey Burger recipe! It's easy to make and FULL of flavor. The turkey burger is topped with caramelized onions and an irresistible special sauce! Get the recipe:
Warm Potato Salad with Bacon + Long Hots
This Warm Potato Salad with Bacon + Long Hots is my favorite potato salad recipe ever! It has no mayonnaise and tons of flavor from crispy bacon, spicy long hots, sour cream and chives. Get the recipe.
More from Lavender & Macarons
All of these recipes are easy to follow and can be made at home with relatively simple ingredients. Bring the European Cafe to Your Kitchen With These 28 Amazing Recipes
A Taste of France: 17 Delicious Desserts That Are Worth Making At Home
France is known for its delicious food, and its desserts are no exception. From the traditional chocolate eclairs to the delicate creme brûlée, there's something for everyone in French pâtisserie. A Taste of France: 17 Delicious Desserts That Are Worth Making At Home
17 Salad Recipes That Will Change Your Mind About Salad
Salads get a bad rap. They're often seen as boring and bland, or as something you only eat when you're trying to be healthy. But that's not the case! Salads can be incredibly delicious and satisfying, and they're a great way to get your daily dose of fruits, vegetables, and whole grains. 17 Salad Recipes That Will Change Your Mind About Salad
17 Ways to Cook Broccoli That You'll Actually Enjoy
Find out how to make broccoli delicious in 17 different ways. These fantastic recipes will make you actually enjoy eating this healthy vegetable! 17 Ways to Cook Broccoli That You'll Actually Enjoy
17 Fantastic & Easy Seafood Recipes Everyone Needs To Try At Least Once
Indulge in the freshest seafood dishes with these 17 easy and delicious recipes. This blog post features a variety of seafood recipes that are perfect for any occasion, from risotto to baked salmon. 17 Fantastic & Easy Seafood Recipes Everyone Needs To Try At Least Once