Say goodbye to the idea that the main course always steals the spotlight. These 21+ side dishes are so good that you'll want to savor them all by themselves. Whether you're cooking for a special occasion or just want to make your everyday meals more exciting, these dishes will impress you. So, get ready to enjoy a variety of delightful side dishes that will make your meals unforgettable, and you'll keep coming back for more of these tasty accompaniments.
Italian Rice Salad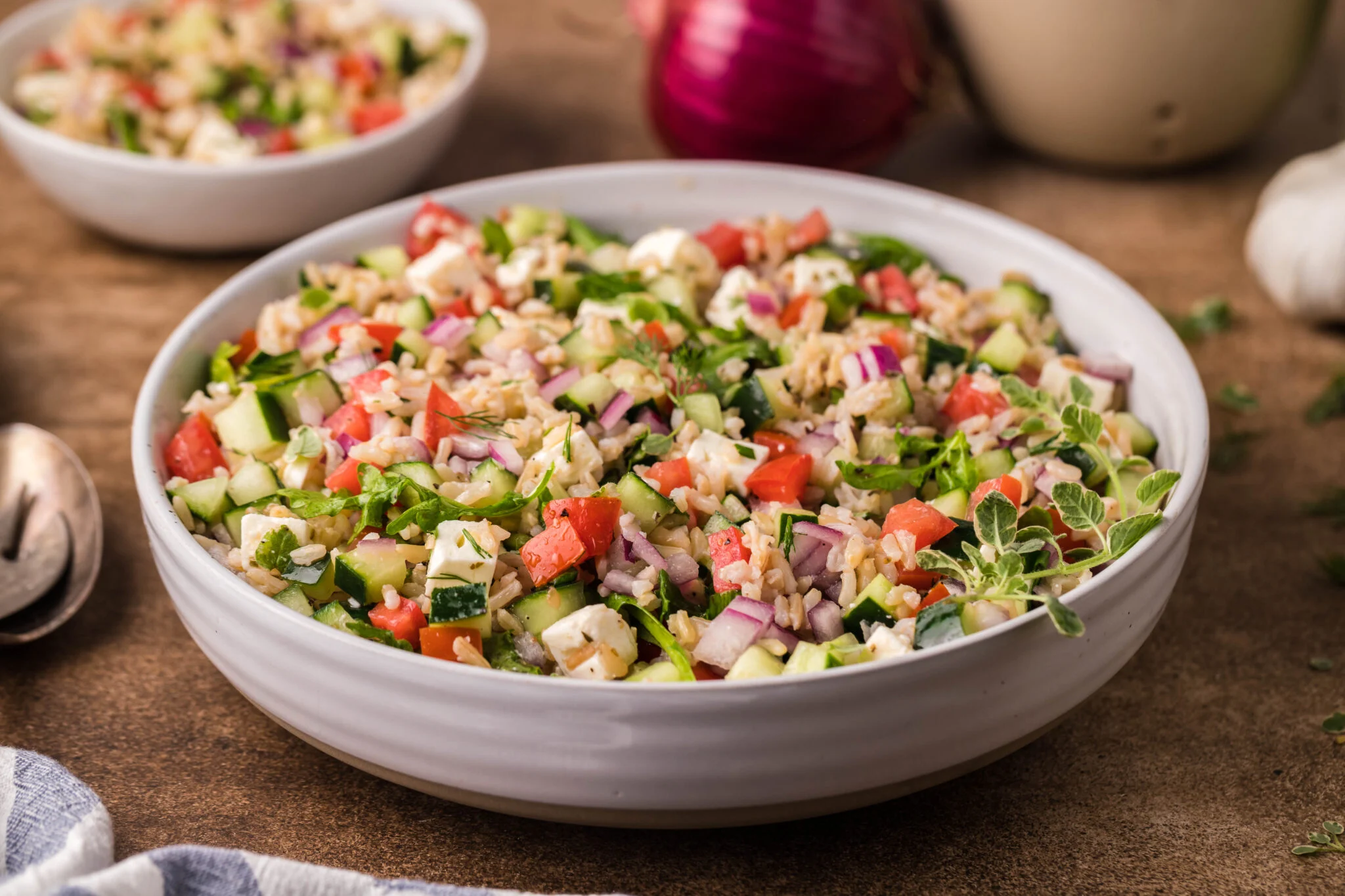 This colourful, flavourful Italian rice salad is perfect for a picnic, potluck, summer BBQ, or as a versatile side dish for a simple lunch or dinner. Reminiscent of a salad you might enjoy in Italy or Greece, every mouthful of this Mediterranean brown rice salad is bursting with fresh ingredients such as tasty salad vegetables. In Italy it is called Insalata di Riso. Get the recipe.
Korean Style Carrot Salad
Crunchy and Spicy Korean Carrots Salad will win people over at potlucks, picnics, and as a unique side dish in any home. Made with fresh carrots, coriander, garlic, and oil, these Korean-style marinated carrots are easy, quick and always delicious! Ready in 20 minutes. Get the recipe.
Marinated Mushroom Pasta Salad
Easy and fun Marinated Mushroom Pasta Salad With Green Olives is perfect for picnics or potlucks. Mushrooms make this pasta salad hearty and rich. They also stand up to the bold flavors of the dressing. Be sure to slice the mushrooms thin to make sure they absorb plenty of flavor from the marinade. Get the recipe.
Roasted Balsamic Green Beans And Tomatoes
A simple recipe for Roasted Green Beans And Cherry Tomatoes is taken to another level with quick Balsamic reduction and a sprinkling of vegan Parmesan cheese. An easy side dish that goes with any meal. Get the recipe.
Cauliflower Potato Bake
This Potato And Cauliflower Bake or also called Cauliflower Au Gratin is an easy comfort food recipe that has quickly become one of the favorites in my house. It creamy, cheesy, and such a delicious side dish for holidays as well as for Sunday night dinner. Get the recipe.
Spicy Beet Salad
A roasted vegan beet salad is prepared by cooking the beets and then marinating them in a few flavorful ingredients. This simple beet recipe is incredibly delicious, healthy, and perfect for any time of the year. Get the recipe.
Fluffy Basmati Rice
Cooking Basmati rice on the stove has never been easier if you follow my few simple tips. As a bonus, I'll also show you how to cook rice properly to remove as much arsenic as possible. Get the recipe.
Roasted Mediterranean Potatoes
These Roasted Mediterranean Potatoes are fully loaded with lemony oregano, garlic, and olive oil flavors. Plus, they couldn't be easier to make! No boiling is needed. Try this simple side dish the next time you're craving something fresh, unique, and flavorful. Get the recipe.
Sauteed Swiss Chard
Want to know How To Cook Swiss Chard? Look no further. My Sautéed Swiss Chard recipe with garlic and tomatoes is simple yet unique. It's ready in minutes and is loaded with nutrients. This easy red chard recipe makes a wonderful and delicious addition to any recipe. Get the recipe.
French Eggplant Gratin
This creamy and scrumptious Eggplant Gratin is smothered with a secret white sauce and topped with a generous layer or Gruyere cheese. It is a side dish that is so easy to make and will be gone before you know it. Get the recipe.
Oven-Roasted Asparagus
Really easy Mediterranean Asparagus With Balsamic Drizzle And Pine Nuts. Trimmed asparagus spears are baked in olive oil until tender but crispy and then finished with a quick homemade Balsamic drizzle. This healthy vegan recipe is kid-friendly and makes a delicious dinner side. Get the recipe.
Creme Fraiche Mashed Potatoes
Side dish that goes with everything. These Mashed Potatoes With Creme Fraiche And Roasted Garlic are creamy and so flavorful. Put this recipe in your cookbook, it's going to become your favorite mashed potato recipe ever! Get the recipe.
Brussel Sprouts With Mustard Sauce
Shaved Brussel Sprouts Recipe With Mustard Sauce - you're gonna love this easy side dish prepared in one skillet and in less than 30 minutes. It's super creamy, flavorful and perfect for any occasion. Get the recipe.
Potato Salad
This Healthy Potato Salad with cucumber and tomato in a garlicky yogurt sauce is all you need for summer picnics or BBQs. This simple salad is so easy to make and it's creamy and delicious. Get the recipe.
Creamy Cauliflower Salad
Vibrant, healthy, and delicious Creamy Cauliflower Salad With Cucumber And Corn is going to be on repeat this summer. So easy to make. You'll love the creamy and herby sauce. The best part - it's mayo and oil-free. Get the recipe.
Crispy Smashed Potatoes
So easy and delicious, these Crispy Smashed Red Potatoes With Garlic And Dill are a comfort side dish that never disappoints. Made with just 4 simple ingredients, these crushed red potatoes are great for any occasion. Get the recipe.
Zucchini Gratin
Cheesy Potatoes And Zucchini Au Gratin is a simple recipe that requires little preparation and great rewards. Get the recipe for cheesy potatoes and zucchini au gratin here. It's an ultimate comfort food side dish for any occasion. Get the recipe.
Hasselback Potatoes
These Best Hasselback potatoes are the most beautiful potato dish you'll ever make. Cut into a funky accordion shape, this crispy and delicious side dish is sure to delight your family and friends. Get the recipe.
Broccoli And Mushroom Salad
This Broccoli And Mushroom Salad Recipe features some of my favorite ingredients. Shiitake mushrooms, fresh crunchy broccoli, Kalamata olives, and amazing red onion vinaigrette. So healthy, clean, and perfect for a light dinner, a colorful side. Get the recipe.
Grilled Panzanella Salad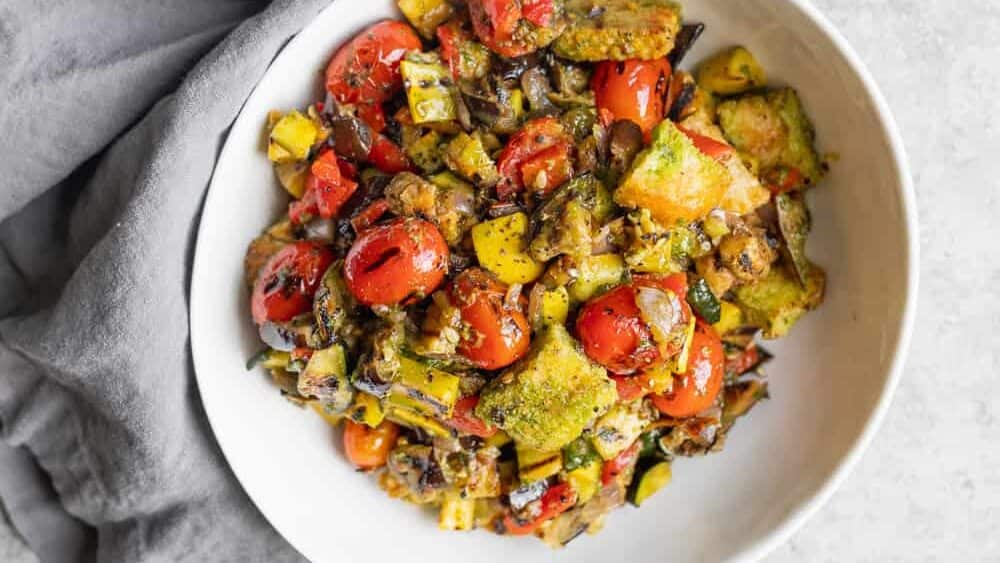 The perfect potluck salad for summer. Grilled Panzanella Salad with zucchini, eggplant, squash, tomatoes, sourdough bread and a tangy basil dressing. Get the recipe.
Mashed Sweet Potatoes
This delicious Mashed Sweet Potatoes is an absolutely must-try for the holidays! It's naturally sweet, incredibly creamy, and absolutely satisfying. In just 30 minutes, you can have it ready using only six ingredients. Get the recipe.
Aloo Beans / Indian Green Beans Curry
Easy Aloo Beans or Indian Green Beans Curry recipe prepared with cumin, garlic and spices in just 15 minutes. Get the recipe.
More from Lavender & Macarons
Ready for a tasty adventure with cod fish? These 15 amazing recipes will introduce you to exciting flavors you haven't tasted before. 15 Fantastic Recipes With Cod Fish You Haven't Tried Yet
13 Dessert Recipes That Are So Good, They'll Never Guess You Didn't Make Them Yourself
Indulge in these 13 delectable dessert recipes that taste so amazing, nobody will suspect you didn't create them from scratch. 13 Dessert Recipes That Are So Good, They'll Never Guess You Didn't Make Them Yourself.
15 Noodle Recipes That Are So Good, You'll Want to Make Them All
Discover 15 amazing noodle recipes that taste so fantastic, you'll be excited to cook and enjoy every single one. 15 Noodle Recipes That Are So Good, You'll Want to Make Them All
27 Really Good Comfort Food Dishes You Need To Be Cooking All Year Long
Explore a collection of 27 truly satisfying comfort food dishes that are perfect to cook year-round. 27 Really Good Comfort Food Dishes You Need To Be Cooking All Year Long
13 Really Good Slow Cooker Recipes You Haven't Made Yet
Explore 13 fantastic slow cooker recipes that you haven't tried yet but are really delicious. 13 Really Good Slow Cooker Recipes You Haven't Made Yet