Get ready to make the most of the fresh produce available in July with our collection of 17 delicious seasonal recipes. July is a fantastic time to enjoy the abundance of flavors that summer has to offer, and these recipes will help you savor the best of the season.
Spanish Gazpacho Soup
In a hot weather there's nothing better than a bowl of cold fresh soup. This Spain Gazpacho recipe uses simple ingredients and requires zero cooking time. Just blend it, chill and serve. Get the recipe.
Instant Pot Artichoke Lasagna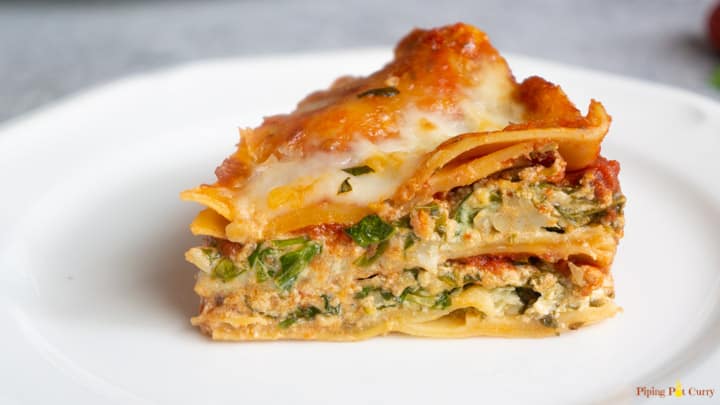 A healthy vegetarian lasagna with lots of fresh spinach, artichokes and cheese layered between noodles. Step out of your comfort zone and try this delicious pressure cooked lasagna in the instant pot! Get the recipe.
Mushroom Asparagus Risotto
This Mushroom Asparagus Risotto is the perfect comfort food for busy days. Creamy, light, and delicious without all the fuss. Get the recipe.
4-Ingredient Smashed Potatoes
So easy and delicious, these Crispy Smashed Red Potatoes With Garlic And Dill are a comfort side dish that never disappoints. Naturally vegan and made with just 4 simple ingredients, these crushed red potatoes are great for any occasion. Get the recipe.
Spicy Carrot Salad
Crunchy and Spicy Korean Carrots Salad will win people over at potlucks, picnics, and as a unique side dish in any home. Made with fresh carrots, coriander, garlic, and oil, these Korean-style marinated carrots are easy, quick and always delicious! Ready in 20 minutes. Get the recipe.
The BEST Baked Artichoke Dip Appetizer
This baked artichoke dip is quick and easy to throw together. It's perfect when you have last minute guests show up! I love making this hot artichoke appetizer and enjoying it with toasted baguette slices, chips, crackers, or veggie crudités. This easy appetizer dip recipe is always a party favourite…everyone loves this creamy artichoke bake! If you are looking for a hot dip recipe, this is definitely one to try. Get the recipe.
Mashed Potatoes WIth Celeriac
Mashed potatoes are a must in every household. But when do you say that you made the best damn vegan mashed potatoes? Well, we say it if it is creamy, fluffy and flavorful. How to do that? A bit of vegan butter, a bit of dairy-free milk and the addition of other veggies like celery root to make it even more unique. Get the recipe.
Cold Borscht
Refreshing and delicious Cold Borscht or as they also call it in several Eastern European countries - Holodnik. Super easy to make and great for lunch or dinner especially during hot summer days. Get the recipe.
Easy Asian Beet Salad
A roasted beet salad is prepared by cooking the beets and then marinating them in a few flavorful ingredients. This simple beet recipe is incredibly delicious, healthy, and perfect for any time of the year. Get the recipe.
Potato And Cauliflower Bake
This Potato And Cauliflower Bake or also called Cauliflower Au Gratin is an easy comfort food recipe that has quickly become one of the favorites in my house. It's creamy, cheesy, and such a delicious side dish for holidays as well as for Sunday night dinner. Get the recipe.
Oven-Baked Asparagus
Really easy Mediterranean Asparagus With Balsamic Drizzle And Pine Nuts. Trimmed asparagus spears are baked in olive oil until tender but crispy and then finished with a quick homemade Balsamic drizzle. This healthy recipe is kid-friendly and makes a delicious dinner side. Get the recipe.
Greek Lemon Potatoes
These Roasted Mediterranean Potatoes are fully loaded with lemony oregano, garlic, and olive oil flavors. Plus, they couldn't be easier to make! No boiling is needed. Try this simple side dish the next time you're craving something fresh, unique, and flavorful. Get the recipe.
Chicken & Asparagus Orzotto
One Pot Dinners have never been more delicious! If you're a fan of risotto, then you'll like this new twist on Italian classic. Chicken And Vegetable Orzo Risotto is loaded with comforting flavors and is made entirely in one pot. Weeknight comforting meals made easy! Get the recipe.
Apple Sponge Cake
Super delicious and moist Apple Sponge Cake, also called Sharlotka will become your new favorite apple dessert. It's so easy to make, topped with a sweet and crispy almond layer which literally melts in your mouth. Give this decadent fall treat a try and it won't disappoint! Get the recipe.
Lemon Tartlets
These Lemon Tartlets are creamy, lemon curd filled pastries that are totally a crowd-pleaser. Restaurant-style dessert perfect for holidays or special occasions. Get the recipe.
Citrus Slaw with Creamy Grapefruit Dill Dressing
We love fresh, crunchy cabbage-based slaws, especially during the warmer months. They go so well with all of the grilled dishes we are making, plus, they are economical and portable for picnics and potlucks. Get the recipe.
Curried Cauliflower Soup
This rich Curried Cauliflower Tomato Soup is packed with comforting flavors and good for you ingredients. It's easy to make, naturally vegan, paleo and gluten-free and is sure to warm you up from the inside out. Get the recipe.
Blueberry Clafoutis
Blueberry Clafoutis is a fast dessert that is easy on the eyes and chock-full of fresh blueberries. Get the recipe.
More Articles from Lavender & Macarons
Easy, quick, and delicious. 15 Amazing 5-Ingredient Recipes That Are So Good, You'll Never Cook Anything Else Again!
12 Really Delicious Breakfast Ideas You'll Regret Not Trying Sooner
Hurry to the kitchen! 12 Really Delicious Breakfast Ideas You'll Regret Not Trying Sooner.
15 Pasta Recipes That Are So Good, You'll Never Cook Anything Else Again!
These pasta recipes won't let you down. 15 Pasta Recipes That Are So Good, You'll Never Cook Anything Else Again!
20 Delicious Recipes Worth Doubling Up As They Make Even Better Leftovers
Leftovers never tasted that good. 20 Delicious Recipes Worth Doubling Up As They Make Even Better Leftovers
25+ Unique New Recipes That Will Make You The Best Cook On The Block
Your guests will ask for seconds. 25+ Unique New Recipes That Will Make You The Best Cook On The Block