Looking to take your cooking skills to the next level? These 18 foolproof recipes are sure to do the trick! From classic dishes like beef stroganoff to more creative recipes like Polish dill pickle soup, you'll find something to love in this collection of delicious and easy-to-follow recipes.
Summer Farro Salad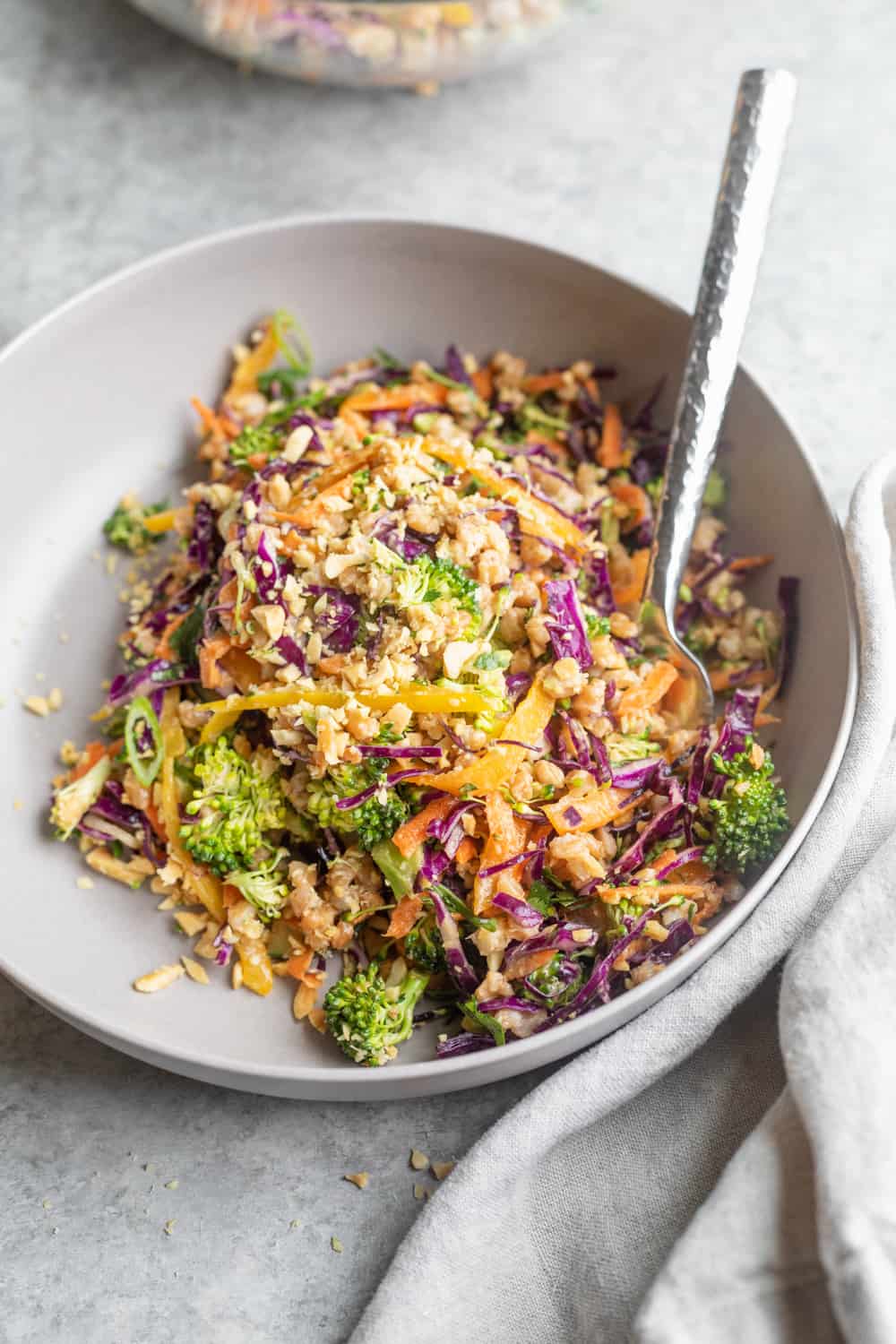 The Best Summer Farro Salad! A healthy vegan farro salad with red cabbage, carrots, broccoli, fresh herbs and a spicy peanut sauce. Get the recipe.
Easy Cod Piccata
This Easy Cod Piccata in a creamy Picatta sauce makes a quick 30-minute dinner recipe your family will love. Creamy, a bit briny and so so good! Get the recipe.
French Mustard Chicken
Prepare to fall madly in love with this Creamy, dreamy Mustard Chicken Recipe. Classic French dish that tastes outstanding. Get the recipe.
Polish Dill Pickle Soup
Dill Pickle Soup is my all-time favorite soup recipe for busy weeknights. It requires merely 30 minutes of your time and provides you with a hearty and satisfying bite. This easy soup is savory and creamy and kids love it too. Perfect for lunch or dinner, especially in cold winter weather. Get the recipe.
Armenian Chicken Skewers (Lula-Kebab)
I have no doubt, you will quickly become a fan of this juicy and tender Lula Kebab. The recipe is easy to make and uses just 6 ingredients not counting salt and pepper. Great for summer grilling and picky eaters approved. You can also prepare this in the oven, see my tips below. Get the recipe.
Beef Stroganoff
This Easy Beef Stroganoff Recipe features tender strips of beef that are quickly seared and then simmered in a flavorful sour cream-tomato sauce. This 40-minute recipe requires just 7 ingredients and is cozy and delicious! Perfect for busy weeknights! Get the recipe.
Easy Finnish Salmon Soup
Tired of baked salmon dishes? Try my Lohikeitto recipe - delicious and the easiest ever salmon soup that is so popular in Finland. Made in just under 40 minutes, this cozy and hearty fish soup is sure to warm you on chilly winter nights. Get the recipe.
Chicken Ragu Pasta
This simple chicken ragu pasta may be easy to make and use everyday ingredients, but there's nothing basic about its flavor. This yummy, savory, and quick-to-make dinner idea is bound to become a favorite family meal. Enjoy this homemade pasta with ground chicken in just half an hour. Get the recipe.
Creamy Tomato Risotto
This Tomato Risotto is an incredibly simple recipe but is still packed with flavor in each bite to give you a dinner meal that's sure to become a family favorite! It features perfectly cooked risotto with a beautiful, creamy texture and the fresh summer flavors of cherry tomatoes. What's best is that it's also vegan and can be made in just 30 minutes from scratch! Get the recipe.
Spanish Style Stuffed Pork Chops
These comfort food at its best Spanish Style Pork Chops are crispy on the outside and stuffed with delicious combo of ham, roasted peppers and cheese. This recipe is a perfect way to turn regular pork chops into a scrumptious and satisfying dinner. Get the recipe.
The Best French Parmesan Soup
I won't lie when I tell you that French Parmesan Soup will knock your socks off. Intense Parmesan flavor, unforgettable taste, crispy bacon and garlicky croutons make this silky soup an ultimate comfort food for a cold weather. Your family will love it! Get the recipe.
Chicken In Honey-Mustard Sauce
This Honey Mustard Chicken is exactly what you need if you're looking for a flavor-packed, one-pan dinner meal that can be made in just 30 minutes! And the creamy honey mustard cream sauce is amazing on rice, potatoes, and roasted veggies, too! Get the recipe.
4-Ingredient Roasted Pork Tenderloin
There's so much flavor in this JUICY and flavorful Buzhenina (Herb Roasted Pork Tenderloin). It hardly takes any effort to make and perfect for dinner or holidays. Classic Ukrainian recipe that uses 4 ingredients and never disappoints. Get the recipe.
Creamy Eggplant Gratin
This creamy and scrumptious Eggplant Gratin is smothered with a secret white sauce and topped with a generous layer or Gruyere cheese. It is a side dish that is so easy to make and will be gone before you know it. Get the recipe.
Smashed Potato With Garlic-Dill Sauce
So easy and delicious, these Crispy Smashed Red Potatoes With Garlic And Dill are a comfort side dish that never disappoints. Made with just 4 simple ingredients, these crushed red potatoes are great for any occasion. Get the recipe.
Austrian Garlic Soup
Garlic lovers rejoice! This Austrian Garlic Soup is the easiest and most delicious soup you've ever tried. So rich in flavor, creamy, and lick-your-bowl good soup. Get the recipe.
Chickpea Caesar's Salad
This easy Caesar Salad is so good, you'll never go back to the original. Even omnivores will never know there're no anchovies or cheese in the dressing. Get the recipe.
Ukrainian Mushroom Soup
It's a Ukrainian Mushroom Soup. After you take the first sip of it, you'll instantly feel cozy and warm. Classic autumn soup with a ton of flavor. Get the recipe.
More from Lavender & Macarons
All of these recipes are easy to follow and can be made at home with relatively simple ingredients. Bring the European Cafe to Your Kitchen With These 28 Amazing Recipes
A Taste of France: 17 Delicious Desserts That Are Worth Making At Home
France is known for its delicious food, and its desserts are no exception. From the traditional chocolate eclairs to the delicate creme brûlée, there's something for everyone in French pâtisserie. A Taste of France: 17 Delicious Desserts That Are Worth Making At Home
17 Salad Recipes That Will Change Your Mind About Salad
Salads get a bad rap. They're often seen as boring and bland, or as something you only eat when you're trying to be healthy. But that's not the case! Salads can be incredibly delicious and satisfying, and they're a great way to get your daily dose of fruits, vegetables, and whole grains. 17 Salad Recipes That Will Change Your Mind About Salad
17 Ways to Cook Broccoli That You'll Actually Enjoy
Find out how to make broccoli delicious in 17 different ways. These fantastic recipes will make you actually enjoy eating this healthy vegetable! 17 Ways to Cook Broccoli That You'll Actually Enjoy
17 Fantastic & Easy Seafood Recipes Everyone Needs To Try At Least Once
Indulge in the freshest seafood dishes with these 17 easy and delicious recipes. This blog post features a variety of seafood recipes that are perfect for any occasion, from risotto to baked salmon. 17 Fantastic & Easy Seafood Recipes Everyone Needs To Try At Least Once