Mushrooms can be the star of any dish. Whether you're a mushroom lover or a skeptic, these recipes are sure to change your mind. With their meaty texture and umami flavor, mushrooms can add depth and complexity to any dish.
Creamy Mushroom Risotto
This is hands down the BEST Creamy Mushroom Risotto and I'm not exaggerating. It's uniquely flavorful, rich and indulgent. Ready in just 30 minutes, this easy, gluten-free risotto is a perfect choice for a date night or family dinner. Get the recipe.
30-Minute Noodle Veggie Stir-Fry
These Stir Fry Noodles are incredibly easy to make, packed with flavor, and the perfect recipe for busy weeknights! It features perfectly stir-fried veggies, tasty tofu, and delicious noodles coated in a simple, flavorful homemade stir-fry sauce! Get the recipe.
Mushrooms Stroganoff
No more bland mushroom pasta! This incredibly delicious Mushroom Stroganoff recipe packs a serious flavorful punch. It's so creamy and satisfying, perfect comfort food for long winter days. Get the recipe.
Ukrainian Mushroom Soup
It's a Ukrainian Mushroom Soup. After you take the first sip of it, you'll instantly feel cozy and warm. Classic autumn soup with a ton of flavor. Get the recipe.
Ultimate Mushroom Lasagna
This amazing Mushroom Lasagna With Spinach is so delicious and flavorful. No need for tofu or legumes. With 21 grams of Protein per serving, this easy vegan lasagna recipe makes a hearty and healthy dinner recipe approved by meat-eaters and picky kids. Get the recipe.
Mushroom Chili
This Mushroom Chili Recipe is the ultimate vegan chili you'll ever need! Hearty mushrooms make a wonderful substitution for ground beef. With an easy secret step to give this chili the perfect texture, it's extremely flavorful and great for cozy fall and winter dinners. Get the recipe.
Slow-Cooker Mushroom Bolognese
This is best Bolognese made with Portobello mushrooms and in a comfort of your slow cooker! The recipe packs a flavor punch and perfect for meat eaters in your family. They won't be able to tell there's no meat. Get the recipe.
Chicken Mushroom Stroganoff
This Chicken Mushroom Stroganoff is a creamy, savory, luxurious dinner inspired by delicious Eastern European cuisine and it's ready to eat in just half an hour! You simply can't beat this easy stroganoff recipe for a one-skillet, thirty-minute dinner when you're ready for a satisfying, comforting meal that doesn't involve slaving in the kitchen all afternoon. Get the recipe.
Instant Pot Mushroom Matar Masala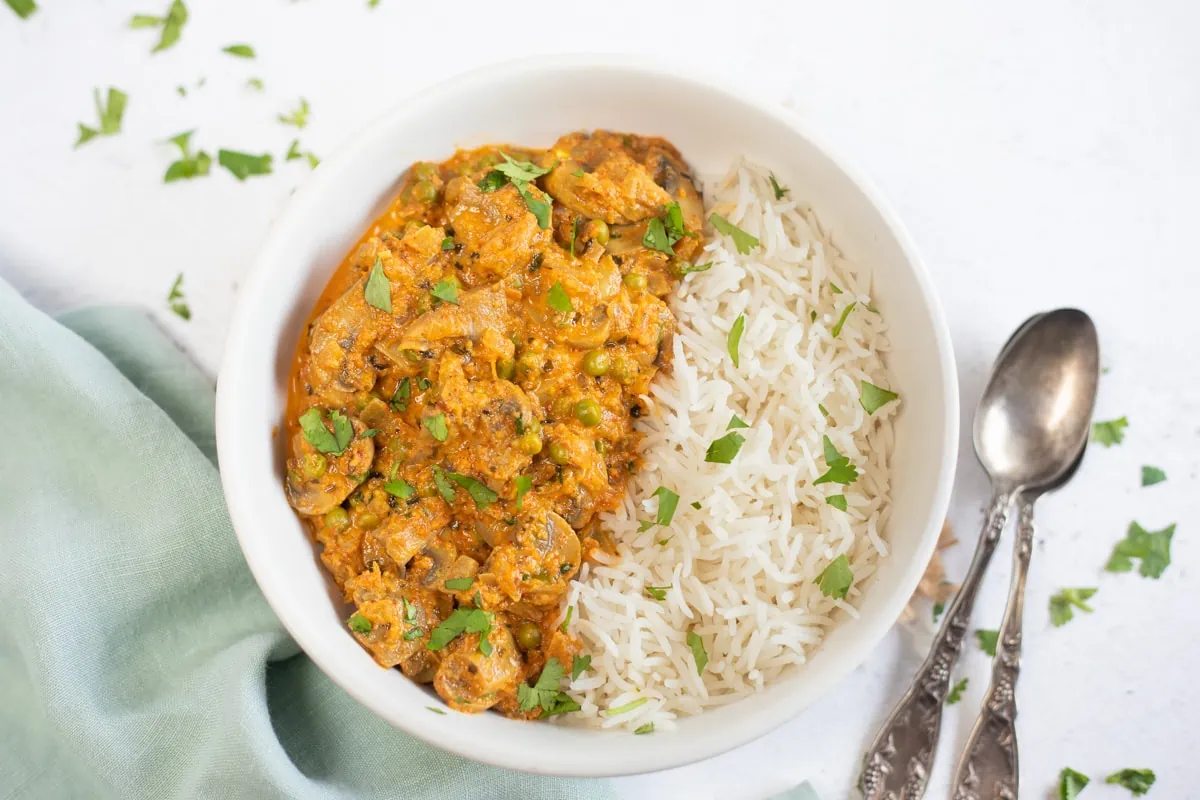 Easy and delicious Mushroom Matar Masala made in the Instant Pot. Made with earthy mushrooms, onions, tomatoes and aromatic spices, this Mushroom Masala Curry is perfect for a delicious warm weeknight dinner! Get the recipe.
Brown Rice Mushroom Pilaf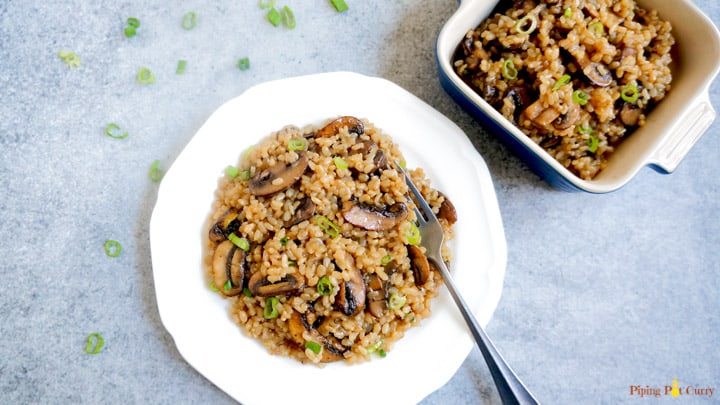 Easy, healthy & delicious Brown Rice Mushroom Pilaf. A flavorful one-pot dish with just 5 ingredients. It is perfect to make on a weeknight and enjoy as a side or as a meal. Even better, make it on the stovetop or in the Instant Pot. Get the recipe.
Marinated Mushroom Pasta Salad
Easy and fun Marinated Mushroom Pasta Salad With Green Olives is perfect for picnics or potlucks. Mushrooms make this pasta salad hearty and rich. They also stand up to the bold flavors of the dressing. Be sure to slice the mushrooms thin to make sure they absorb plenty of flavor from the marinade. Get the recipe.
Fried Potatoes And Mushrooms
This Fried Chanterelle Mushrooms And Potatoes Recipe is an easy and delicious comfort food that never fails! Made in one pan and with just 5 ingredients, this cozy and flavorful dish is sure to become a hit. Get the recipe.
White Bean Mushroom Soup
This White Bean Mushroom Soup is super easy to make, comforting, and satisfying. Made with fresh vegetables and pantry staples, this is an easy vegan soup packed with plant-based protein and lots of flavors. Get the recipe.
Creamy Polenta With Mushrooms
This 30-minute Polenta Recipe gets its unique flavor from an umami-packed Miso Paste. Served with quick vegan sautéed mushrooms, this dairy-free polenta is SO creamy and perfect for busy days. It's healthy, comforting, and easy to make. Get the recipe.
Linguine with Shiitake Wine Sauce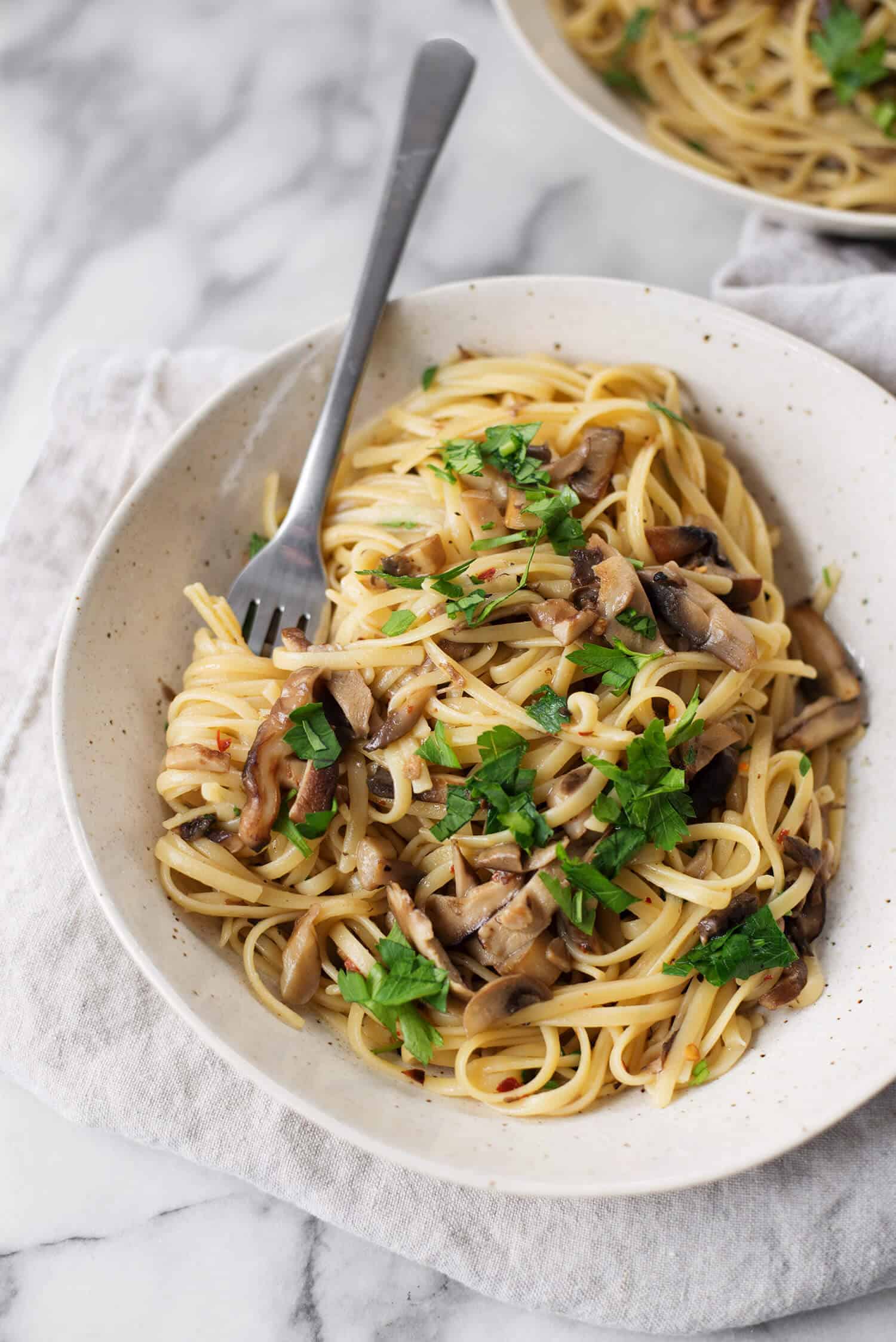 Linguine with Shiitake Wine Sauce! You can't believe this pasta is vegan, super creamy with a trick to making glossy, delicious pasta. Get the recipe.
Gnocchi with Bacon & Mushrooms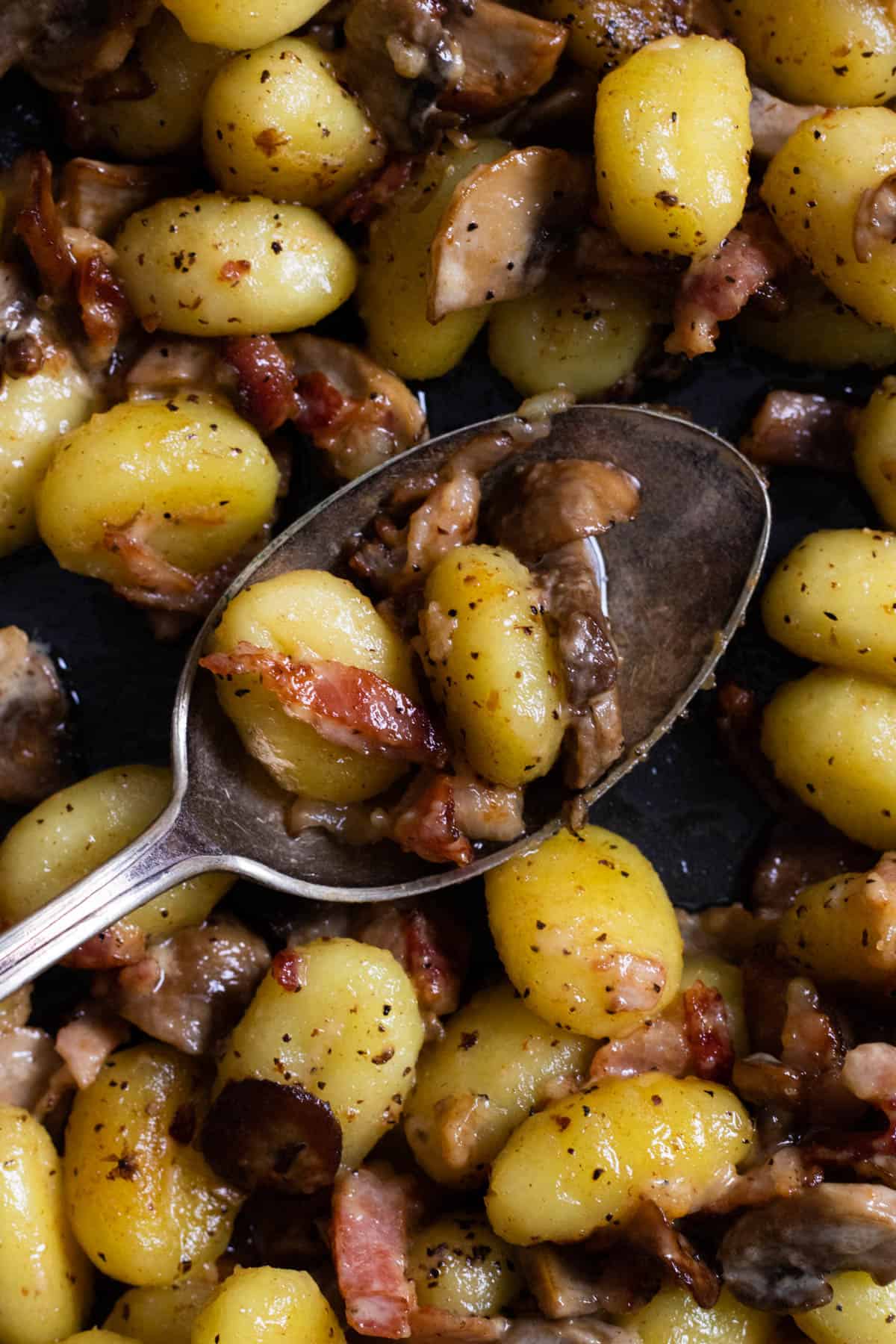 Make this Gnocchi with Bacon & Mushrooms in just 25 minutes, with few ingredients and incredible taste. Made with store bought gnocchi and a touch of cream it's topped with a generous amount of Parmesan cheese. Gnocchi with Bacon & Mushrooms.
Spicy Mushroom and Black Bean Tacos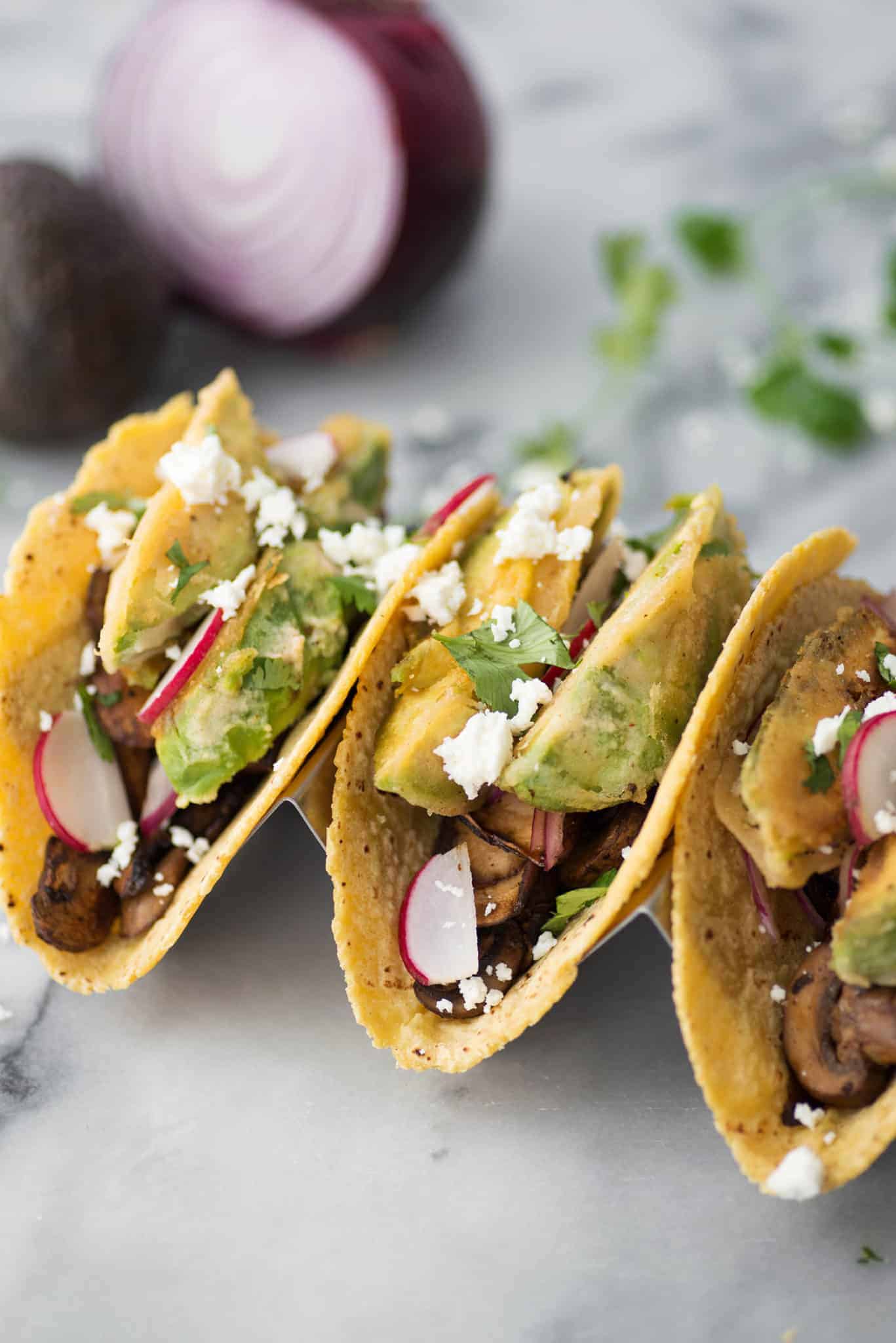 Spicy Mushroom and Black Bean Tacos with Crispy Avocado. These vegetarian tacos are loaded with flavor and texture! Crispy fried avocado, pickled onions, spicy mushroom and bean filling and goat cheese. Spicy Mushroom and Black Bean Tacos.
More from Lavender & Macarons
All of these recipes are easy to follow and can be made at home with relatively simple ingredients. Bring the European Cafe to Your Kitchen With These 28 Amazing Recipes
A Taste of France: 17 Delicious Desserts That Are Worth Making At Home
France is known for its delicious food, and its desserts are no exception. From the traditional chocolate eclairs to the delicate creme brûlée, there's something for everyone in French pâtisserie. A Taste of France: 17 Delicious Desserts That Are Worth Making At Home
17 Salad Recipes That Will Change Your Mind About Salad
Salads get a bad rap. They're often seen as boring and bland, or as something you only eat when you're trying to be healthy. But that's not the case! Salads can be incredibly delicious and satisfying, and they're a great way to get your daily dose of fruits, vegetables, and whole grains. 17 Salad Recipes That Will Change Your Mind About Salad
17 Ways to Cook Broccoli That You'll Actually Enjoy
Find out how to make broccoli delicious in 17 different ways. These fantastic recipes will make you actually enjoy eating this healthy vegetable! 17 Ways to Cook Broccoli That You'll Actually Enjoy
17 Fantastic & Easy Seafood Recipes Everyone Needs To Try At Least Once
Indulge in the freshest seafood dishes with these 17 easy and delicious recipes. This blog post features a variety of seafood recipes that are perfect for any occasion, from risotto to baked salmon. 17 Fantastic & Easy Seafood Recipes Everyone Needs To Try At Least Once