Get ready to wow your friends and family this Thanksgiving with 19 amazing appetizers that are perfect for starting your feast with a bang.
Find easy-to-follow recipes that will make your hosting stress-free and your guests impressed. These appetizers blend classic favorites with exciting new flavors, making your Thanksgiving spread unforgettable.
Open Faced Sandwiches with Tomatoes and Beets
Unique combination of Lebanese cream cheese, roasted tomatoes and beets makes these open-faced sandwiches a perfect appetizer for your next party or gathering. Get the recipe.
Bruschetta with Pesto and Sun-Dried Tomatoes
Easy Bruschetta With Pesto And Sun-Dried Tomatoes features homemade basil Pesto, sautéed zucchini and delicious sun-dried tomatoes. If you're looking for a very best crowd-pleasing appetizer for birthday party, Thanksgiving or Christmas, you can count on this Basil Pesto Bruschetta to deliver. Easy to make and absolutely delicious! Get the recipe.
Tuna Rillettes (Tuna Pâté)
Tuna Rillettes is a rustic French spread made from Baked Tuna, Crème Fraîche and herbs. It's delicious as a party starter served on a crusty baguette or toast. Get the recipe.
Polenta Bites with Black Olive Tapenade
If you need a 30-minute vegan appetizer idea, these Polenta Bites will do the trick. Tubed polenta is fried until crispy and then topped with a tangy Kalamata Olive-Caper spread. Easy and mouthwatering appetizer that everyone will love. Get the recipe.
Croissant with Smoked Salmon and Cream Cheese
I have no doubts that you will love this easy and absolutely mouthwatering appetizer - croissants with smoked salmon, dill and cream cheese. Get the recipe.
Cheese Breadsticks (Must Try Recipe)
Recently, my mom made unbelievably delicious breadsticks. I watched how quickly she pulled them off and with a few simple ingredients and our favorite Gruyere cheese, the breadsticks aroma invaded our kitchen. Get the recipe.
Peanut Butter, Caramelized Pears and Cracker Appetizer
Here's a tasty and quick appetizer, that is easy to make and taste awesome! My Peanut Butter, Caramelized Pears and Mint RITZ Cracker Appetizer is one of the best. I'll show how quickly you can whip it up. Get the recipe.
Pumpkin Sausage Pinwheels
These Pumpkin Sausage Pinwheels are super easy to make using just 5 ingredients! You'll end up with perfectly crisp golden brown puff pastries wrapped around Italian sausage slices with a delicious pumpkin puree! The parmesan cheese and green onions elevate the flavor to the next level. Get the recipe.
Artichoke Tomato Bruschetta
If you've been looking for a delicious appetizer that's perfect for the holidays, then this artichoke tomato bruschetta is probably it. It's the perfect combination of an oven-toasted baguette with the tangy sweetness of tomatoes, the earthy flavor of artichokes, and the creamy richness of goat cheese. Plus, it can be ready in less than 25 minutes! Get the recipe.
Eggplant Pakora
Eggplant/ baingan pakora is a classic fritter in which thin slices of eggplant are dunked in a spiced gram flour batter and fried till golden. Enjoy this vegan and gluten-free snack any time of the day! Get the recipe.
Roasted Mushroom Goat Cheese Crostini
This easy and elegant appetizer for Roasted Mushroom Goat Cheese crostini is perfect for entertaining, especially around the holidays. Get the recipe.
Instant Pot Crispy Chicken Wings
Instant Pot Crispy Chicken Wings is an incredible weeknight supper to prepare for your loved ones. Crisp skin, softens in your mouth and you can have them in only 18 minutes using your Instant Pot Fryer Lid. Get the recipe.
Creamy Mushroom Dip
If you're a fan of dips with bold flavors and creamy textures, this mushroom dip is for you. It combines the rich, earthy taste of mushrooms with the creaminess of ricotta and mayo and the sharpness of parmesan. Add in a touch of garlic, caper, and vinegar, and you've got an absolutely delicious dip! Ready in just 20 minutes! Get the recipe.
Cream Cheese and Smokes Salmon Vol Au Vents
Whipped Cream Cheese, Mustard and Smoked Salmon carefully nested into a puff pastry shell create a decadent and mouthwatering French appetizer, perfect for your next get-together. These Smoked Salmon Vol Au Vents are seriously scrumptious. Get the recipe.
Brussels Sprouts with Bacon
This recipe takes oven Roasted Brussels Sprouts to the next level! The combination of sweet and savory flavors is simply divine. Adding bacon makes it extra special and perfect for a Thanksgiving or Sunday dinner side dish. Get the recipe.
Fried Coconut Shrimp with Honey Lime Sauce
Fried coconut shrimp is the absolute best appetizer. It's easy, and everyone loves it, any time of year. Serve it up with a ginger lime honey dipping sauce and the sauce and it's just *chef's kiss*. Get the recipe.
Marinated Olives with Feta
An easy marinated olives appetizer is always worth knowing, because this dish is ideal for any occasion, whether you just want to serve something simple with drinks, or you're planning a smorgasbord of cold meats and cheeses and you want to add something more to the platter. Get the recipe.
Easy Baked Carrot Fries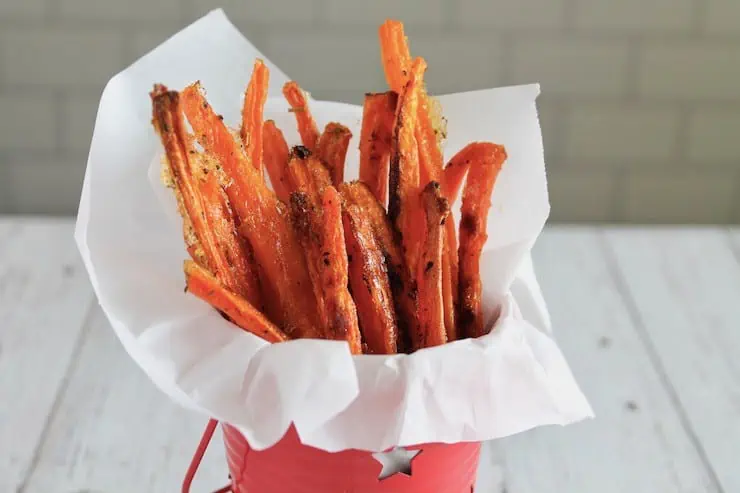 This baked carrot fries recipe is nutritious, tasty and fun. With just a few simple ingredients these carrot fries are a quick and easy snack to make! Get the recipe.
Crostini with Scallops and Avocado
This Crostini with Scallops and Avocado is the perfect appetizer for all your holiday parties. The scallops are sauteed to perfection and placed on top of crunchy crostini spread with avocado. A drizzling of balsamic syrup really takes the flavor over the top. Get the recipe.
More from Lavender & Macarons
Creamy chicken dinners are the ultimate comfort food. They're rich, decadent, and satisfying. And when they're done right, they're absolutely irresistible. Read - Our Creamiest Chicken Dinners: So Good, You'll Lick Your Plate.
17 Restaurant-Quality Dinner Recipes You Can Easily Make at Home
Eating out can be a fun and convenient way to enjoy a delicious meal, but it can also be expensive and time-consuming. Read -17 Restaurant-Quality Dinner Recipes You Can Easily Make at Home.
30 Meatless Recipes That Are Packed With Flavor and Satisfaction
Meatless meals don't have to be boring or bland. In fact, there are many delicious and satisfying meatless recipes that are perfect for any occasion. Read - 30 Meatless Recipes That Are Packed With Flavor and Satisfaction.
17 Nutritious and Delicious Meal Ideas Starring Canned Chickpeas
Canned chickpeas are a budget-friendly and easy-to-use ingredient that can be used to create many kinds of nutritious and delicious meals. Get the recipe.
18 Seafood Dishes That Will Make You Want to Live by the Sea
There's nothing quite like a delicious seafood dish to remind you of a relaxing vacation at the sea. The fresh, briny flavors of seafood are simply irresistible, and they can transport you back to days of sun, sand, and surf.
Try these 18 seafood dishes that will make you want to live by the sea. Read - 18 Seafood Dishes That Will Make You Want to Live by the Sea.