This No Cry Sleep Training is a tried and true method that I successfully used to teach my infant daughter to fall asleep independently. This sleep solution is based on my own experience and on numerous baby sleep books that I've read.
My detailed and gentle step-by-step approach will help you reclaim a much needed rest and your baby learn to self-sooth without crying it out.
Click HERE TO PIN this post!
Pop quiz. Which of these do you agree with?
My child is a great sleeper.
He easily falls asleep as soon as he's tired.
Phrase "sleeping like a baby" is not about my child.
He would only sleep in a car seat/rocking chair/on my chest.
How to teach a baby to put himself to sleep. No cry-it-out method
If you agreed with the first 2 statements, - congratulations! You officially have an easy baby.
If you agreed with the second two, you're probably researching all possible parenting resources to get your child to sleep well and have your sanity back.
Well, you're not the only.
Welcome to the "parents club" where kids simply don't sleep.
I've been there, I know what it's like to spend hours of rocking baby to sleep. It's not fun at all!
When my first daughter was born, I never knew how to put a baby to sleep. I just followed the usual unspoken guidance and rocked her in my arms until she would snooze.
And while at the beginning it was easy and quick, over time I started to notice that it took more and more time to get her to sleep.
What made the situation more difficult is "dreaded" 30-40 minute naps.
There were times when I would spend 30 minutes of rocking her to sleep and then she would sleep for 30 minutes only! Can you relate?
It was just exhausting! My wrists were so sore.
That's when I started reading all possible literature on baby's sleep.
I still have a stack of those books at home. And while many methods of putting baby to sleep required different variations of cry-it out method, I just couldn't do it.
Even despite my huge exhaustion, I couldn't let my daughter cry-it-out.
It wasn't until I discovered a couple of very similar methods, that I realised that sleeping techniques for babies can be less drastic.
My main goal was to teach my daughter to fall asleep independently without any help.
So after my extensive research, I successfully taught my daughter to fall asleep independently when she just was 4 months old.
I know this method works, because a couple of my friends had the same great results with this technique after I shared it with them.
Click HERE TO PIN this post!
Today, I want to share with you the main principles of no cry sleep training.
If you follow these steps and don't give up after a few days, you will definitely see the results.
How To Get Baby Sleep In Crib Without Crying It Out?
Carefully observe your baby's sleep cues making sure he's ready for sleep.
Establish a good wind-down routine and repeat it every single time before nap/bedtime.
Introduce a lovey that your child will associate his sleep with.
Put baby in a crib when he's sleepy but awake.
Now, let's go into more details.
So you've probably heard that you should put baby to sleep awake.
Sounds unrealistic, right? Especially when they scream their lungs out.
But here's the deal.
You have to set the scene before putting him into his crib awake.
If your child has just been playing with your husband or enjoying his musical mobile over the head, now may not be the best time to put him in his crib awake.
Step # 1. Watch for baby's sleep signs.
Babies have different awake time depending on their age.
Newborns usually stay awake for about 45 min - 1 hour, while 6 months old baby can play for 2-2.5 hours before he's ready for some sleep. Here's a great guidance on baby awake times.
It's good to know these awake times so that you could always know when your child is ready to sleep.
In addition to this, it's important to see baby's sleep cues: yawning, rubbing eyes, slower motions, appears to be uninterested in playing with toys.
As soon as you notice some of these signs and you know the timing is right for a nap, start with a step #2.
Click HERE TO PIN this post!
Step #2. Establish a good wind-down routine.
Regardless of your baby's age, he absolutely needs some quiet time before going to sleep.
Younger babies generally need less time to wind-down, older - a bit more. Your child is the main indicator for that.
Wind-down routine can last 5-10 minutes or a bit longer if you see the baby is not calming down.
The key is to be consistent with this routine. Don't miss this step!
Over time your child will understand that after wind-down routine, sleep is coming.
Wind-down routine can be anything that makes him calm and ready for sleep.
Examples of good wind-down routine:
hold baby in your arms for a little bit and walk around the room
sing a lullaby
show different items around the house
close the blinds or curtains
nurse (but don't let him fall asleep during nursing)
turn on the white noise machine or soother.
Both of my kids absolutely loved falling asleep with baby soother lights.
Now they are older but we still have this machine standing right by their bed lulling them to sleep.
Should I swaddle my baby?
There are lots of opinions and controversies whether a baby should be swaddled, but I'm a firm believer in swaddling.
I can't imagine putting my babies to sleep without swaddling them first.
It helped so much with staying warm and cozy and at the same time it kept them from being disturbed by their own startle reflex (which we know happens A LOT when they are babies).
For swaddling I loved Aussie Swaddle technique and I think it's one of the best ways to swaddle a baby especially when they learn to roll over.
I always had a pair of my favorite muslin swaddle blankets. They are large enough to accommodate any swaddling technique.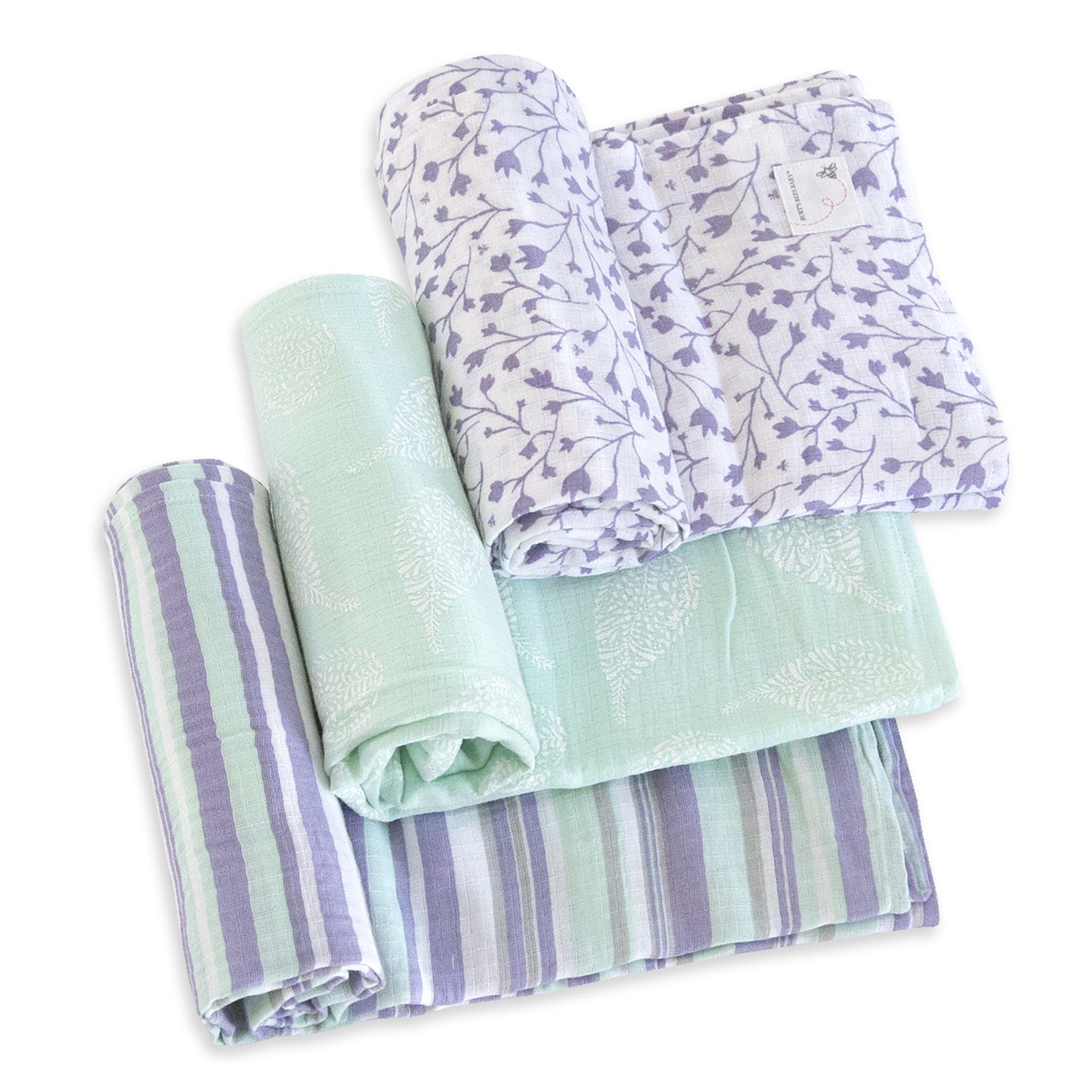 Plus, they are super breathable and perfect for little babies. And if you want to speed up the swaddling process even more, I can't recommend enough Love to Dream swaddle.
I discovered it only with my second daughter and I absolutely adored this swaddle. It allowed her to sleep in her preferred arms up position hence she were able to self soothe without my help.
Click HERE TO PIN this post!
Step #3. Introduce a lovey
.
Lovey is a transitional object that your baby will associate his sleep with.
It can be a piece of washcloth, a small stuffed toy, or a special security blanket.
You can start introducing lovey as early as 4 months of age. I suggest giving it to your baby only when it's time to sleep.
At first your child won't understand what it is for, but over time he'll get the idea. Don't underestimate the importance of lovey!
I observed how surprisingly attached my kids became to lovey and associated their sleep with it.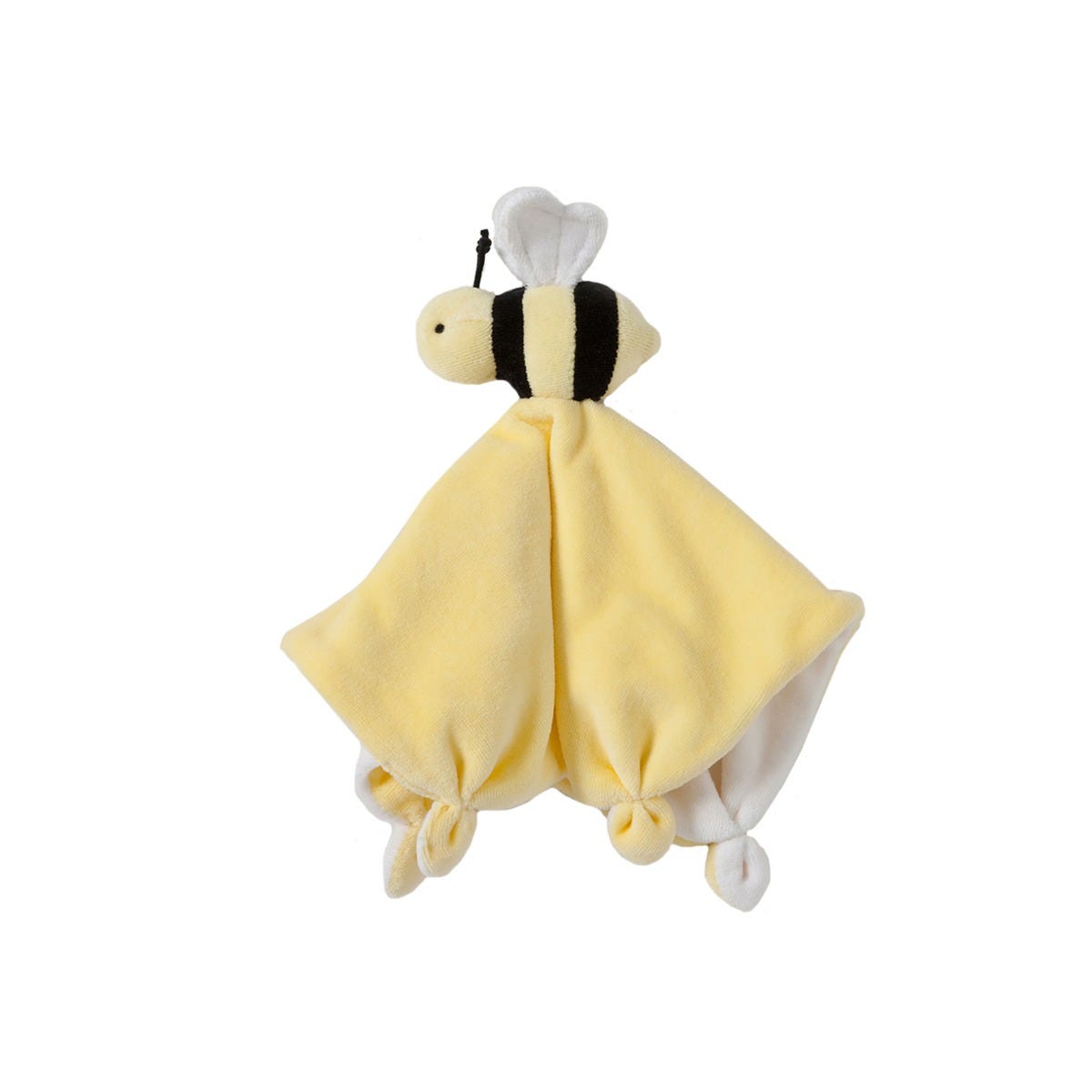 To make the most out of it, give lovey only for naptime/bedtime. Don't let the baby play with it. It's just for sleep.
Step #4. Put baby in a crib awake
I know it's easier said than done, but it is totally possible.
Provided that you followed all the above steps, by the time you put baby down in a crib, he should be calm and ready for sleep. Gently put him down in his crib.
However, if you used to rock or nurse baby to sleep, most of the time, don't expect a positive reaction to this step.
If he starts crying, lean toward his ear, whisper long shhhhh sound and rhythmically but lightly pat him on his back or shoulder.
If crying escalates, you can pick up the baby, calm him down and lay back into his crib. Repeat the previous step with shushing and patting if baby is still crying.
Click HERE TO PIN this post!
Now, this step may take longer than you expected and you might find yourself picking up baby many times.
But that's all right. We're changing the routine and
first times are never easy.

But it will get better.

When the baby starts to calm down in his crib, you can keep shushing-patting, but as soon as you notice baby starts to fall asleep, stop shushing.

You want him to fall asleep on his own and not become dependent on shush-pat.

So again - as soon as baby starts to calm down, stop shush-pat. Don't shush-pat till baby falls asleep, you want him to still be awake but not crying.

And that's it!

Consistency here is a key. If you keep doing this method for all naps and bedtime, soon you will notice that your baby will not be dependent on you to fall asleep.

This gentle sleep-training can take you as little as 5 days to start seeing results.

But it really depends on your baby's age and temperament. The earlier you start practicing this method, the sooner you'll see the results.

For older babies (over 6 m.o.), you may try modifying shush-pat technique, since patting on the back may be too stimulating for them.

Instead, try gently stroking their hair or putting your hand over the shoulder or tummy and keeping the shhhhh sound. Find what works for your baby.

Click HERE TO PIN this post!

Believe me, I know sleep training is hard. Whichever method you choose, it always requires lots of efforts from mom to make it work.

At times, I wasn't sure whether I could finish what I've started. And on the days like those you could have have found me lying in my bed in the middle of the night and reading all possible baby sleep sites.

But you know what?

I knew I wanted my daughter to fall asleep independently. I couldn't imagine going back to our rocking routine. I was very persistent with the above steps and it definitely paid off.

With my consistent efforts I was able to achieve my goals and teach my daughter to fall asleep independently.

I hope my true and tried methods will help to make your mom life a little easier.

But if at any point you feel like sleep training is harder than you thought it would be, consider getting personalized help from sleep consultants over at The Baby Sleep Site.

Join their Members Area, and enjoy unlimited access to baby sleep e-books, sleep training case studies, teleseminars, chats with expert sleep consultants, and more - all for as little as $6 a month!