What about the meatless food? Won't you miss meat if you don't eat it? The answer is no! There are many delicious and satisfying meatless meals that you can make. Discover these 24 wonderful recipes that are so flavourful you won't believe there's no meat at all.
The Best Potato Salad
This creamy Potato Salad with cucumber and tomato in a garlicky yogurt sauce is all you need for summer picnics or BBQs. This simple salad is so easy to make and it's creamy and delicious. Get the recipe.
Instant Pot Baked Ziti
This classic Italian dish is made with ziti pasta, a flavorful tomato sauce, and a blend of cheeses. It's perfect for a meatless Monday dinner and can be made in advance for a quick and easy meal. Get the recipe.
Creamy Tomato Risotto
This Tomato Risotto is an incredibly simple recipe but is still packed with flavor in each bite to give you a dinner meal that's sure to become a family favorite! It features perfectly cooked risotto with a beautiful, creamy texture and the fresh summer flavors of cherry tomatoes. What's best is that it's also vegan and can be made in just 30 minutes from scratch! Get the recipe.
Mushroom pasta Salad
Easy and fun Marinated Mushroom Pasta Salad With Green Olives is perfect for picnics or potlucks. Mushrooms make this pasta salad hearty and rich. They also stand up to the bold flavors of the dressing. Be sure to slice the mushrooms thin to make sure they absorb plenty of flavor from the marinade. Get the recipe.
Easy Vegetable Stew
This thick and hearty Eggplant Potato Stew Recipe features chewy eggplants, tender potatoes, and aromatics full of flavor. Made with plenty of veggies in just under an hour, it's the ultimate vegan stew. Get the recipe.
Crunchy Tomato Salad
Simple but so delicious vegan Heirloom Tomato Salad made with fresh heirloom tomatoes and addictive crunchy topping! Super easy and healthy summer side dish that goes with everything! You'll be hooked! Get the recipe.
Creamy Dill Pickle Soup
Dill Pickle Soup is my all-time favorite soup recipe for busy weeknights. It requires merely 30 minutes of your time and provides you with a hearty and satisfying bite. This easy soup is savory and creamy and kids love it too. Perfect for lunch or dinner, especially in cold winter weather. Get the recipe.
Potato And Mushroom Skillet
This Fried Chanterelle Mushrooms And Potatoes Recipe is an easy and delicious comfort food that never fails! Made in one pan and with just 5 ingredients, this cozy and flavorful dish is sure to become a hit. Get the recipe.
Roasted Asparagus
Really easy Mediterranean Asparagus With Balsamic Drizzle And Pine Nuts. Trimmed asparagus spears are baked in olive oil until tender but crispy and then finished with a quick homemade Balsamic drizzle. This healthy vegan recipe is kid-friendly and makes a delicious dinner side. Get the recipe.
The Best Ever Sauteed Chard
Want to know How To Cook Swiss Chard? Look no further. My Sautéed Swiss Chard recipe with garlic and tomatoes is simple yet unique. It's ready in minutes and is loaded with nutrients. This easy red chard recipe makes a wonderful and delicious addition to any recipe. Get the recipe.
Spicy Korean-Style Beet Salad
A vegan beet salad is prepared by cooking the beets and then marinating them in a few flavorful ingredients. This simple pantry staples beet recipe is incredibly delicious, healthy, and perfect for any time of the year. Get the recipe.
Mushroom Shawarma
This shawarma with fresh vegetables and homemade garlic yogurt sauce is a real crowd-pleaser. It's a quick and easy recipe that's perfect for dinner or a party. Get the recipe.
Ukrainian Green Borscht
Such a delicious Green Borscht with Spinach. Classic Ukrainian recipe your whole family will enjoy. Ready to be served in 30 minutes. Get the recipe.
Vegetable Korma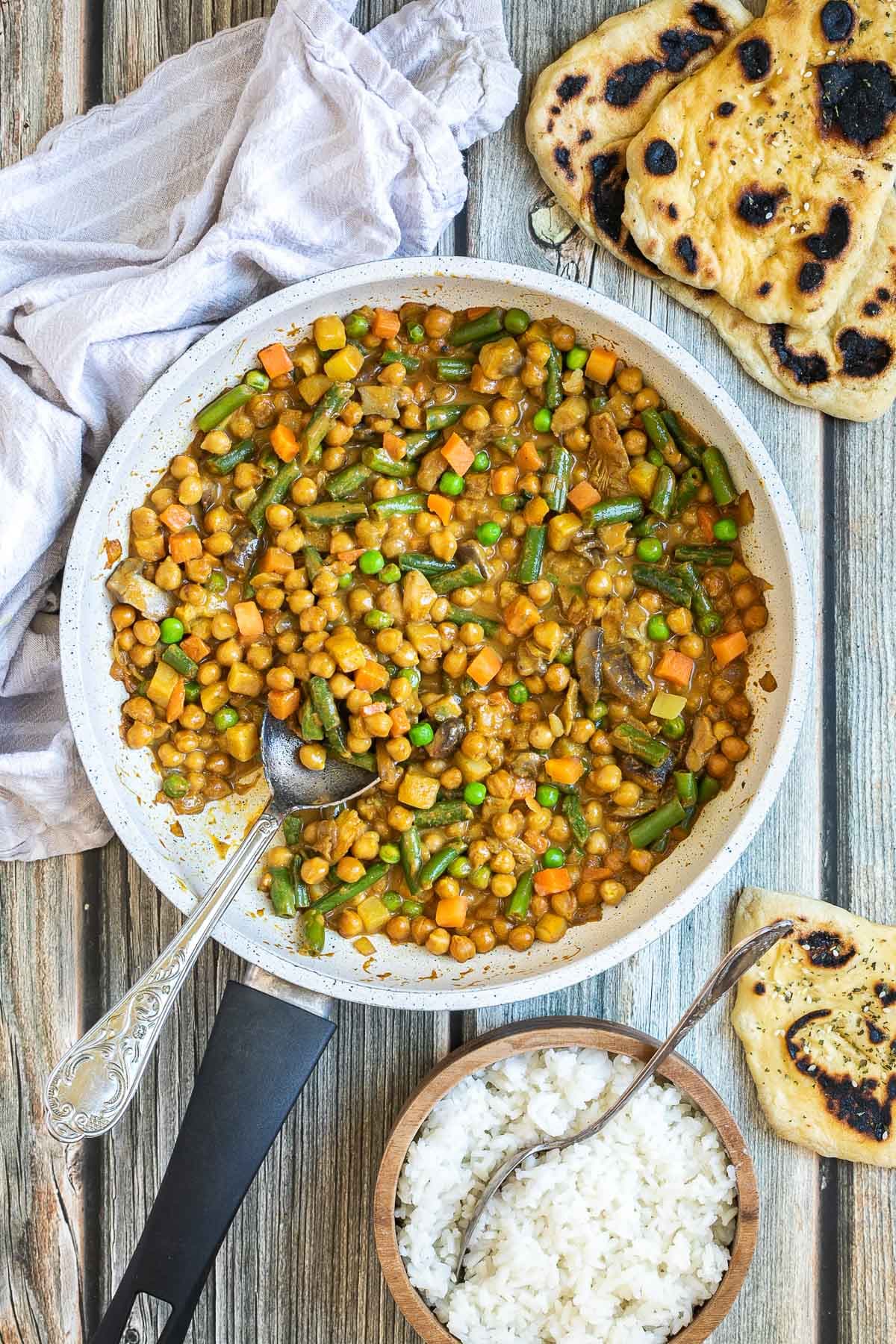 This 30-mins vegetable korma recipe is the perfect way to have a delicious dinner, without breaking the bank or spending hours in the kitchen. So put on your apron and get ready to whip up this easy korma sauce and load it with chickpeas, carrots, green peas, potatoes, green beans, and mushrooms. Everyone will be asking for seconds! Get the recipe.
Mushroom Chili
This Mushroom Chili Recipe is the ultimate vegan chili you'll ever need! Hearty mushrooms make a wonderful substitution for ground beef. With an easy secret step to give this chili the perfect texture, it's extremely flavorful and great for cozy fall and winter dinners. Get the recipe.
Hearty Minestrone
This Hearty Old-Fashioned Minestrone soup is filled with wholesome ingredients like leeks, beans, and potatoes. It's popular among kids and adults and is sure to fill you up on chilly winter days. Be sure to add some crusty bread to round out the meal. Get the recipe.
Mexican Casserole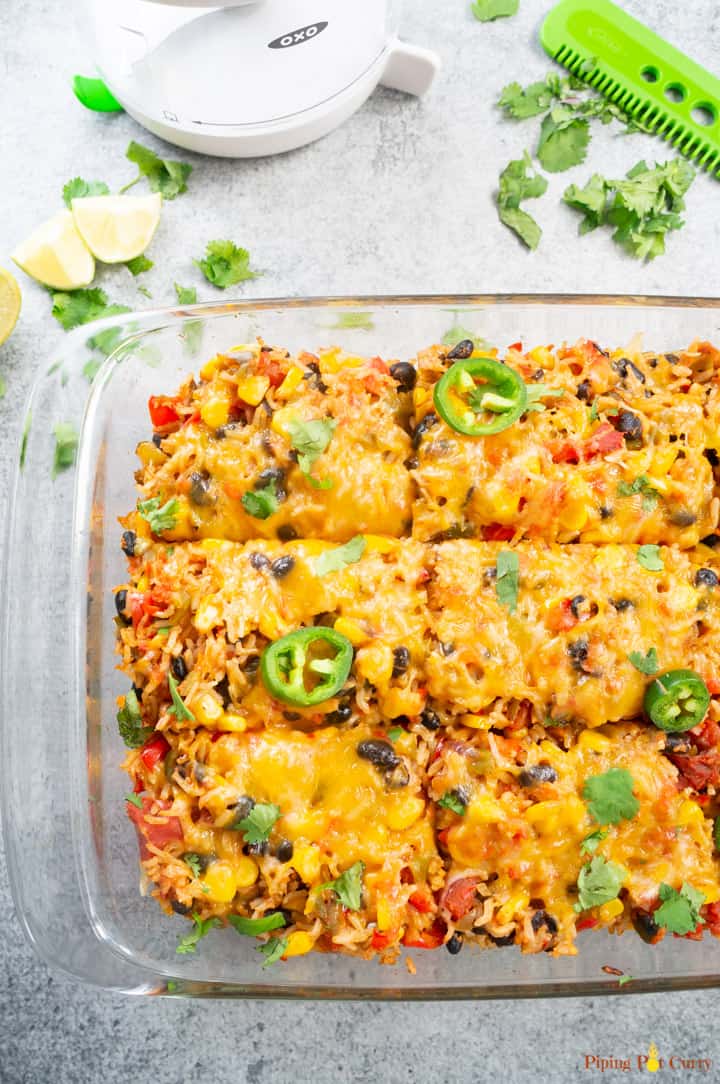 Healthy Vegetarian Mexican Casserole with Rice & Beans is easy to make and filled with cheesy goodness along with brown rice and lots of veggies. It is a great addition to your next dinner party or your Thanksgiving meal. It can be made ahead and frozen, so it is easy and quick to throw together. Get the recipe.
Asparagus Risotto
This Mushroom Asparagus Risotto is the perfect comfort food for busy days. Creamy, light, and delicious without all the fuss. Get the recipe.
Scallion Pancakes
Scallion Pancakes are easy to make, with readily available ingredients. Enjoy these toothsome, savory Chinese restaurant specialties at home with a tangy, sweet/hot dipping sauce. Serve as a starter or alongside a protein for a meal. Get the recipe.
Puff Pastry Pizza With Blue Cheese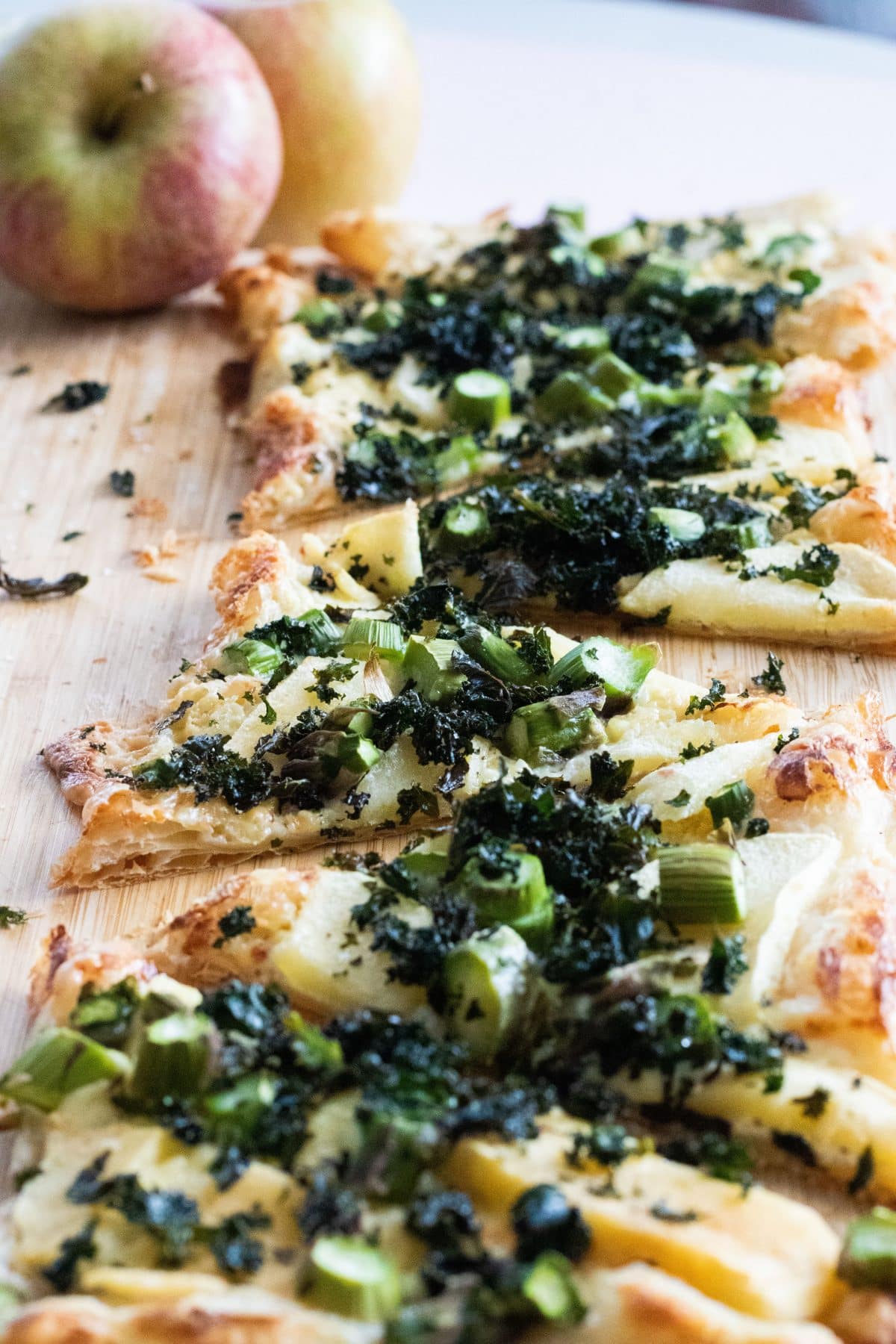 Puff Pastry Pizza is an easy & delicious way to make pizza - here it's salty, savory & subtly sweet, topped with mild blue cheese, sliced red apples, green asparagus and crumbled up kale chips. A perfect dinner, appetizer or snack! Get the recipe.
Potato Stir-fry With Halloumi & Veggies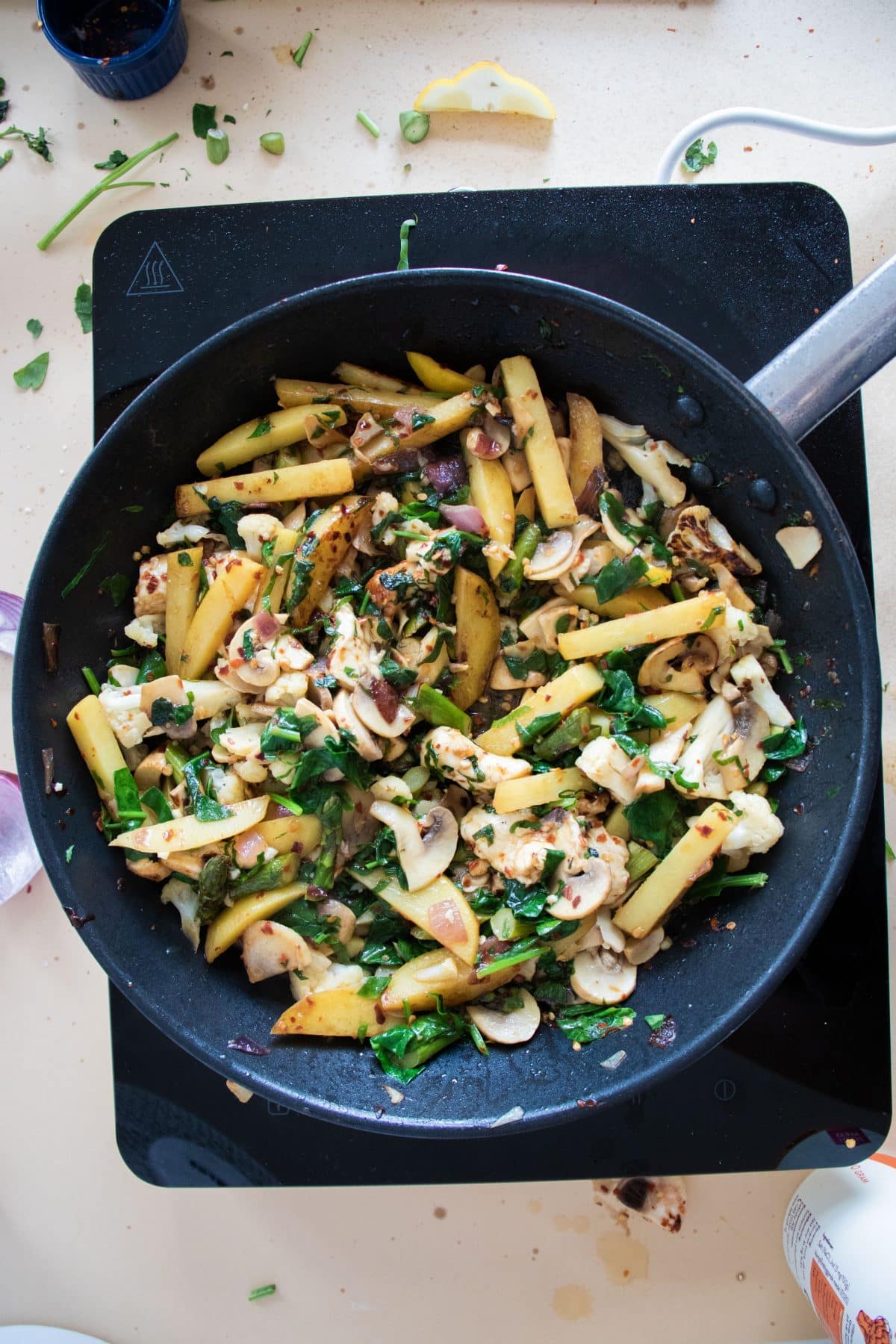 This 25-minute (prep included!) potato stir-fry loaded with halloumi & veggies is sure to become your new weeknight favorite! Healthy, quick and easy to make it's a delicious dinner dish that's packed full of flavor and all done in one pan - with just a touch of lemon to take it from great to amazing. Get the recipe.
La Ribollita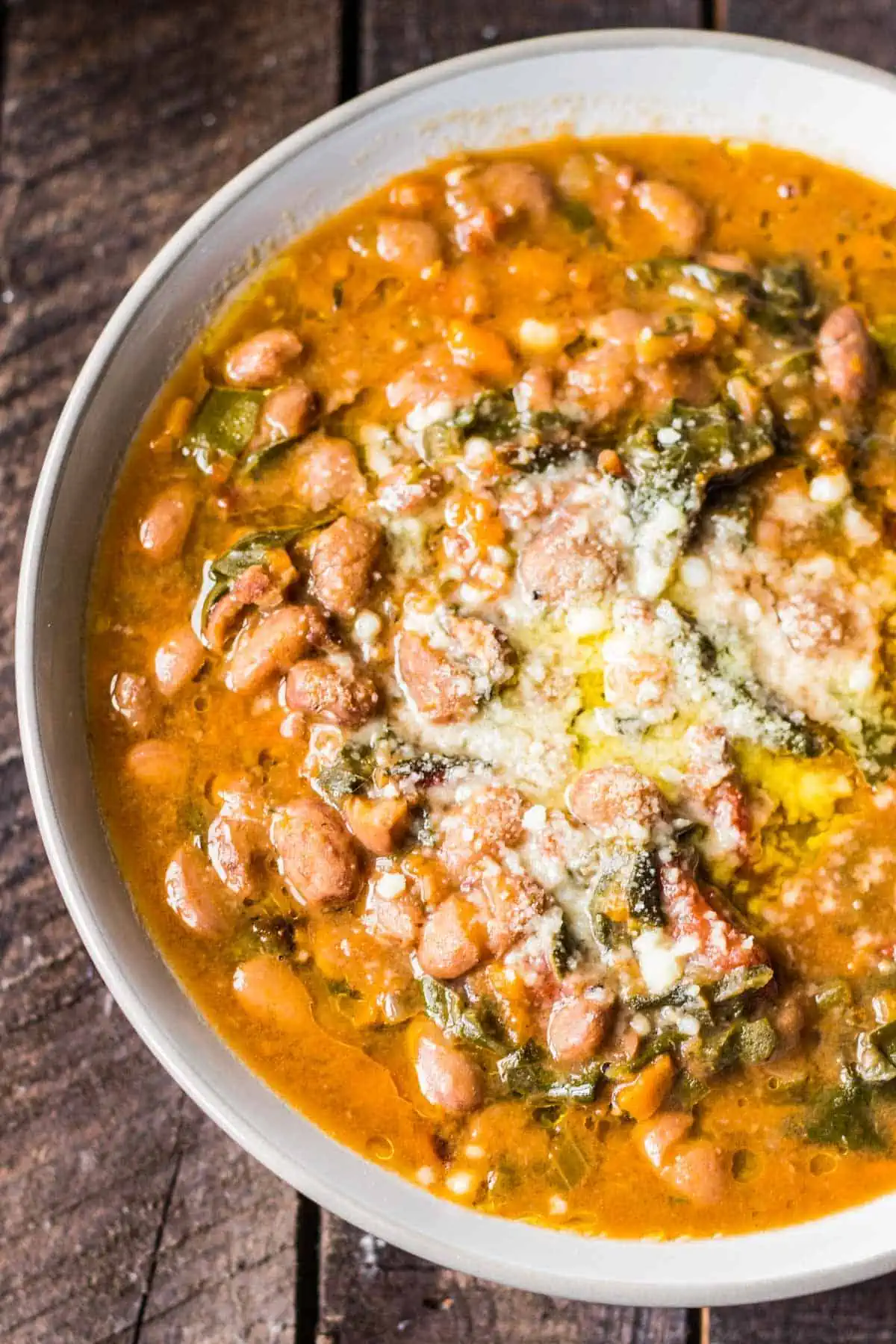 La Ribollita is a hearty, nourishing soup originating from Tuscany made with beans and kale. You'll love how easy it is to make and how perfect this soup is for leftovers – it tastes better and better each day! Get the recipe.
Furikake Salmon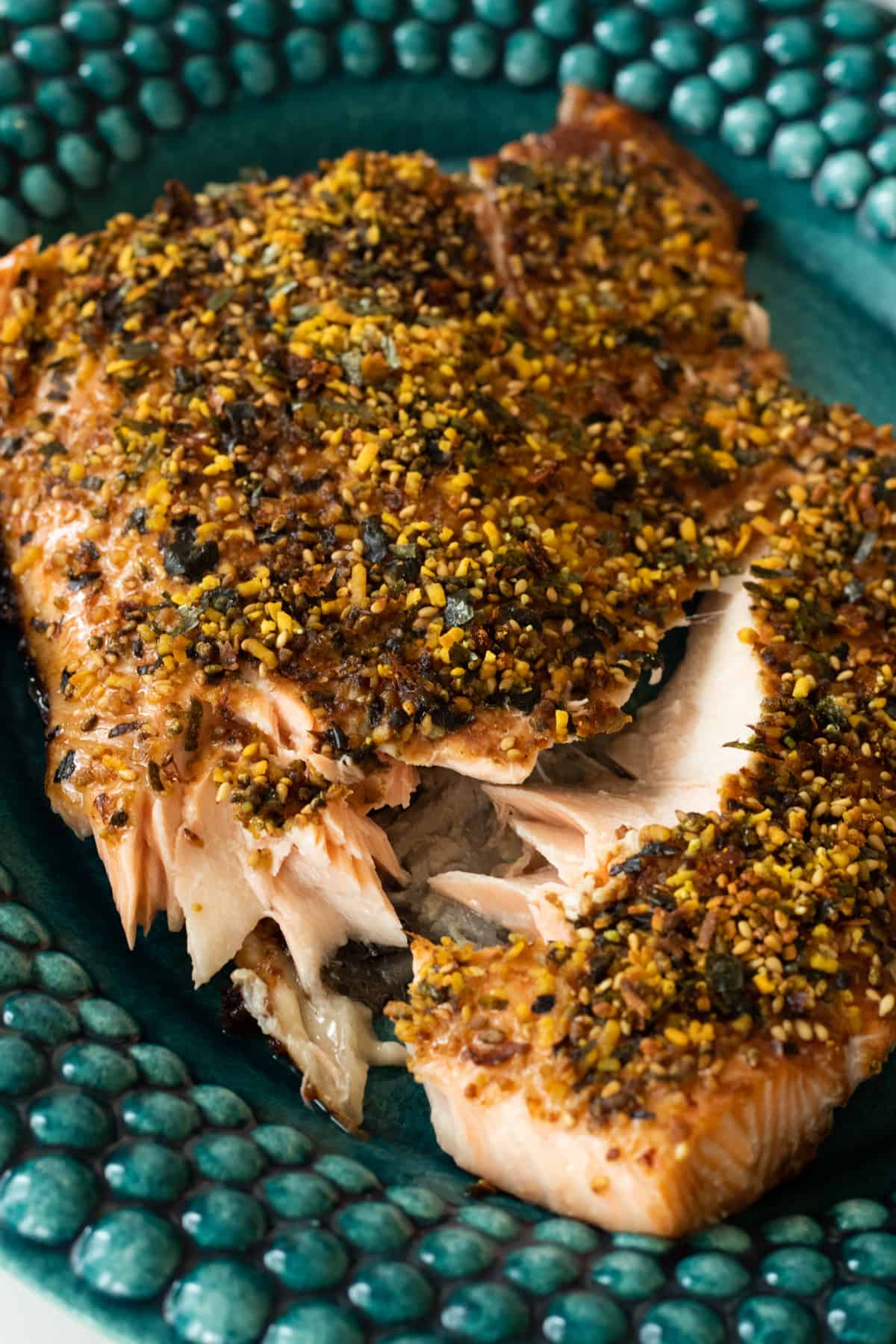 Furikake Salmon is an umami-packed salmon dish that's crispy and delicious, and easy to make in just 22 minutes. With salty Japanese soy sauce and delicious Furikake seasoning this is a flavor packed Asian style meal. A simple recipe that's great for busy weeknights, and perfect paired with rice or veggies. Get the recipe.
Mushroom And Pumpkin Risotto
One of the great ways to use pumpkin puree is to add it to a risotto. My Mushroom And Pumpkin Risotto is easy and delicious one pan dinner recipe with flavors of fall. Get the recipe.
More Articles From Lavender & Macarons
When you're feeling down, there's nothing quite like a home-cooked meal to lift your spirits. And when it comes to comfort food, soul food is king. 25+ Soul Food Recipes That Are Perfect for a Bad Day.
13 Best Ukrainian Recipes That Are as Comforting as Comfort Food Gets
As a Ukrainian myself, I personally recommend trying these fantastic dishes. 13 Best Ukrainian Recipes That Are as Comforting as Comfort Food Gets.
13 Unforgettable Eggplant Recipes That'll Have You Craving for Seconds
Even picky eaters will be asking for seconds. 13 Unforgettable Eggplant Recipes That'll Have You Craving for Seconds
17 Salmon Recipes That Are So Good, You'll Never Want To Eat Any Other Fish Again
Whether you're a seafood lover or just looking to incorporate more omega-3 fatty acids into your diet, these recipes are a must-try. 17 Salmon Recipes That Are So Good, You'll Never Want To Eat Any Other Fish Again.
17 Beef Recipes That Are So Good, You'll Want to Eat Them Every Night
Looking for dinner ideas that'll keep you coming back for more? These 17 beef recipes are so tasty that you'll want to make them over and over. 17 Beef Recipes That Are So Good, You'll Want to Eat Them Every Night