Elevate your dinner game with our collection of gluten-free chicken recipes that are designed to redefine your dining experience. These dishes are not just about dietary restrictions; they're about savoring flavor-packed meals that everyone at the table will love.
Chicken Riganati (Greek Lemon Roasted Chicken)
One of the easiest recipes in Mediterranean cuisine... Chicken Riganati, or Greek Lemon Roasted Chicken, is juicy and tender and requires just a handful of ingredients. Prepare it for a weeknight dinner or a special occasion. You'll love the lemon and oregano flavor of the dish and the easiness of putting it together. Get the recipe.
Pumpkin Chicken Curry
Pumpkin Chicken Curry is juicy, tender chicken breasts cut into bite-size pieces and simmered in a flavorful and creamy canned pumpkin sauce. This easy and quick one-skillet recipe is bursting with flavor and is perfect for a cozy autumn meal. Get the recipe.
Chicken Mushroom Stroganoff
This Chicken Mushroom Stroganoff is the perfect one-pot meal that'll be ready in under 30 minutes to give you a deliciously satisfying meal without having to slave away in the kitchen all day! It features chicken stroganoff, the chicken version of this incredibly popular East European dish that we've all come to know and love. Get the recipe.
Chicken And Butternut Squash Bake
This Chicken And Butternut Squash Bake is a quick and delicious dinner recipe for busy weeknights. It's easy to make, delicious and full of cozy autumn flavors. Get the recipe.
Portuguese Salad With Grilled Chicken And Peaches
Combination of spices typical for Portuguese cuisine, makes this healthy salad full of flavor. It's so juicy and it's really good for any occasion. Get the recipe.
Nigerian chicken stew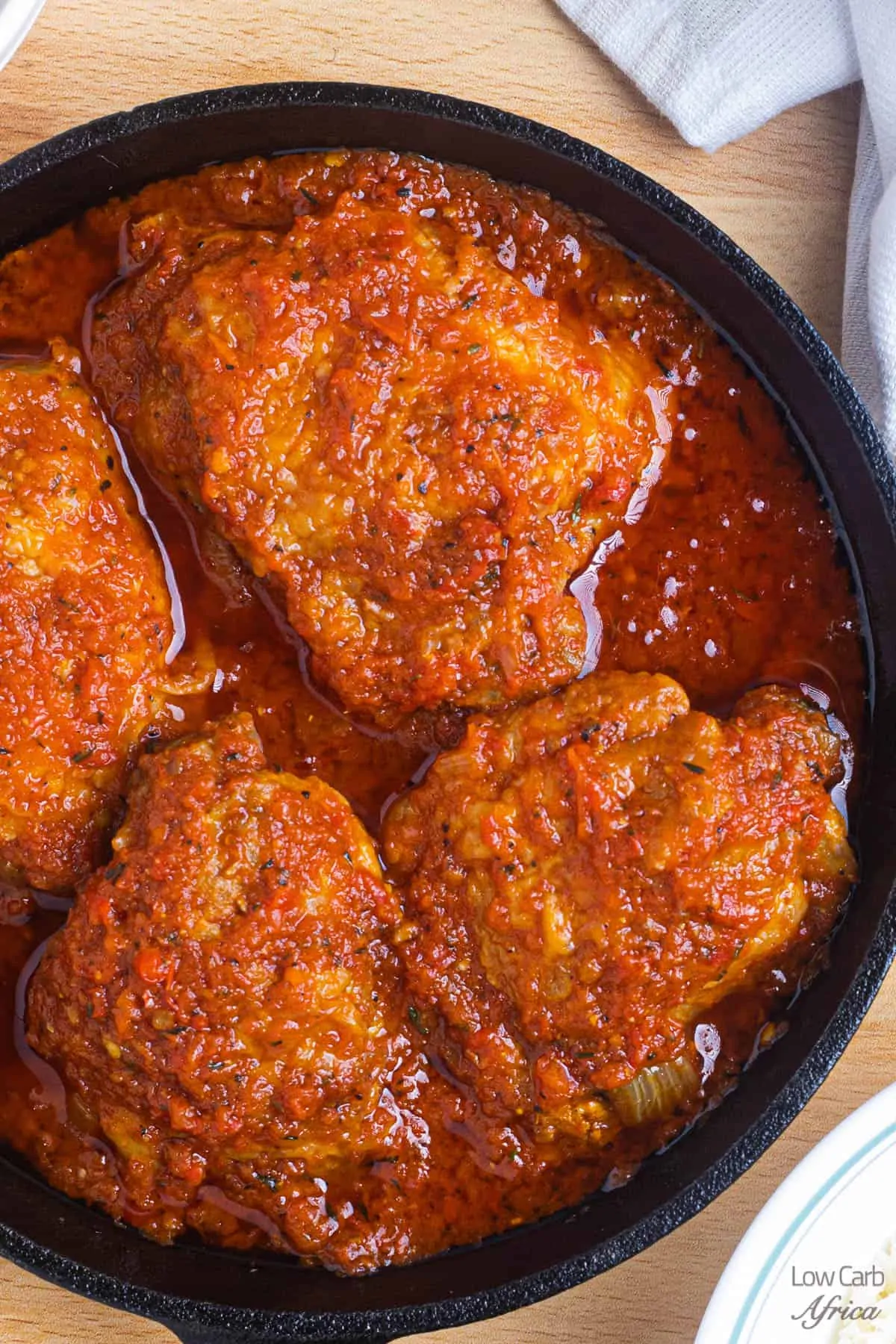 Nigerian chicken stew is a delightful West African stew made with chicken thighs and simmered in a savory sauce made with tomatoes and peppers. It is so versatile and can be eaten with many different dishes! Get the recipe.
Chicken Taco Spaghetti Squash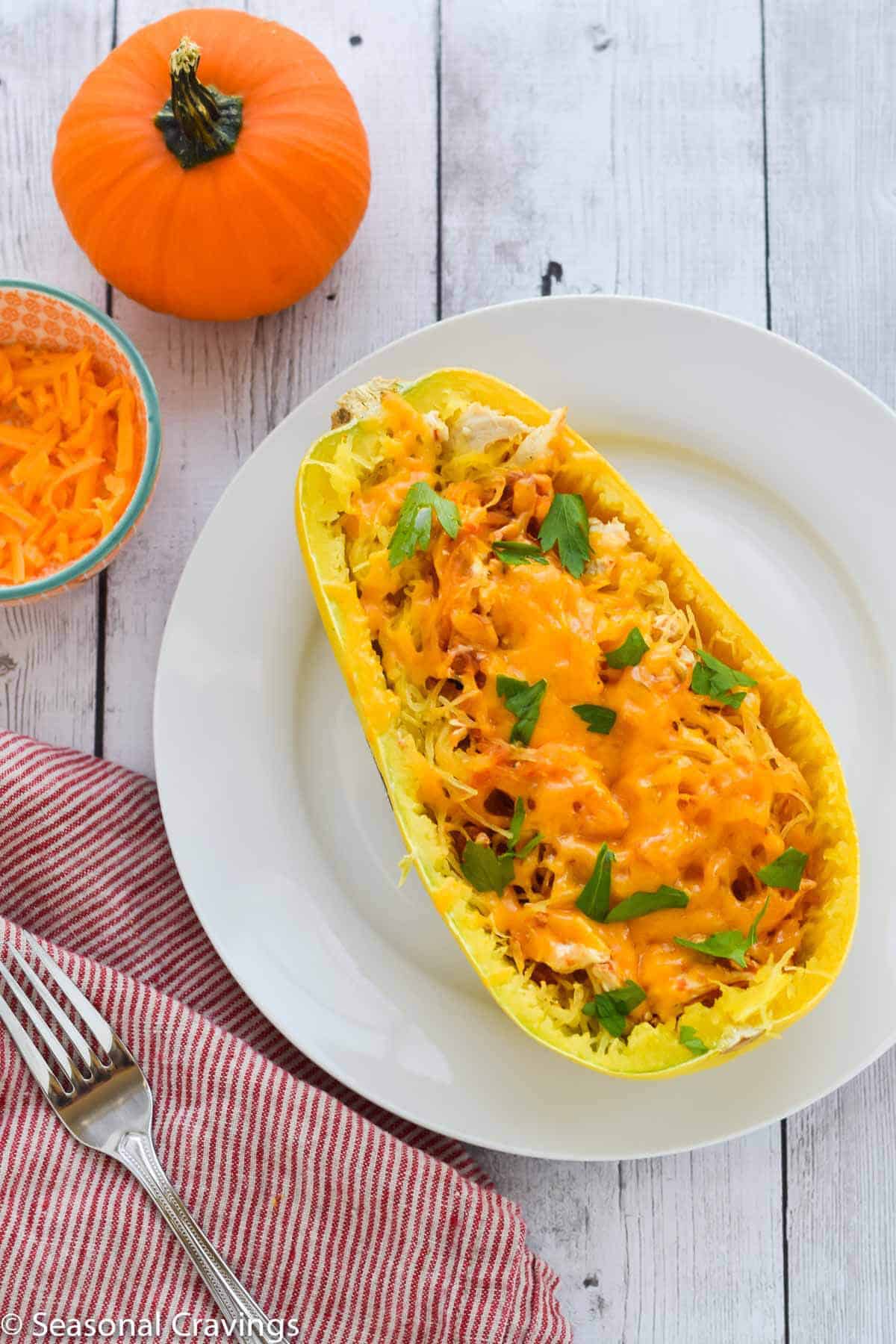 Watching your carbs? If so, you'll love this Chicken Taco Spaghetti Squash with only four ingredients. Get the recipe.
Crockpot Chili Recipe
This Crockpot Chili Recipe combines all the flavors of my original Award Winning Chili but also has some new unexpected ingredients.
Turn on your slow cooker in the morning and return home to a bowl of hearty and yummy goodness. Get the recipe.
Baked Chicken Parmesan Casserole
If you want an easy gluten-free dinner, then this gluten-free chicken casserole is for you. It's got juicy pieces of chicken, marinara, gluten-free pasta, and cheese that are baked to perfection. It's a chicken dinner the whole family will love. Get the recipe.
Chicken Contadina (Country Style Chicken)
Fall-off-the bone chicken is smothered in a rich vegetable-infused sauce. This One Pot Chicken Contadina or a Country Style Chicken is an easy Italian recipe for a hearty weeknight meal. Simple ingredients - insanely delicious result. Get the recipe.
Instant Pot Chicken Soup
This Instant Pot Chicken Soup is so brimming with flavor it's guaranteed to be one of your family's top picks! Get the recipe.
Chicken Rice Pilaf
I don't often post recipes from my native Ukraine, but when I do, I make sure they are the best and the most delicious ones. This Chicken Rice Pilaf is one-pot comforting meal, perfect for busy weekdays. Get the recipe.
More from Lavender & Macarons
All of these recipes are easy to follow and can be made at home with relatively simple ingredients. Bring the European Cafe to Your Kitchen With These 28 Amazing Recipes
A Taste of France: 17 Delicious Desserts That Are Worth Making At Home
France is known for its delicious food, and its desserts are no exception. From the traditional chocolate eclairs to the delicate creme brûlée, there's something for everyone in French pâtisserie. A Taste of France: 17 Delicious Desserts That Are Worth Making At Home
17 Salad Recipes That Will Change Your Mind About Salad
Salads get a bad rap. They're often seen as boring and bland, or as something you only eat when you're trying to be healthy. But that's not the case! Salads can be incredibly delicious and satisfying, and they're a great way to get your daily dose of fruits, vegetables, and whole grains. 17 Salad Recipes That Will Change Your Mind About Salad
17 Ways to Cook Broccoli That You'll Actually Enjoy
Find out how to make broccoli delicious in 17 different ways. These fantastic recipes will make you actually enjoy eating this healthy vegetable! 17 Ways to Cook Broccoli That You'll Actually Enjoy
17 Fantastic & Easy Seafood Recipes Everyone Needs To Try At Least Once
Indulge in the freshest seafood dishes with these 17 easy and delicious recipes. This blog post features a variety of seafood recipes that are perfect for any occasion, from risotto to baked salmon. 17 Fantastic & Easy Seafood Recipes Everyone Needs To Try At Least Once