The smell of delicious food cooking is one of the best smells in the world. It can make you hungry, even if you weren't before. And when the food finally comes out of the oven and you take your first bite, it's even better than you imagined.
Discover these 22 recipes that are so good you'll want to eat them just for the smell.
Spicy Chicken Wings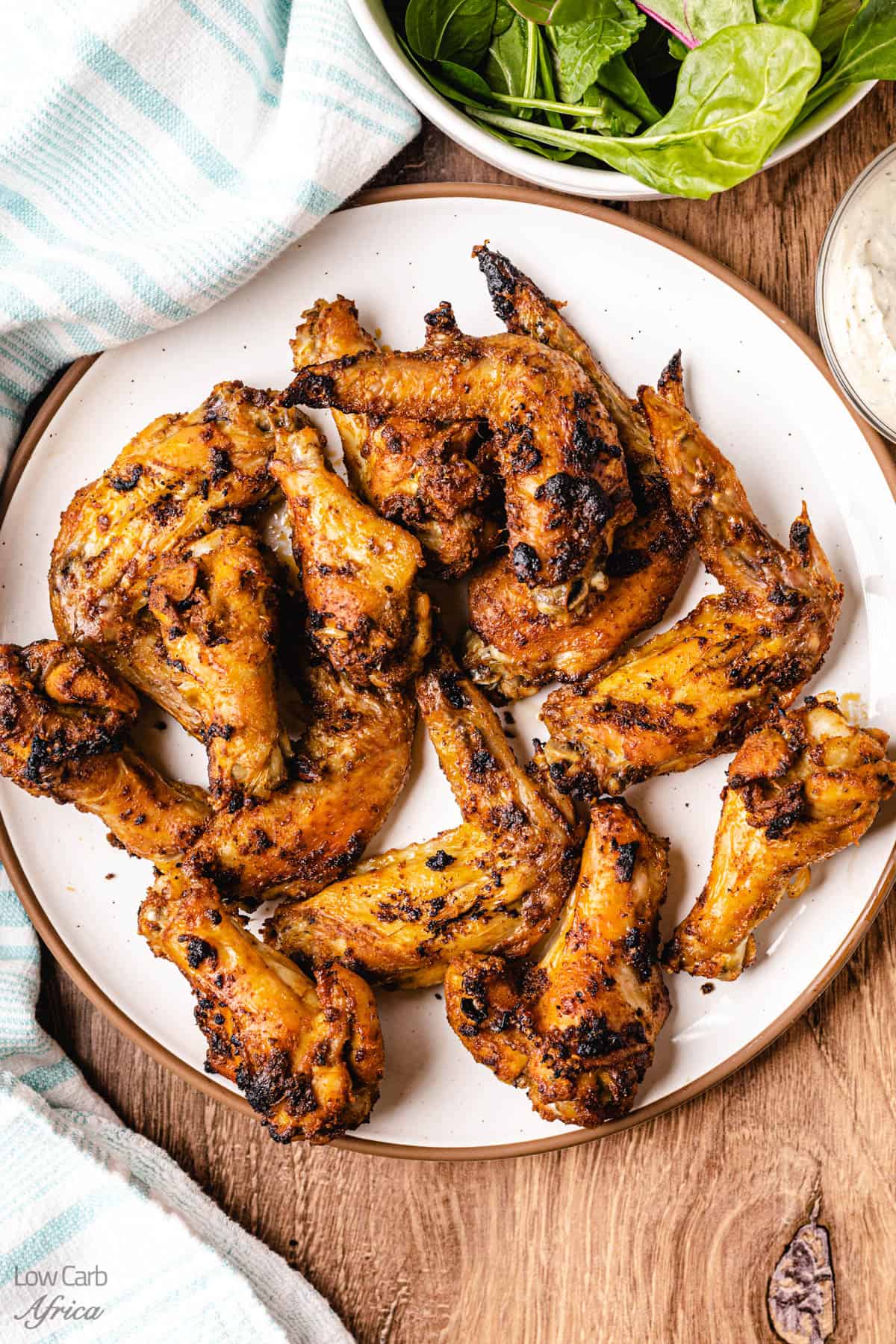 With hot sauce and flavorful spices marinated into every bite, these spicy chicken wings are perfect for any heat lover! Plus, they're way healthier than the wings at your favorite sports bar and come together with just a few simple ingredients. Get the recipe.
Easy Potato And Cauliflower Casserole
This Potato And Cauliflower Bake or also called Cauliflower Au Gratin is an easy comfort food recipe that has quickly become one of the favorites in my house. It's creamy, cheesy, and such a delicious side dish for holidays as well as for Sunday night dinner. Get the recipe.
Chicken Mushroom Stroganoff
This Chicken Mushroom Stroganoff is a creamy, savory, luxurious dinner inspired by delicious Eastern European cuisine, and it's ready to eat in just half an hour! You simply can't beat this easy stroganoff recipe for a one-skillet, thirty-minute dinner when you're ready for a satisfying, comforting meal that doesn't involve slaving in the kitchen all afternoon. Get the recipe.
Salmon Finnish Soup
Tired of baked salmon dishes? Try my Lohikeitto recipe - delicious and the easiest ever salmon soup that is so popular in Finland. Made in just under 40 minutes, this cozy and hearty fish soup is sure to warm you on chilly winter nights. Get the recipe.
Spanish Chicken And Rice
Bursting with flavor, juicy, hearty, and comforting, this Spanish Chicken And Rice makes a delicious one-pot recipe for the whole family. Perfect for a weeknight or Sunday dinner. Get the recipe.
Creamy Mushroom Risotto
This is hands down the BEST Creamy Mushroom Risotto and I'm not exaggerating. It's uniquely flavorful, rich and indulgent. Ready in just 30 minutes, this easy, gluten-free risotto is a perfect choice for a date night or family dinner. Get the recipe.
Mustard Chicken
Prepare to fall madly in love with this Creamy, dreamy Mustard Chicken Recipe. Classic French dish that tastes outstanding. Get the recipe.
Ukrainian Red Borscht
Ukrainian Borscht - everything you wanted to know about making this traditional soup. Picky kids approved, this healthy recipe won't skimp on flavor. I make this easy vegetable Borscht with beans and cabbage every week and I'm confident you'll love it too. Get the recipe.
Sour Cream Mussels
A ridiculously quick and easy recipe for dinner requires just a handful of ingredients. These Garlic Mussels In Sour Cream Sauce are such a comforting seafood dish, perfect for those busy weeknights when you just don't feel like cooking. Get the recipe.
30-Minute Thai Coconut Curry
This Thai Eggplant Red Curry is simple yet flavor packed meal perfect for meal prep or busy weeknights. Zucchini and tofu add richness and nutrients to this already healthy freezer-friendly dish. Made in one pot and ready in just 30 minutes. Get the recipe.
Baked Smashed Potatoes
So easy and delicious, these Crispy Smashed Red Potatoes With Garlic And Dill are a comfort side dish that never disappoints. Naturally vegan and made with just 4 simple ingredients, these crushed red potatoes are great for any occasion. Get the recipe.
White Chicken Chili
This yummy White Chicken Chili is made with Ground Chicken, Sour Cream and is ready to be served in 40 minutes. This easy and hearty soup recipe will keep you full for hours. It's the perfect recipe for busy weeknight dinners. Get the recipe.
2-Hour No-Knead Bread
This quick No Knead Bread is made without a mixer, doesn't require long resting time and is crusty and delicious! Thanks to the addition of Buckwheat and Whole Wheat Flour, this easy vegan bread comes out healthier and perfect for soups, sandwiches or dunking. Get the recipe.
Easy Chicken Paprikash
Hungarian Chicken Paprikash is an easy, one pan weeknight dinner recipe with a finger licking good sour cream sauce made of the pantry staples. Husband's approved recipe that your family will love. Get the recipe.
Creamy Pad Thai
This Pad Thai dish combines the essence of Thai cuisine with plant-based goodness. This vibrant and satisfying recipe features tender rice noodles, crispy tofu, and a colorful array of fresh vegetables, all tossed in a luscious peanut sauce. Get the recipe.
Easy Sticky Maple Ginger Soy Glazed Chicken Wings
These Sticky Maple Ginger Soy Glazed Chicken Wings are super easy and use pantry ingredients that you should have on hand. You might just need to pick up some fresh ginger when you shop for the wings. Get the recipe.
Italian Meatball Marinara Subs
Italian meatball marinara subs aren't just a treat for those of us with Italian blood in our veins, but everyone who loves juicy homemade meatballs, fresh and tangy homemade marinara sauce and fluffy brioche buns. Meatball sandwiches in a toasted bun make a delicious lunch and are also perfect for busy weeknights. This recipe is satisfying comfort food and so much tastier than a meatball sub from your local Subway. Get the recipe.
Chicken Contadina
Fall-off-the bone chicken is smothered in a rich vegetable-infused sauce. This One Pot Chicken Contadina or a Country Style Chicken is an easy Italian recipe for a hearty weeknight meal. Simple ingredients - insanely delicious result. Get the recipe.
Mushroom Soup
It's a Ukrainian Mushroom Soup. After you take the first sip of it, you'll instantly feel cozy and warm. Classic autumn soup with a ton of flavor. Get the recipe.
Beef Stroganoff
This Easy Beef Stroganoff Recipe features tender strips of beef that are quickly seared and then simmered in a flavorful sour cream-tomato sauce. This 40-minute recipe requires just 7 ingredients and is cozy and delicious! Perfect for busy weeknights! Get the recipe.
Shiitake Penne with Butternut Squash Creamy Sauce
An incredibly delicious pasta. Nothing says fall like Pasta with Butternut Squash and Mushrooms. It's a burst of flavors on a plate. Slightly sweet butternut squash, shiitake mushrooms with their woody flavor, and a few dollops of Crème Fraîche come together in this bright restaurant type meal. Get the recipe.
Garbanzo Beans and Kale Stew
This Garbanzo Beans and Kale Stew is a hearty and healthy dish great to be enjoyed on its own or over rice or pasta. It's easy to make, nutritious and great for meal prep, too. Made in one pan with protein-packed chickpeas that are flavorful and a bit spicy. Get the recipe.
More from Lavender & Macarons
All of these recipes are easy to follow and can be made at home with relatively simple ingredients. Bring the European Cafe to Your Kitchen With These 28 Amazing Recipes
A Taste of France: 17 Delicious Desserts That Are Worth Making At Home
France is known for its delicious food, and its desserts are no exception. From the traditional chocolate eclairs to the delicate creme brûlée, there's something for everyone in French pâtisserie. A Taste of France: 17 Delicious Desserts That Are Worth Making At Home
17 Salad Recipes That Will Change Your Mind About Salad
Salads get a bad rap. They're often seen as boring and bland, or as something you only eat when you're trying to be healthy. But that's not the case! Salads can be incredibly delicious and satisfying, and they're a great way to get your daily dose of fruits, vegetables, and whole grains. 17 Salad Recipes That Will Change Your Mind About Salad
17 Ways to Cook Broccoli That You'll Actually Enjoy
Find out how to make broccoli delicious in 17 different ways. These fantastic recipes will make you actually enjoy eating this healthy vegetable! 17 Ways to Cook Broccoli That You'll Actually Enjoy
17 Fantastic & Easy Seafood Recipes Everyone Needs To Try At Least Once
Indulge in the freshest seafood dishes with these 17 easy and delicious recipes. This blog post features a variety of seafood recipes that are perfect for any occasion, from risotto to baked salmon. 17 Fantastic & Easy Seafood Recipes Everyone Needs To Try At Least Once