Looking for easy and delicious recipes that will save you time and effort? Look no further! This blog post features 16 of our favorite easy recipes that are perfect for busy days. Whether you're looking for a quick weeknight meal or a hearty weekend brunch, we have something for everyone.
Eggplant Bolognese Pasta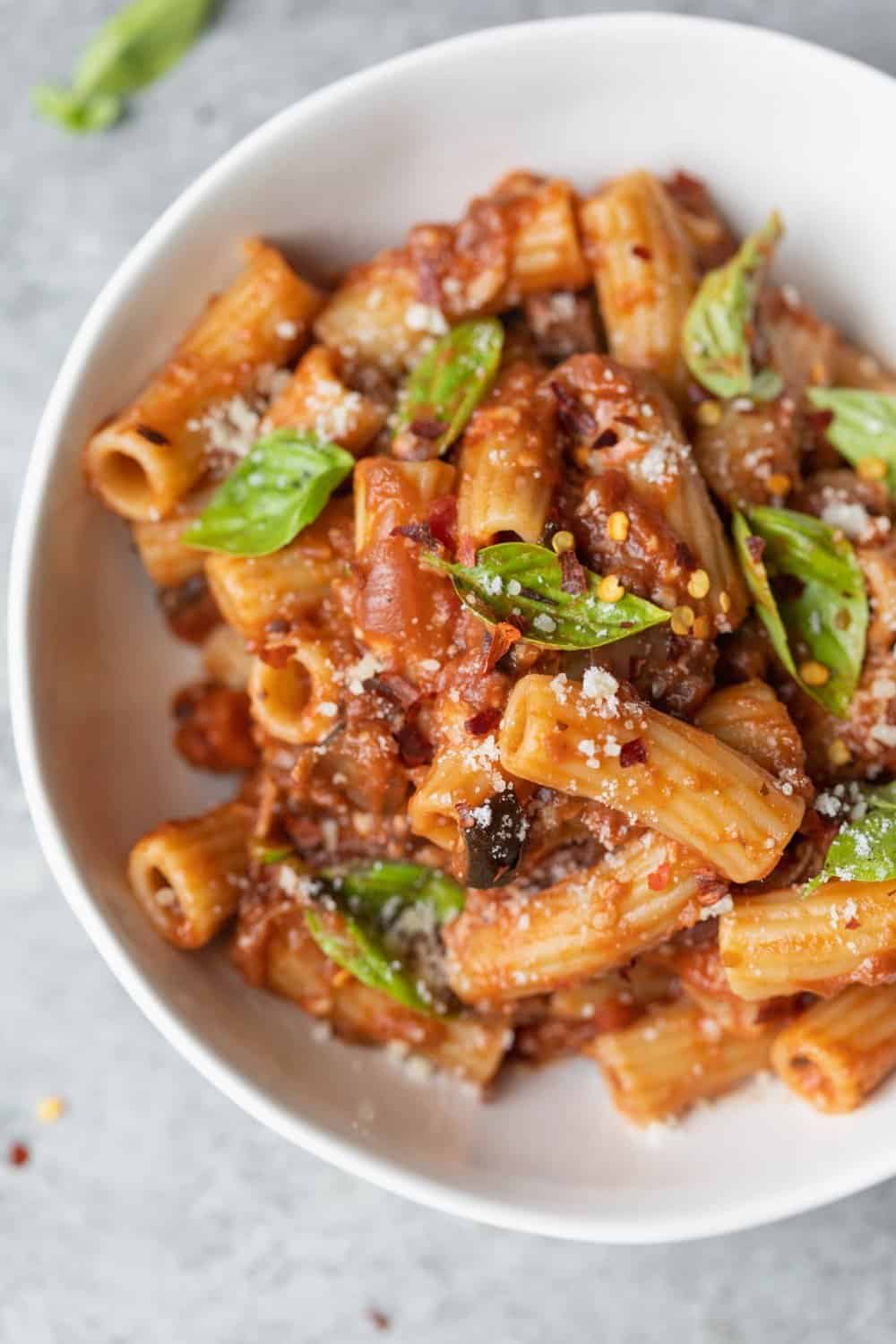 You've gotta try this plant-based eggplant ragu, so hearty and full of flavor. Roasted eggplant bolognese with mushrooms served over pasta with plenty of basil. The perfect late summer dinner. Eggplant Bolognese Pasta.
30-Minute Summer Green Borscht
Such a delicious Green Borscht with Spinach. Classic Ukrainian recipe your whole family will enjoy. Ready to be served in 30 minutes. Green Borscht recipe.
Mediterranean Style Quinoa Patties
You'll love these Mediterranean Style Quinoa Patties with Zucchini and Feta Cheese. They are crispy, delicious and easy to make.
Cook quinoa the night before or in the morning and finish the patties just before lunch or dinner and you'll have a complete meatless meal that is full of healthy goodness. Mediterranean Style Quinoa Patties.
Creamy Mushroom Stroganoff
No more bland mushroom pasta! This incredibly delicious Mushroom Stroganoff recipe packs a serious flavorful punch. It's so creamy and satisfying, perfect comfort food for long winter days. Mushroom Stroganoff recipe.
Mussels In Creamy Garlic Sauce
Ridiculously quick and easy recipe for dinner that requires just a handful of ingredients. These Garlic Mussels In Sour Cream Sauce are such a comforting seafood dish, perfect for those busy weeknights when you just don't feel like cooking. Mussels In Creamy Garlic Sauce.
Alfredo Spaghetti With Sun-Dried Tomatoes
Creamy, flavorful, a bit sweet and tart, this Sun Dried Tomato Alfredo With Zucchini Spaghetti will make a quick and easy dinner recipe that is perfect for busy weekdays, but is also delicious and satisfying for a Sunday family meal. Alfredo Spaghetti With Sun Dried Tomato
Chicken Paprikash
This Chicken Paprikash recipe is a delicious one-pan weeknight dinner meal that features perfectly browned chicken that's braised in a creamy, sour cream based paprika sauce. What's best is that you only need some pantry staples to make this at home and it's a total crowd-pleaser! This is one of our favorite dinner meals that's kids and husband approved! Chicken Paprikash.
Easy (and Best) Chilled Tomato Gazpacho
In a hot weather there's nothing better than a bowl of cold fresh soup. This Spanish Gazpacho recipe uses simple ingredients and requires zero cooking time. Just blend it, chill, and serve. Spanish Gazpacho recipe.
Eggplant Potato Stew Recipe
This thick and hearty Eggplant Potato Stew Recipe features chewy eggplants, tender potatoes, and aromatics full of flavor. Made with plenty of veggies in just under an hour, it's the ultimate vegan stew. Eggplant Potato Stew Recipe.
Parmesan Crusted Salmon
This Sheet Pan Parmesan Crusted Salmon is a quick, healthy, and satisfying dinner. Everyone will love the flaky, crispy coating and zesty flavors; this easy-baked salmon recipe is bound to become a new family favorite. Sheet Pan Parmesan Crusted Salmon.
Creamy Potato Salad
This creamy Potato Salad with cucumber and tomato in a garlicky yogurt sauce is all you need for summer picnics or BBQs. This simple salad is so easy to make and it's creamy and delicious. Creamy Potato Salad.
30-Minute Cod Piccata
This Easy Cod Piccata in a creamy Piccata sauce makes a quick 30-minute dinner recipe your family will love. Creamy, a bit briny and so so good! 30-Minute Cod Piccata.
Spicy Gochujang Chicken Stir Fry
Gochujang chicken is sweet, spicy and very savoury. It's a typical Korean inspired stir fry which looks so appetizing served in butter lettuce leaves with rice and Korean garnishes. Spicy Gochujang Chicken Stir Fry
Lentil Tacos With Avocado Sauce
These Lentil Tacos are one of the easiest and healthiest vegan recipes that have the perfect meat replacement! Not only does it taste amazing, but it's also budget-friendly and a great way to get started with a vegan diet. It's a protein-packed, iron-rich, and full of flavor in each bite thanks to the homemade avocado dressing. Lentil Tacos.
More from Lavender & Macarons
All of these recipes are easy to follow and can be made at home with relatively simple ingredients. Bring the European Cafe to Your Kitchen With These 28 Amazing Recipes
A Taste of France: 17 Delicious Desserts That Are Worth Making At Home
France is known for its delicious food, and its desserts are no exception. From the traditional chocolate eclairs to the delicate creme brûlée, there's something for everyone in French pâtisserie. A Taste of France: 17 Delicious Desserts That Are Worth Making At Home
17 Salad Recipes That Will Change Your Mind About Salad
Salads get a bad rap. They're often seen as boring and bland, or as something you only eat when you're trying to be healthy. But that's not the case! Salads can be incredibly delicious and satisfying, and they're a great way to get your daily dose of fruits, vegetables, and whole grains. 17 Salad Recipes That Will Change Your Mind About Salad
17 Ways to Cook Broccoli That You'll Actually Enjoy
Find out how to make broccoli delicious in 17 different ways. These fantastic recipes will make you actually enjoy eating this healthy vegetable! 17 Ways to Cook Broccoli That You'll Actually Enjoy
17 Fantastic & Easy Seafood Recipes Everyone Needs To Try At Least Once
Indulge in the freshest seafood dishes with these 17 easy and delicious recipes. This blog post features a variety of seafood recipes that are perfect for any occasion, from risotto to baked salmon. 17 Fantastic & Easy Seafood Recipes Everyone Needs To Try At Least Once