Simplify your cooking with our 29 one-pot meal recipes. These dishes are all about making your life in the kitchen easier and your meals more delicious. Whether you're a busy cook or just looking for a convenient and tasty meal, these recipes are here to help.
Pork Vegetable Stew
Easy to prepare One Pot Pork Vegetable Stew is a delicious and comforting weeknight meal your family will enjoy. Get the recipe.
French Mustard Chicken
Prepare to fall madly in love with this Creamy Dreamy Mustard Chicken Recipe. Classic French dish that tastes outstanding. Get the recipe.
Spicy Bombay Potatoes
Baby Potatoes cooked with aromatic spices, as a one-pot dish, are perfect to serve as an appetizer or a side dish. These delicious and easy Bombay Potatoes take just 20 minutes to make in the Instant Pot or on stovetop. Get the recipe.
Oven Baked Pork Chops & Broccoli
If you are looking for a simple but tasty dinner, you'll love Oven Baked Pork Chops and Broccoli. It's a super quick and delicious that will become a family favorite everyone will love. Since it's a one-pan meal, clean-up is a snap, which is always a bonus. Get the recipe.
Old-Fashioned Minestrone
This Hearty Old-Fashioned Minestrone soup is filled with wholesome ingredients like leeks, beans and potatoes. It's popular among kids and adults and is sure to fill you up on chilly winter days. Be sure to add some crusty bread to round out the meal. Get the recipe.
Honey-Mustard Chicken
Decadent and delicious, this Stovetop Creamy Honey Mustard Chicken skillet meal is just 30 minutes away. Filled with rich flavors and made in one pan, this simple and easy recipe is sure to be your new fave. And the creamy honey mustard cream sauce is amazing on rice, potatoes, and roasted veggies, too! Get the recipe.
Eggplant Potato Stew
This thick and hearty Eggplant Potato Stew Recipe features chewy eggplants, tender potatoes, and aromatics full of flavor. Made with plenty of veggies and in just under an hour, it's the ultimate vegan stew. Get the recipe.
Chicken Mushroom Stroganoff
This creamy Chicken Mushroom Stroganoff is an easy yet luxurious dinner recipe and it's ready to eat in just half an hour! Your family will be asking for seconds. Get the recipe.
Fried Potato And Mushrooms
This Fried Chanterelle Mushrooms And Potatoes Recipe is an easy and delicious comfort food that never fails! Made in one pan and with just 5 ingredients, this cozy and flavorful dish is sure to become a hit. Get the recipe.
Sheet Pan Salmon Oreganata
This Sheet Pan Salmon Oreganata With Green Beans And Potatoes is a quick, healthy, and satisfying dinner. Everyone will love the flaky, crispy coating and zesty flavors; this easy baked salmon recipe is bound to become a new family favorite. Get the recipe.
Polish Dill Pickle Soup
Dill Pickle Soup is my all-time favorite soup recipe for busy weeknights. It requires merely 30 minutes of your time and provides you with a hearty and satisfying bite. This easy soup is savory, creamy and kids love it too. Perfect for lunch or dinner, especially in cold winter weather. Get the recipe.
Cumin Beef Fried Rice
This beef fried rice recipe is the perfect one-bowl meal that combines ground beef, leftover rice, and the warmth of cumin for the perfect meal! It's faster than takeout and only takes 15 minutes to make this from scratch. This fried rice tastes incredible and goes with just about everything. Get the recipe.
Turkish Lentil Soup
This traditional Turkish Lentil Soup also called Mercimek çorbası is a uniquely fragrant, cozy and satisfying soup perfect for chilly days. You can make it in no time and enjoy for lunch or hearty dinner. Get the recipe.
Cod Piccata
This Easy Cod Piccata in a creamy Picatta sauce makes a quick 30-minute dinner recipe your family will love. Creamy, a bit briny and so so good! Get the recipe.
Hungarian Chicken Paprikash
This Hungarian Chicken Paprikash is a one winning dinner recipe. It is simmered in fingerlickin sour cream sauce and loaded with comforting flavors. So good, you'll be making it again and again. Get the recipe.
Mexican Quinoa Recipe
This one pan Mexican quinoa recipe comes together in 30 minutes, is packed with plant-based protein and full of the Mexican flavors we all adore! Get the recipe.
Sausage And Bean Soup
Craving soup to warm your bones this winter? Try this easy Sausage and Bean Soup for a quick, healthy weeknight dinner that comes together in less than 30 minutes. It's full of protein, spices, and vegetables. Get the recipe.
One Pot Puttanesca
If you love spicy puttanesca sauce, you've gotta try this quick and easy recipe. Made entirely in one pot, with lots of capers, olives and red pepper flakes. Vegetarian or vegan. Get the recipe.
Jackfruit Stew
The best thing that can happen to canned young jackfruit is to turn it into a hearty and filling vegan beef stew. It is the perfect dinner recipe when you need a warm and steamy bowl of delicious vegan comfort food. Get the recipe.
One-Pot Salmon With Snap Peas
This One-Pot Salmon with Snap Peas can be made in less than 30 minutes. Get the recipe.
Vegetarian Taco Soup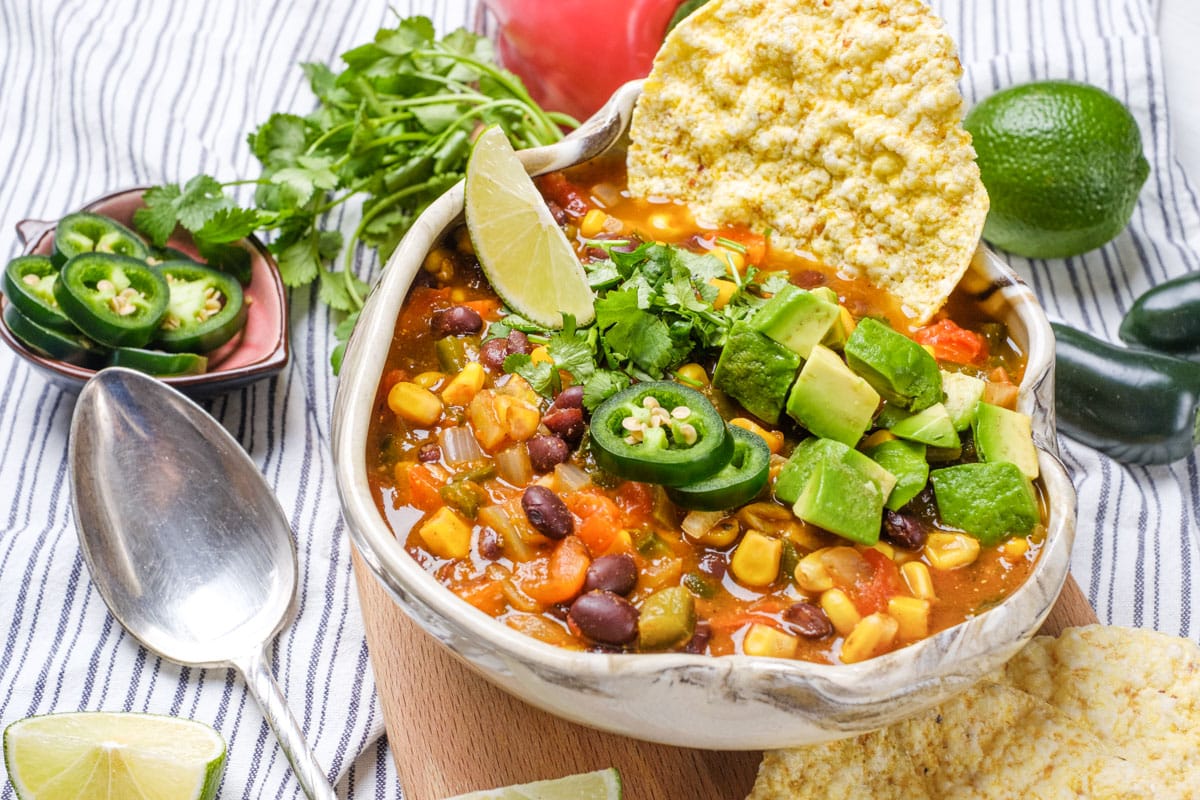 Stay warm with this healthy Vegetarian Taco Soup made in a pressure cooker. This hearty soup is a dump-and-go recipe with lots of black beans, corn, peppers, and tomatoes to create a delicious, satisfying dinner. Get the recipe.
Tortellini Soup With Sausage
This creamy Tortellini Soup with Sausage will warm your soul on a cold fall night. Easy to make in less than 30 minutes and a family hit for sure. Get the recipe.
Moroccan Chicken With Preserved Lemons
The enticing flavors of Morocco in a one-pot chicken dinner. Get the recipe.
Vegan Chili Mac
This one pot vegan chili mac is kid-friendly, hearty and delicious. Get the recipe.
Vegan Butternut Squash Risotto
If you want to give the risotto a try, you should check out this delicious vegan butternut squash risotto recipe. It is easy to make as part of the job is done by the oven. It is aromatic, creamy, and rich, made with Arborio rice, sweet butternut squash, green peas, and roasted pine nuts. Get the recipe.
Sausage and Kale
Need an easy dinner that takes less than 30 minutes? This One Pot Sausage and Kale is easy, healthy and family friendly. Be sure to make extras for hubby's lunch the next day. Get the recipe.
Indian Rice & Lentils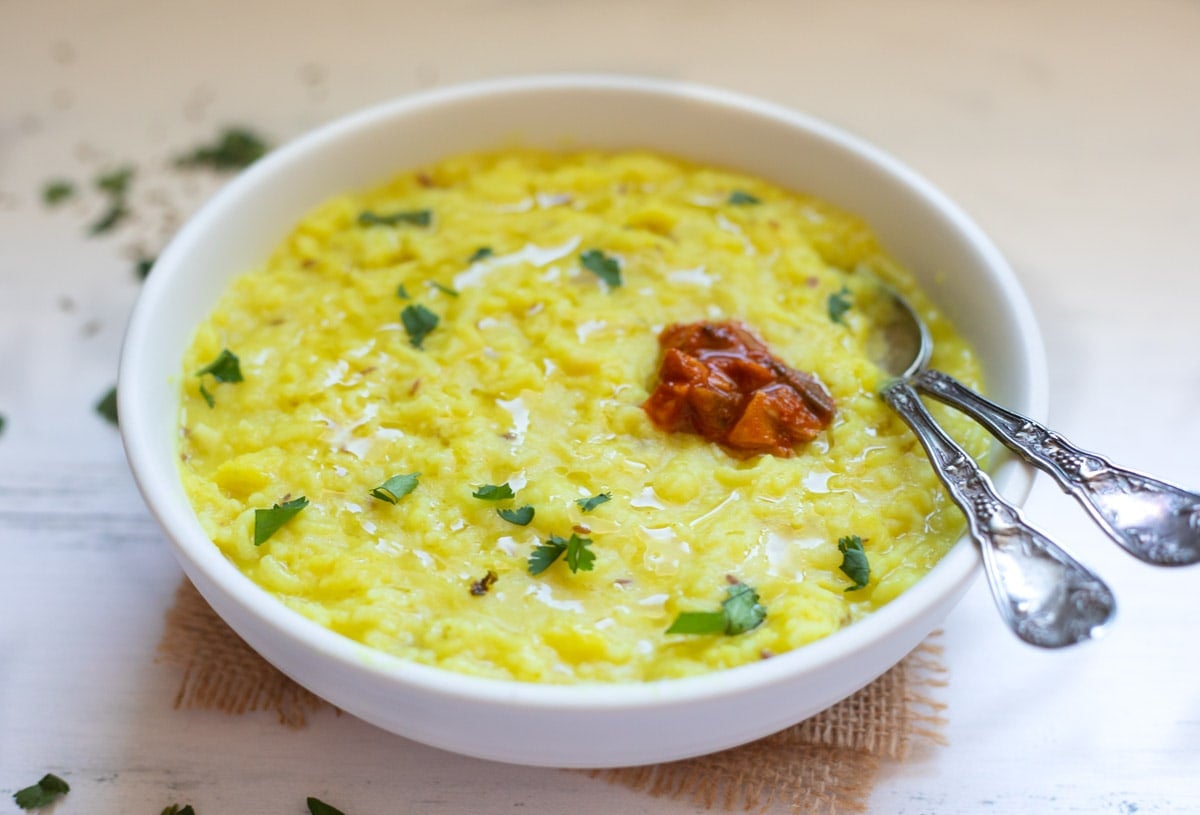 Moong Dal Khichdi, or Kitchari is a simple dish made with rice and lentils, tempered in ghee with cumin seeds and turmeric. It takes less than 30 minutes to make and is a perfect comfort meal for weeknights or when someone is under the weather! Get the recipe.
Greek Salmon
This One-Pot Greek Salmon with Feta & Peppers - AND it can be made in less than 30 minutes, which means it qualifies as Quick & Easy as well. Get the recipe.
Creamy Tomato Spinach Chicken
This tomato spinach chicken is a one-pan wonder, and perfect for a weeknight meal. The creamy sauce is full of flavor, and it's super easy to make. Pair it with polenta, pasta or mashed potatoes for a great family dinner experience. Get the recipe.
More from Lavender & Macarons
Creamy chicken dinners are the ultimate comfort food. They're rich, decadent, and satisfying. And when they're done right, they're absolutely irresistible. Read - Our Creamiest Chicken Dinners: So Good, You'll Lick Your Plate.
17 Restaurant-Quality Dinner Recipes You Can Easily Make at Home
Eating out can be a fun and convenient way to enjoy a delicious meal, but it can also be expensive and time-consuming. Read -17 Restaurant-Quality Dinner Recipes You Can Easily Make at Home.
30 Meatless Recipes That Are Packed With Flavor and Satisfaction
Meatless meals don't have to be boring or bland. In fact, there are many delicious and satisfying meatless recipes that are perfect for any occasion. Read - 30 Meatless Recipes That Are Packed With Flavor and Satisfaction.
17 Nutritious and Delicious Meal Ideas Starring Canned Chickpeas
Canned chickpeas are a budget-friendly and easy-to-use ingredient that can be used to create many kinds of nutritious and delicious meals. Get the recipe.
18 Seafood Dishes That Will Make You Want to Live by the Sea
There's nothing quite like a delicious seafood dish to remind you of a relaxing vacation at the sea. The fresh, briny flavors of seafood are simply irresistible, and they can transport you back to days of sun, sand, and surf.
Try these 18 seafood dishes that will make you want to live by the sea. Read - 18 Seafood Dishes That Will Make You Want to Live by the Sea.