If you're dreaming of a vacation, but can't afford to travel right now, don't worry! You can still transport yourself to different parts of the world through your taste buds. Here are 30 vacation-inspired recipes that will help you travel the world from your kitchen.
Roasted Potatoes With Lemon & Oregano
These Roasted Mediterranean Potatoes are fully loaded with lemony oregano, garlic, and olive oil flavors. Plus, they couldn't be easier to make! No boiling is needed. Try this simple side dish the next time you're craving something fresh, unique, and flavorful. Get the recipe.
Moroccan Bean Stew
This Moroccan Slow Cooker Bean Stew, also called Loubia is the ultimate comfort food full of flavor. Made with Cannellini Beans, tomatoes, and spices, this slow cooker white bean recipe is sure to warm you up on a chilly fall or winter night. Get the recipe.
Seared Cod With Tomato-Caper Sauce
The easiest and most delicious cod recipe you'll ever need. Seared to flaky perfection and served with a tangy tomato-caper sauce, this cod recipe makes an easy and delicious weeknight meal. Get the recipe.
Mushroom And Bean Soup
This White Bean Mushroom Soup is super easy to make, comforting, and satisfying. Made with fresh vegetables and pantry staples, this is an easy vegan soup packed with plant-based protein and lots of flavors. Get the recipe.
Risotto Puttanesca
This is the BEST Risotto Puttanesca recipe ever! Rich and pungent anchovy and Kalamata olives sauce add such an incredible depth of flavor! So delicious, you'll want to eat this every day! Get the recipe.
Cannellini Bean Salad With Tomatoes And Olives
This Italian Cannellini Bean Salad is healthy, flavorful, and satisfying. Made with white beans, juicy roasted bell peppers, olives, marinated red onions, and dollops of vegan cashew cheese, it's the perfect cold side dish or easy lunch. A good option for picnics, potluck, or work lunches too. Get the recipe.
Greek Lemon Chicken
One of the easiest recipes of Mediterranean cuisine… Chicken Riganati or Greek Lemon Roasted Chicken is juicy, and tender and requires just a handful of ingredients. Prepare it for a weeknight dinner or for a special occasion. You'll love the lemon and oregano flavor of the dish and the easiness of putting it together. Get the recipe.
Roasted Green Beans
A simple recipe for Roasted Green Beans And Cherry Tomatoes is taken to another level with quick Balsamic reduction and a sprinkling of vegan Parmesan cheese. An easy side dish that goes with any meal. Get the recipe.
Greek Zucchini Noodle Salad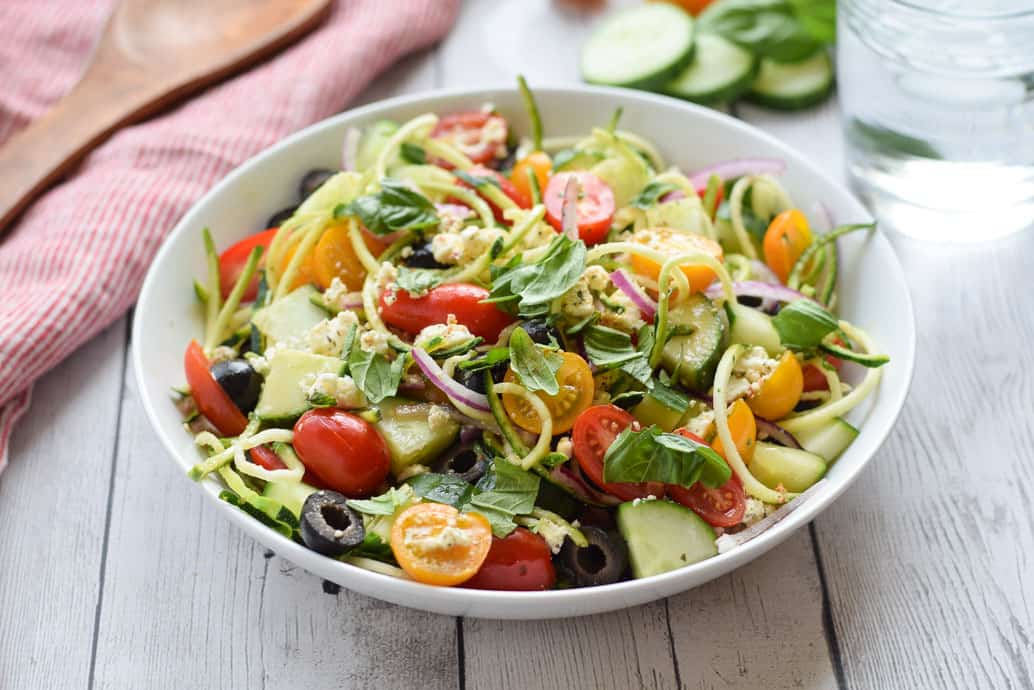 Embrace zucchini season with this healthy Greek Zucchini Noodle Salad. It's fresh and full of flavor with a light Greek dressing. (low carb, gluten free, keto) Get the recipe.
Mexican Rice And Beans
This Mexican Rice and Beans is the perfect side dish if you're looking to make something delicious and nutritious in under 30 minutes! It has delicious Spanish flavors and goes well with almost anything! With bright veggies, beans, and subtle flavorful spices, this side dish is ready to become your next favorite! Get the recipe.
Sheet Pan Salmon And Veggies
This Sheet Pan Salmon Oreganata With Green Beans And Potatoes is a quick, healthy, and satisfying dinner. Everyone will love the flaky, crispy coating and zesty flavors; this easy-baked salmon recipe is bound to become a new family favorite. Get the recipe.
Tzatziki
This easy recipe for the Greek yogurt and cucumber sauce Tzatziki takes less than 20 minutes to make and is delicious served as a dip or as a sauce for grilled meats and veggies. Get the recipe.
Dutch Split Pea Soup
Are you craving comfort food? This Dutch Split Pea Soup is exactly what you need to make when it's cold outside. Loaded with heartwarming flavors of bacon, Polish kielbasa and vegetables, this traditional Dutch soup is a great way for putting your split peas to use. Get the recipe.
Mushroom Shawarma With Yogurt-Garlic Sauce
This savory shawarma with vegetables and homemade garlic yogurt sauce is a real crowd-pleaser. This traditional Middle Eastern recipe is quick, easy, and perfect for dinner or a party. Get the recipe.
Swiss Chard Salad With Crunchy Chickpeas
What can you make with Swiss chard? A lot more than just soups and stir-fries. Here is an easy, healthy, and colorful Swiss chard salad with apple and chickpeas recipe to try out. Ingredients are readily available and simple to find. This fresh salad is perfect for summer dinner, picnic, or potluck. Get the recipe.
Mediterranean Skillet Chicken with Greens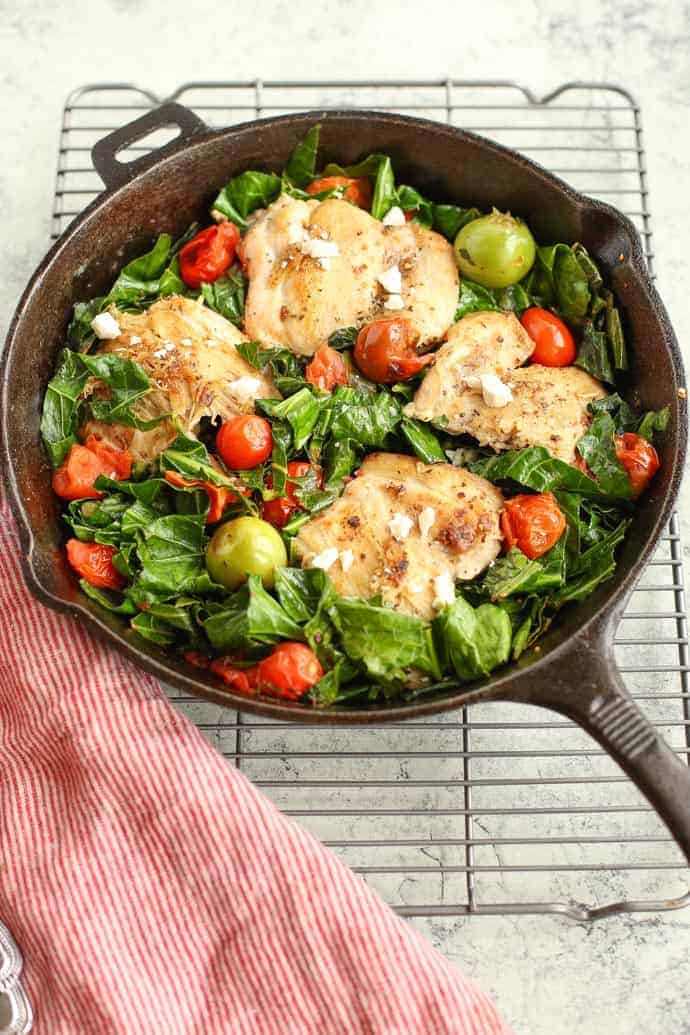 Try this hearty, healthy Mediterranean Skillet Chicken with Greens. It's packed with nutritious vegetables and sprinkled with spices to liven it up a bit. It's a filling meal that can be prepped on Sunday and eaten all week! (gluten free, keto) Get the recipe.
Sardinian Minestrone
This Hearty Old-Fashioned Minestrone soup is filled with wholesome ingredients like leeks, beans, and potatoes. It's popular among kids and adults and is sure to fill you up on chilly winter days. Be sure to add some crusty bread to round out the meal. Get the recipe.
Spanish Chicken And Rice
Bursting with flavor, juicy, hearty, and comforting, this Spanish Chicken And Rice makes a delicious one-pot recipe for the whole family. Perfect for a weeknight or Sunday dinner. Get the recipe.
Mediterranean Tuna Salad
There is more to tuna salad than mayo! Check out this protein packed version with chickpeas and Mediterranean flavors. Get the recipe.
Creamy Asparagus Soup
This Vegan Creamy Roasted Asparagus Soup is deeply satisfying and easy to make. Roasted asparagus and garlic, provide depth of flavor in this warming vegan soup. It's so delicious, has a light and creamy taste, and is ready in about 30 minutes. Dairy-free and Gluten-free. Get the recipe.
Chicken Contadina
Fall-off-the bone chicken is smothered in a rich vegetable-infused sauce. This One Pot Chicken Contadina or a Country Style Chicken is an easy Italian recipe for a hearty weeknight meal. Simple ingredients - insanely delicious result. Get the recipe.
Instant Pot Spanish Pork Stew
This Instant Pot Spanish Pork Stew is a delicious recipe bursting with flavor. Get the recipe.
Easy Turkish Lentil Soup
This traditional Turkish Lentil Soup also called Mercimek çorbası is a uniquely fragrant, cozy and satisfying soup perfect for chilly days. You can make it in no time and enjoy for lunch or hearty dinner. Get the recipe.
Crispy Italian Breaded Chicken Cutlets
This recipe for Crispy Italian Breaded Chicken Cutlets is the best you'll ever have! Thin slices of chicken breast are breaded with a homemade seasoned breadcrumb mixture then pan fried in extra virgin olive oil to get super crispy and flavorful. Get the recipe.
Chicken Ragu Pasta
This simple chicken ragu pasta may be easy to make and use everyday ingredients, but there's nothing basic about its flavor. This yummy, savory, and quick-to-make dinner idea is bound to become a favorite family meal. Enjoy this homemade pasta with ground chicken in just half an hour. Get the recipe.
Spanish Mussels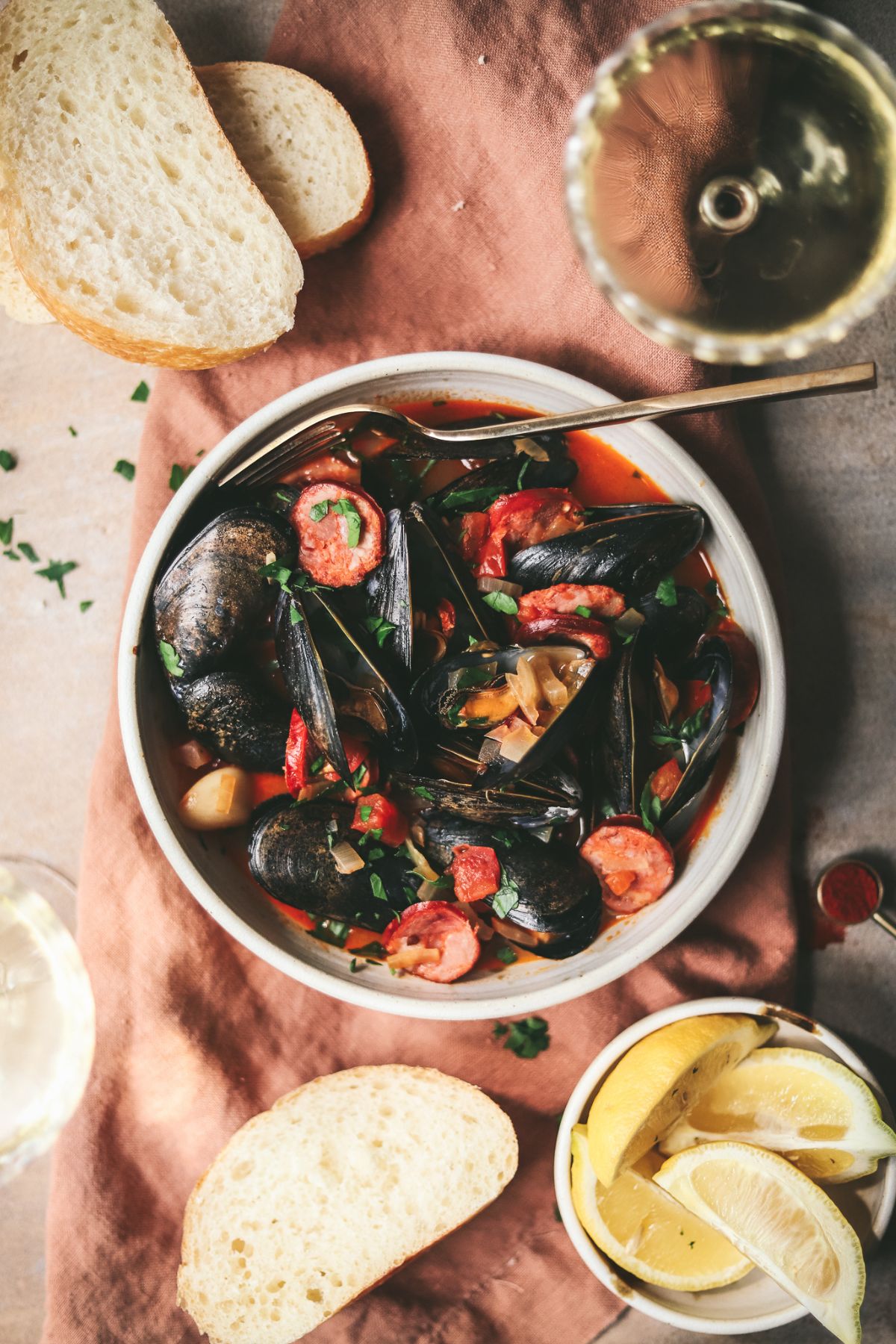 These steamed Spanish mussels are so incredibly flavorful, and take almost no time at all to prepare! I love making and serving these as an appetizer (perfect for a tapas night) that everyone can share, along side some crusty bread to dunk into that amazing steaming liquid. Get the recipe.
Quinoa Patties With Feta
You'll love these Mediterranean Style Quinoa Patties with Zucchini and Feta Cheese. They are crispy, delicious and easy to make.
Cook quinoa the night before or in the morning and finish the patties just before lunch or dinner and you'll have a complete meatless meal that is full of healthy goodness. Get the recipe.
Mediterranean Shrimp Quinoa Bowls Recipe
This shrimp quinoa bowl has everything you want in a grain bowl. Grains (a must in grain bowls obviously!), protein, vegetables, and SO MUCH flavor. Get the recipe.
Mediterranean Quinoa Salad
Mediterranean quinoa salad is a delicious recipe boasting plenty of fresh herbs, vegetables, beans, and more in every delicious bite. Greek olives, feta cheese and red onion transport your taste buds to sunny Greece, while cannellini beans bring a taste of Italy to the dish, and the simple garlic and lemon juice dressing adds a subtle flavour of its own to complement the Mediterranean ones. Get the recipe.
Beef Goulash
Beef Goulash is a hearty, comforting dish that comes from Hungary but is loved all around the world. Picture tender pieces of beef stewed in a rich, flavorful sauce made of tomatoes, peppers, and spices. The best part? It's an easy one-pot meal! Get the recipe.
More from Lavender & Macarons
13 Dessert Recipes That Are So Good, They'll Never Guess You Didn't Make Them Yourself
Indulge in these 13 delectable dessert recipes that taste so amazing, nobody will suspect you didn't create them from scratch. 13 Dessert Recipes That Are So Good, They'll Never Guess You Didn't Make Them Yourself.