There's nothing quite like the feeling of sitting down to a delicious meal at your favorite restaurant. The food is always so good, and the atmosphere is always so inviting.
But what if you could bring that same experience home? With these 22 recipes, you can! These recipes are so good, that they're sure to impress your friends and family.
Sheet Pan Kielbasa and Veggies
This Sheet Pan Kielbasa and Veggies is a quick and fuss-free dinner recipe for busy weeknights. Just dump all of the ingredients on a cooking tray and bake. This recipe can be made with regular sausages and any vegetables you have in your fridge. Get the recipe.
Creamy Pad Thai
This Pad Thai dish combines the essence of Thai cuisine with plant-based goodness. This vibrant and satisfying recipe features tender rice noodles, crispy tofu, and a colorful array of fresh vegetables, all tossed in a luscious peanut sauce. Creamy Pad Thai.
30-Minute Vegetable Stir Fry Noodles
These Stir Fry Noodles are incredibly easy to make, packed with flavor, and the perfect recipe for busy weeknights! It features perfectly stir-fried veggies, tasty tofu, and delicious noodles coated in a simple, flavorful homemade stir-fry sauce! Get the recipe.
Salmon Chowder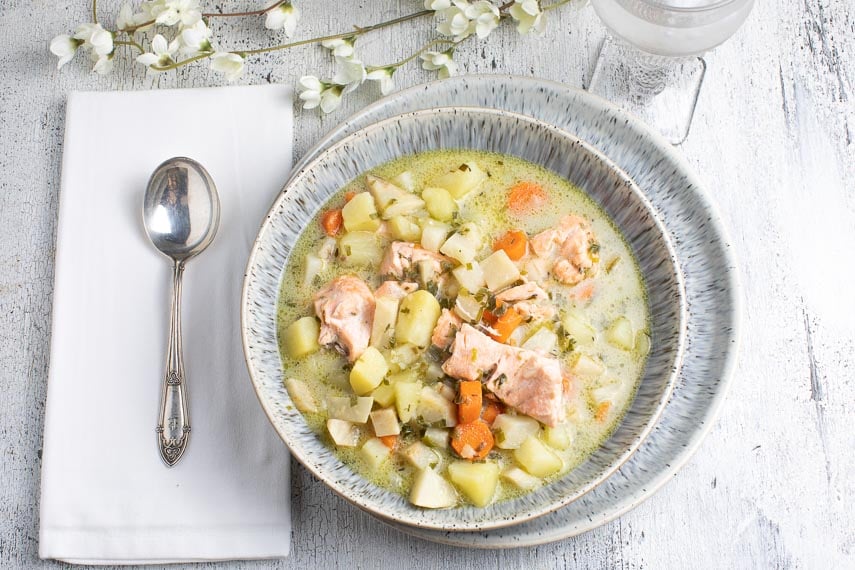 Our Salmon Chowder combines heart-healthy salmon with leek and scallion greens, carrots, stock, coconut milk, bay leaf, thyme and potatoes. And, this hearty, comforting chowder can be on the table in about 30 minutes. Get the recipe.
20-Minute Austrian Garlic Soup
Garlic lovers rejoice! This Austrian Garlic Soup is the easiest and most delicious soup you've ever tried. So rich in flavor, creamy, and lick-your-bowl good soup. Get the recipe.
4-Ingredient Smashed Potatoes
So easy and delicious, these Crispy Smashed Red Potatoes With Garlic And Dill are a comfort side dish that never disappoints. Naturally vegan and made with just 4 simple ingredients, these crushed red potatoes are great for any occasion. Get the recipe.
Creamy Tomato Risotto
Creamy Vegan Tomato Risotto is a simple yet super flavorful recipe that is sure to become a family's favorite. This healthy Cherry Tomato Risotto is ready in just 30 minutes and great for busy weeknights. Get the recipe.
Baked Zucchini With Zucchini And Mozzarella
Baked Zucchini with Mozzarella and Tomatoes is a light and easy side dish and makes a perfect addition to your summer dinners. Get the recipe.
Black Bean Skillet Dinner
This vegetarian, but hearty black bean skillet dinner is ready in less than 30 minutes and satisfying enough for meat-eaters to enjoy! My southwestern casserole combines black beans, corn, veggies, and a dose of cheese for a scoop-able one-skillet meal that's cheesy and loaded with flavor. Black Bean Skillet Dinner.
20-Minute Spicy Korean Carrot Salad
Crunchy and Spicy Korean Carrots Salad will win people over at potlucks, picnics, and as a unique side dish in any home. Made with fresh carrots, coriander, garlic, and oil, these Korean-style marinated carrots are easy, quick and always delicious! Ready in 20 minutes. Get the recipe.
Savory Dill Pickle Soup
Dill Pickle Soup is my all-time favorite soup recipe for busy weeknights. It requires merely 30 minutes of your time and provides you with a hearty and satisfying bite. This easy soup is savory and creamy and kids love it too. Perfect for lunch or dinner, especially in cold winter weather. Get the recipe.
Eggplant Casserole
This creamy and scrumptious Eggplant Gratin is smothered with a secret white sauce and topped with a generous layer or Gruyere cheese. It is a side dish that is so easy to make and will be gone before you know it. Get the recipe.
Chicken Ragu Pasta
This simple chicken ragu pasta may be easy to make and use everyday ingredients, but there's nothing basic about its flavor. This yummy, savory, and quick-to-make dinner idea is bound to become a favorite family meal. Enjoy this homemade pasta with ground chicken in just half an hour. Get the recipe.
Chili Mac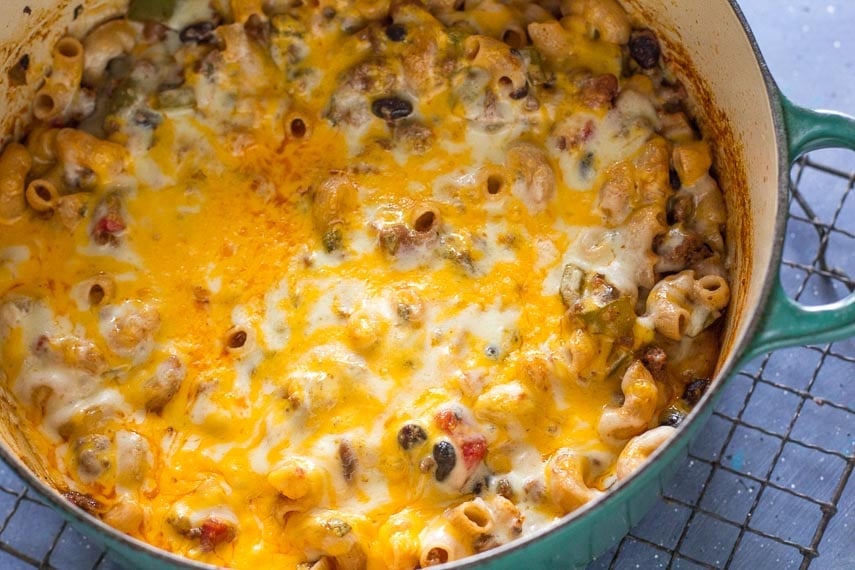 Our Chili Mac just might be our #1 choice for a comfort food dish. Creamy macaroni and cheese with all the classic American beef chili ingredients you love all in one very easy-to-make dish. Perfect for beginner cooks – and loved by all family members, big and small. Get the recipe.
White Bean Mushroom Soup
This White Bean Mushroom Soup is super easy to make, comforting, and satisfying. Made with fresh vegetables and pantry staples, this is an easy vegan soup packed with plant-based protein and lots of flavors. Get the recipe.
Creamy Garlic Mussels
Ridiculously quick and easy recipe for dinner that requires just a handful of ingredients. These Garlic Mussels In Sour Cream Sauce are such a comforting seafood dish, perfect for those busy weeknights when you just don't feel like cooking. Get the recipe.
Pink Pasta Sauce with Bacon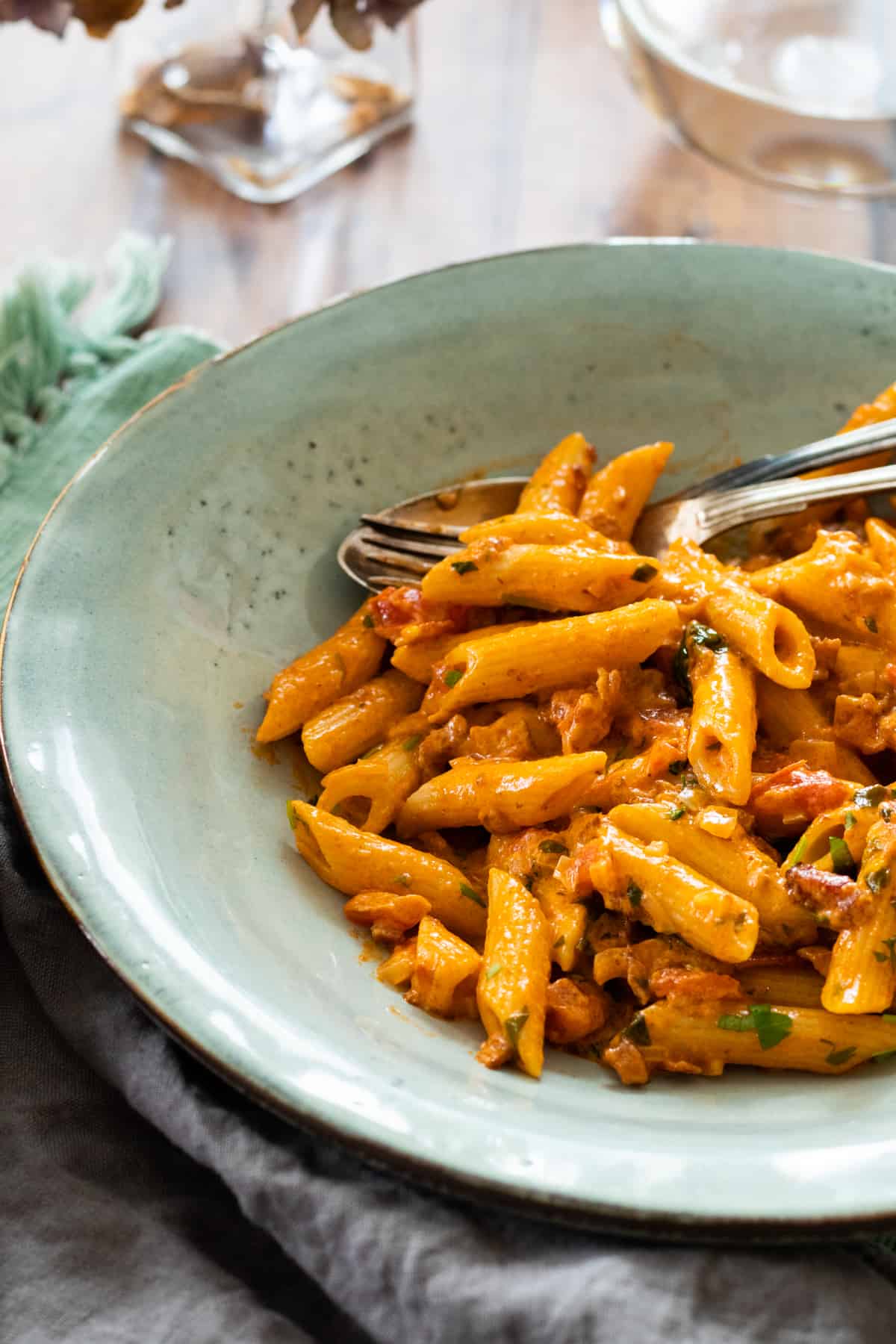 Done in under 30 minutes this flavor packed Pink Pasta Sauce with bacon is the best tomato cream sauce there is. Made from common ingredients such as fresh tomatoes, heavy cream, and white wine this creamy Pasta with Rose Sauce is similar to a vodka pasta. Get the recipe.
Instant Pot Chicken Tortilla Soup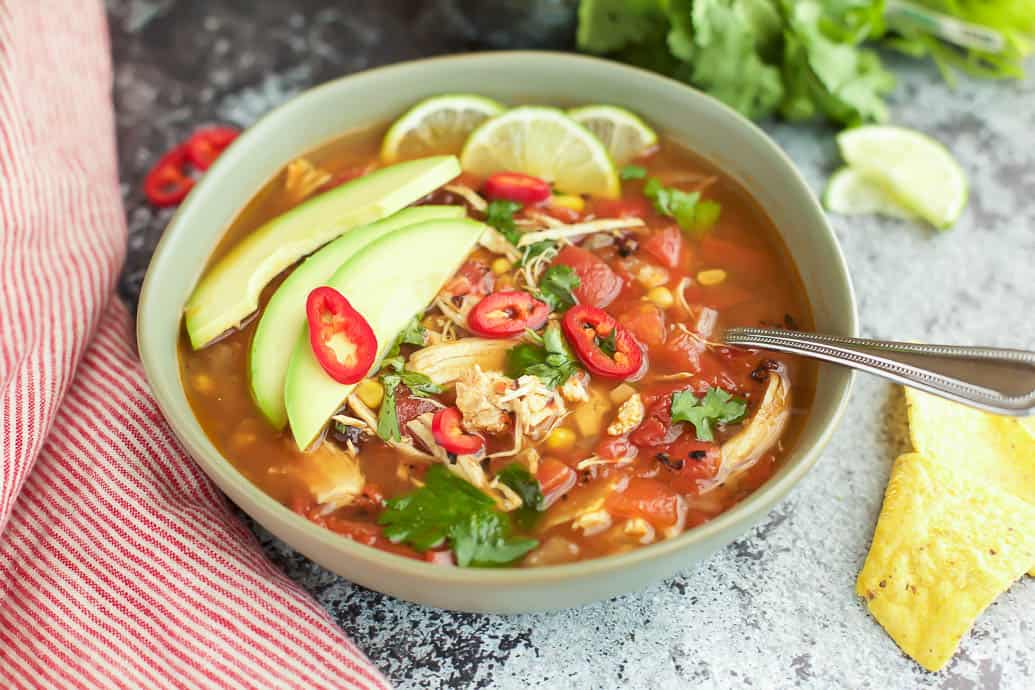 This Instant Pot Chicken Tortilla Soup is loaded with spicy flavors and tender shredded chicken. It's ready in under 30 minutes and tastes great as leftovers the next day. Your family will thank you for this one! Get the recipe.
Super Quick Korean Beef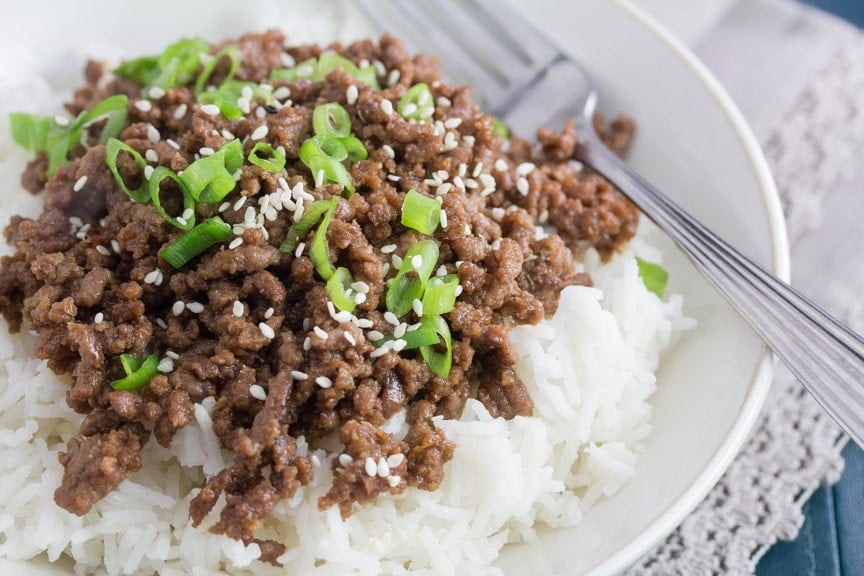 This recipe is one of your community favorites – and you can get it on the table in about 15 minutes! Low-sodium soy sauce, toasted sesame oil, brown sugar, ginger, and red pepper flakes work magic with lean ground beef. Don't leave out the scallions as they are more than a garnish and truly add to the dish. Served with white rice. Super Quick Korean Beef.
Salt & Pepper Pork Chop Bites
Rather than ordering salt and pepper pork chop bites from the local Chinese takeout, why not make your own gluten free pork chop recipe instead? The Asian salt and pepper seasoning adds so much flavour and you can make this dish as spicy as you dare! Salt & Pepper Pork Chop Bites.
New Orleans BBQ Shrimp
New Orleans BBQ Shrimp is a classic Cajun shrimp dish that's buttery, flavorful, and takes just 20 minutes to prepare. Shrimp get simmered in a flavorful sauce made with garlic, lemon, beer, Worcestershire, Creole spices and plenty of butter. New Orleans BBQ Shrimp.
Pork Tenderloin With Peaches
New dinner recipe your family will love! This Pork Tenderloin With Peaches is juicy, tender and so delicious! Garlic and cilantro marinade infuse the meat with flavor and slightly sweet and tangy peach sauce adds a warm and comforting aroma to the dish. Get the recipe.
More from Lavender & Macarons
All of these recipes are easy to follow and can be made at home with relatively simple ingredients. Bring the European Cafe to Your Kitchen With These 28 Amazing Recipes
A Taste of France: 17 Delicious Desserts That Are Worth Making At Home
France is known for its delicious food, and its desserts are no exception. From the traditional chocolate eclairs to the delicate creme brûlée, there's something for everyone in French pâtisserie. A Taste of France: 17 Delicious Desserts That Are Worth Making At Home
17 Salad Recipes That Will Change Your Mind About Salad
Salads get a bad rap. They're often seen as boring and bland, or as something you only eat when you're trying to be healthy. But that's not the case! Salads can be incredibly delicious and satisfying, and they're a great way to get your daily dose of fruits, vegetables, and whole grains. 17 Salad Recipes That Will Change Your Mind About Salad
17 Ways to Cook Broccoli That You'll Actually Enjoy
Find out how to make broccoli delicious in 17 different ways. These fantastic recipes will make you actually enjoy eating this healthy vegetable! 17 Ways to Cook Broccoli That You'll Actually Enjoy
17 Fantastic & Easy Seafood Recipes Everyone Needs To Try At Least Once
Indulge in the freshest seafood dishes with these 17 easy and delicious recipes. This blog post features a variety of seafood recipes that are perfect for any occasion, from risotto to baked salmon. 17 Fantastic & Easy Seafood Recipes Everyone Needs To Try At Least Once