There's nothing quite like a homemade dessert. The smell of fresh-baked cookies or a warm pie wafting through the house is enough to make anyone's mouth water. And the taste of a homemade dessert is simply unmatched.
Moroccan Semolina Cookies
These Moroccan Semolina Cookies are a healthier version of the traditional Ghriba cookies that you'll find all over Morocco. Made with almond and semolina flours, these lemon-flavored cookies are a perfect accompaniment to a cup of mint tea or coffee. What's best is that they're also simple to make and taste absolutely delicious! Moroccan Semolina Cookies.
Dacquoise Cake
Dacquoise is a classic French dessert that features super delicate layers of almond meringue, filled with mascarpone whipped cream, and fresh berries. It looks stunning and is a great sophisticated dessert without all the hassle, and my recipe is an incredibly easy one that even first-time bakers can try. Dacquoise Cake.
Banketstaaf
Banketstaaf is an amazingly simple Dutch almond pastry that takes only 10 minutes to assemble. The oven will do the rest of the work.
Flaky puff pastry is stuffed with a mixture of sweet almond paste and orange zest, rolled into a log, and baked until crispy perfection. Banketstaaf recipe.
Homemade Apple Hand Pies
These tasty apple pocket pies are great for an afternoon snack, dessert, or as a breakfast treat. Also called Milopitakia, these sweet Greek hand pies are made with fresh apples and walnuts. They're flavorful, delicious and perfect for fall baking. Homemade Apple Hand Pies.
Soffioni Abruzzesi
Soffioni Abruzzesi are cute little Italian cupcakes or muffins filled with fluffy Ricotta cream. They are easy to make and are an excellent addition to any occasion. Soffioni Abruzzesi.
Apple Sponge Cake
Super delicious and moist Apple Sponge Cake, also called Sharlotka will become your new favorite apple dessert. It's so easy to make, topped with a sweet and crispy almond layer which literally melts in your mouth. Give this decadent fall treat a try and it won't disappoint! Apple Sponge Cake.
Raspberry Crepe Cake
This beautiful Raspberry Crepe Cake recipe is an easy yet impressive dessert you can make for any special occasion or just because you crave something sweet. Delicious and is sure to please your family and friends. Raspberry Crepe Cake.
Best Creme Brûlée Recipe
Hands down, the Best Creme Brûlée Recipe is right here. Easy-peasy, creamy, melt-in-your-mouth dessert your family and friends will devour in no time and ask for seconds. Best Creme Brûlée Recipe.
Poppy Seed Cake
Stunning and absolutely delicious cake made with real poppy seeds, rich fruit layer and homemade buttercream. This easy dessert will brighten up any occasion. Poppy Seed Cake.
Chocolate Eclair Recipe
This easy Chocolate Eclair Recipe is one of the most famous and most delicious desserts ever created. And I'm going to help you make this classic French treat at home. Chocolate Eclair Recipe.
No Bake Chocolate Peanut Butter Pie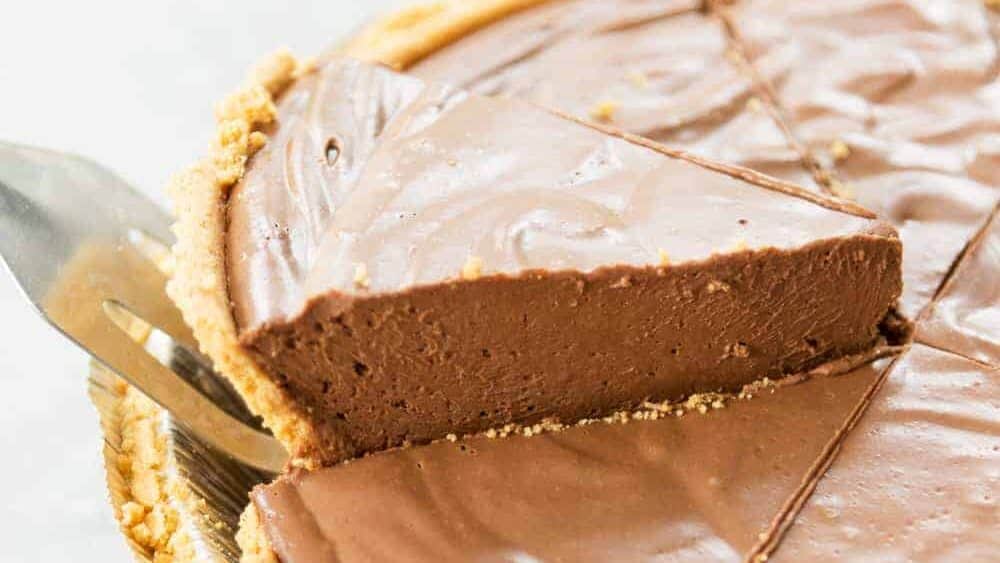 No Bake Chocolate Peanut Butter Pie! The BEST chocolate pie; tastes just like a peanut butter cup and you'll never guess the secret ingredient! A must for summer, and a kid-friendly dessert. No Bake Chocolate Peanut Butter Pie
Flan
Flan (creme caramel) a very popular dessert inherited from the Spaniards and common in all Latin America also deserved to be in our collection. Flan recipe.
Berry Almond Pavlova with Lemon Curd
Pavlova is one of the most delicate desserts ever. I love making this berry almond pavlova with lemon curd and I love eating it! Learning an easy pavlova recipe means you can make this impressive dessert whenever the mood hits. Plus it is a bonus that it is a gluten free dessert. If you are looking for a recipe for a dessert with fresh berries or an easy pavlova recipe, this is one to try! Berry Almond Pavlova with Lemon Curd.
Chocolate Chip Buttercream Jam Sandwich Cookies
These chocolate chip buttercream jam sandwich cookies are definitely in my top 5! I love all cookies though – chewy, soft or crunchy, vanilla or chocolate – all kinds! I was looking for the best sandwich cookies with jam recipe and think this might just be it. I was so impressed with how these tasted and how easy the raspberry sandwich cookie filling is to make. If you are looking for a buttercream filled sandwich cookies with jam, give these a try! Chocolate Chip Buttercream Jam Sandwich Cookies.
Chocolate Tart
Gluten free and full of chocolate flavor this Chocolate Tart is perfect for holiday entertaining. Serve it with whipped cream and lots of pomegranate arils. Chocolate Tart.
Easy Brownie Recipe With Mascarpone Swirl
Can I just say that brownie is my absolute favorite American dessert?
I'm a real chocolate addict and if you give me a dessert made with this gooey cocoa goodness, I'll be your friend forever. Get the recipe.
More from Lavender & Macarons
All of these recipes are easy to follow and can be made at home with relatively simple ingredients. Bring the European Cafe to Your Kitchen With These 28 Amazing Recipes
A Taste of France: 17 Delicious Desserts That Are Worth Making At Home
France is known for its delicious food, and its desserts are no exception. From the traditional chocolate eclairs to the delicate creme brûlée, there's something for everyone in French pâtisserie. A Taste of France: 17 Delicious Desserts That Are Worth Making At Home
17 Salad Recipes That Will Change Your Mind About Salad
Salads get a bad rap. They're often seen as boring and bland, or as something you only eat when you're trying to be healthy. But that's not the case! Salads can be incredibly delicious and satisfying, and they're a great way to get your daily dose of fruits, vegetables, and whole grains. 17 Salad Recipes That Will Change Your Mind About Salad
17 Ways to Cook Broccoli That You'll Actually Enjoy
Find out how to make broccoli delicious in 17 different ways. These fantastic recipes will make you actually enjoy eating this healthy vegetable! 17 Ways to Cook Broccoli That You'll Actually Enjoy
17 Fantastic & Easy Seafood Recipes Everyone Needs To Try At Least Once
Indulge in the freshest seafood dishes with these 17 easy and delicious recipes. This blog post features a variety of seafood recipes that are perfect for any occasion, from risotto to baked salmon. 17 Fantastic & Easy Seafood Recipes Everyone Needs To Try At Least Once