Eggplant is a versatile vegetable that can be used in a variety of dishes. But if you're not a fan of eggplant, don't worry! There are plenty of delicious eggplant recipes that will change your mind.
Delicious Eggplant And Potato Stew
This thick and hearty Eggplant Potato Stew Recipe features chewy eggplants, tender potatoes, and aromatics full of flavor. Made with plenty of veggies in just under an hour, it's the ultimate vegan stew. Get the recipe.
30-Minute Stir-Fry Noodles
These Stir Fry Noodles are incredibly easy to make, packed with flavor, and the perfect recipe for busy weeknights! It features perfectly stir-fried veggies, tasty tofu, and delicious noodles coated in a simple, flavorful homemade stir-fry sauce! Get the recipe.
Eggplant Gratin
This creamy and scrumptious Eggplant Gratin is smothered with a secret white sauce and topped with a generous layer or Gruyere cheese. It is a side dish that is so easy to make and will be gone before you know it. Get the recipe.
Eggplant Coconut Curry
This Thai Eggplant Red Curry is simple yet flavor packed meal perfect for meal prep or busy weeknights. Zucchini and tofu add richness and nutrients to this already healthy freezer-friendly dish. Made in one pot and ready in just 30 minutes. Get the recipe.
Crispy Baked Eggplant
Tasty Baked Eggplant - slathered with white "cheese" sauce, coated in crispy breadcrumbs, baked, and then served with more sauce and toasted corn—easy to prepare, hearty, and satisfying meal approved by meat-eaters and perfect for dinner or holidays. Get the recipe.
Stovetop Grilled Vegetable Panini
Loaded with flavorful Grilled Veggies, melty Mozzarella and smothered in grilled pepper tapenade, these easy Stovetop Grilled Vegetable Panini don't require panini maker. You can make them with just a grill pan and one easy trick. Get the recipe.
Eggplant Zucchini Tomato Pasta Sauce
Need a quick and easy veggie based pasta sauce for a weeknight? One that you can get on the table in less than 30 minutes (20 minutes if you are super organized)? This Quick & Easy Eggplant Zucchini Tomato Pasta Sauce is it…Get the recipe.
Eggplant Bacon BLT with Avocado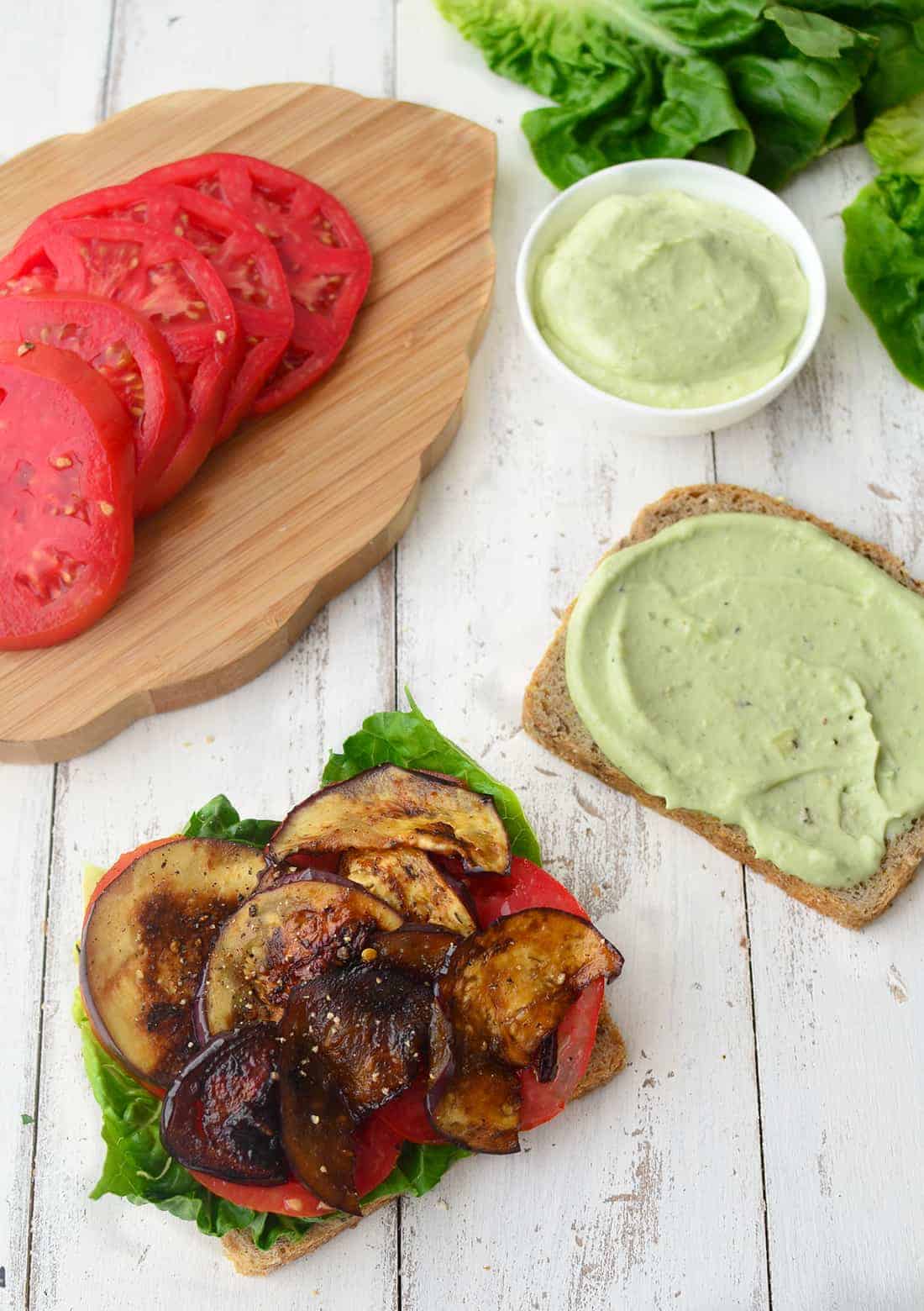 Eggplant Bacon BLT! These BLTs are made with homemade eggplant bacon and an avocado cream sauce! Get the recipe.
Battered Fried Eggplants
A delicious side dish for your meals, torrejas de berenjenas (fried eggplants) is also easy and quick to make, and it requires few ingredients. It's also a vegetarian favorite. Get the recipe.
Beef And Eggplant Casserole
This tasty and cheesy Pastelón or Lasagna de Berenjenas (Beef and Eggplant Casserole) does not contain pasta but uses eggplant in its place. Get the recipe.
Instant Pot Eggplant Caponata
Perfect vegan recipe - Dump all the ingredients, stir well and have a delicious meal in less than 15 minutes. Get the recipe.
Unbreaded Eggplant Parm
This recipe for Unbreaded Eggplant Parm requires only 5 ingredients, is gluten free, and is the cheesy Italian comfort food of your dreams. Get the recipe.
Eggplant Gyros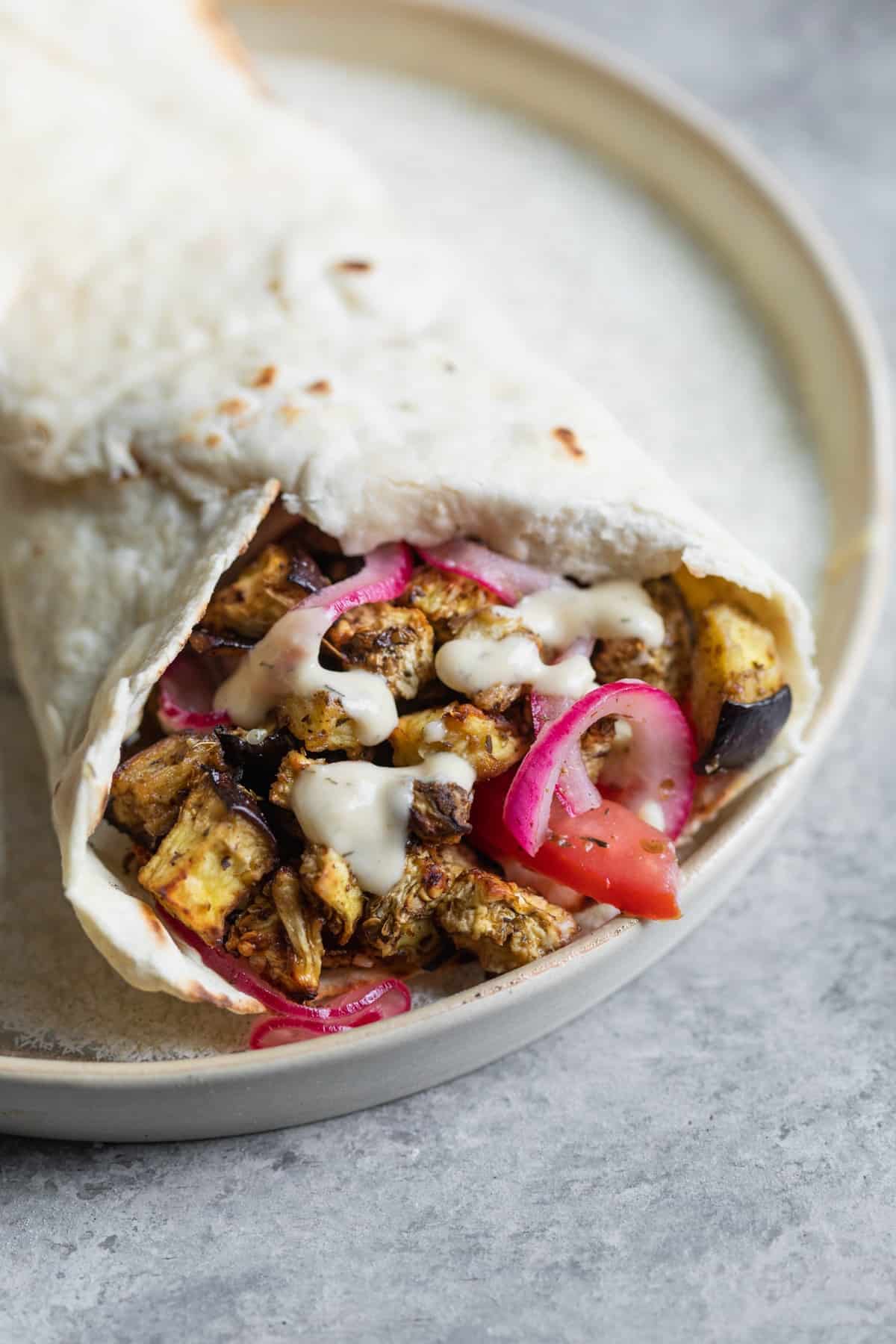 Za'atar seasoned eggplant stuffed into a warm pita and topped with juicy tomatoes, crisp cucumbers, and the BEST hummus-dill sauce. This easy eggplant recipe is perfect for both lunch and dinner! If you are looking for healthy vegan eggplant recipes then you've gotta try this vegetable gyro. Get the recipe.
Italian Eggplant Parmigiana with Vodka Sauce
This Italian eggplant parmigiana, which is also known as parmigiana di melanzane, is an authentic Italian recipe and family favourite. This baked eggplant casserole has a tasty tomato and vodka sauce. It's a great vegetarian dinner idea, just bursting with delicious flavours. Get the recipe.
Braised Pork and Eggplant
Berenjena guisada con cerdo (braised pork and eggplant) is a rich, curry-like dish that is very popular in the Dominican Rep. Get the recipe.
Eggplant Salad
Imagine the smoky flavor of grilled eggplant mingling with the tang of juicy tomatoes and the peppery bite of arugula. This grilled eggplant salad is a summer sensation, bringing together the earthy warmth of the grill with the freshness of garden ingredients. Get the recipe.
More from Lavender & Macarons
13 Dessert Recipes That Are So Good, They'll Never Guess You Didn't Make Them Yourself
Indulge in these 13 delectable dessert recipes that taste so amazing, nobody will suspect you didn't create them from scratch. 13 Dessert Recipes That Are So Good, They'll Never Guess You Didn't Make Them Yourself.