Pasta is a versatile dish that can be enjoyed year-round. Whether you're in the mood for a light and refreshing summer pasta salad or a hearty and comforting winter pasta dish, there's a pasta recipe out there that's perfect for you. Here are 19 pasta recipes to choose from.
Creamy Pad Thai
This Pad Thai dish combines the essence of Thai cuisine with plant-based goodness. This vibrant and satisfying recipe features tender rice noodles, crispy tofu, and a colorful array of fresh vegetables, all tossed in a luscious peanut sauce. Pad Thai recipe.
Baked Feta Pasta
Are you in the mood for Italian pasta with a touch of Greek charm? This oven baked feta pasta is sure to impress the whole family. This popular TikTok feta pasta recipe is easy to make and tastes wonderful. You will love this pasta made with feta cheese. Get the recipe.
Chicken Ragu Pasta
This simple chicken ragu pasta may be easy to make and use everyday ingredients, but there's nothing basic about its flavor. This yummy, savory, and quick-to-make dinner idea is bound to become a favorite family meal. Enjoy this homemade pasta with ground chicken in just half an hour. Get the recipe.
Creamy Salmon Pasta
This Easy and Creamy Salmon Pasta features quickly seared salmon tossed in a creamy, smoky sauce along with your favorite pasta. This hearty and satisfying dish is loaded with flavor and comes together in no time. Get the recipe.
Mussels With Pasta In White Wine Sauce
You have to try these delicious Mussels With Pasta In White Wine Sauce. It's a healthy and easy recipe, perfect for a fuss-free date night or when you want to make your dinner extra special. Get the recipe.
30-Minute Stir Fry Noodles
These Stir Fry Noodles are incredibly easy to make, packed with flavor, and the perfect recipe for busy weeknights! It features perfectly stir-fried veggies, tasty tofu, and delicious noodles coated in a simple, flavorful homemade stir-fry sauce! Get the recipe.
Creamy Mushroom Stroganoff
No more bland mushroom pasta! This incredibly delicious Mushroom Stroganoff recipe packs a serious flavorful punch. It's so creamy and satisfying, perfect comfort food for long winter days. Get the recipe.
Savory Truffle Pasta
This amazing vegetarian Black Truffle Pasta is healthy, flavorful and very easy to make. It's great for a date night with your significant other or when you want to make your dinner extra special. Get the recipe.
Mushroom Pasta Salad
Easy and fun Marinated Mushroom Pasta Salad With Green Olives is perfect for picnics or potlucks. Mushrooms make this pasta salad hearty and rich. They also stand up to the bold flavors of the dressing. Be sure to slice the mushrooms thin to make sure they absorb plenty of flavor from the marinade. Get the recipe.
Sun Dried Tomato Alfredo With Zucchini Spaghetti
Creamy, flavorful, a bit sweet and tart, this Sun Dried Tomato Alfredo With Zucchini Spaghetti will make a quick and easy dinner recipe that is perfect for busy weekdays, but is also delicious and satisfying for a Sunday family meal. Get the recipe.
Creamy Miso Pasta
This 30-minute Creamy Miso Pesto Pasta with Pecans is simply the best. Packed with a savory white Miso paste, garlic and crunchy Pecans, this easy pasta makes a perfect recipe for busy weeknights. Get the recipe.
Roasted Red Pepper Pasta
This Red Pepper Pasta features easy roasted sweet red pepper sauce tossed with Fettuccine and a simple Olive Gremolata. It's a super quick and satisfying recipe that you can make on a whim. Perfect for lunch or late dinner. Get the recipe.
Caramelized Onion Fettuccine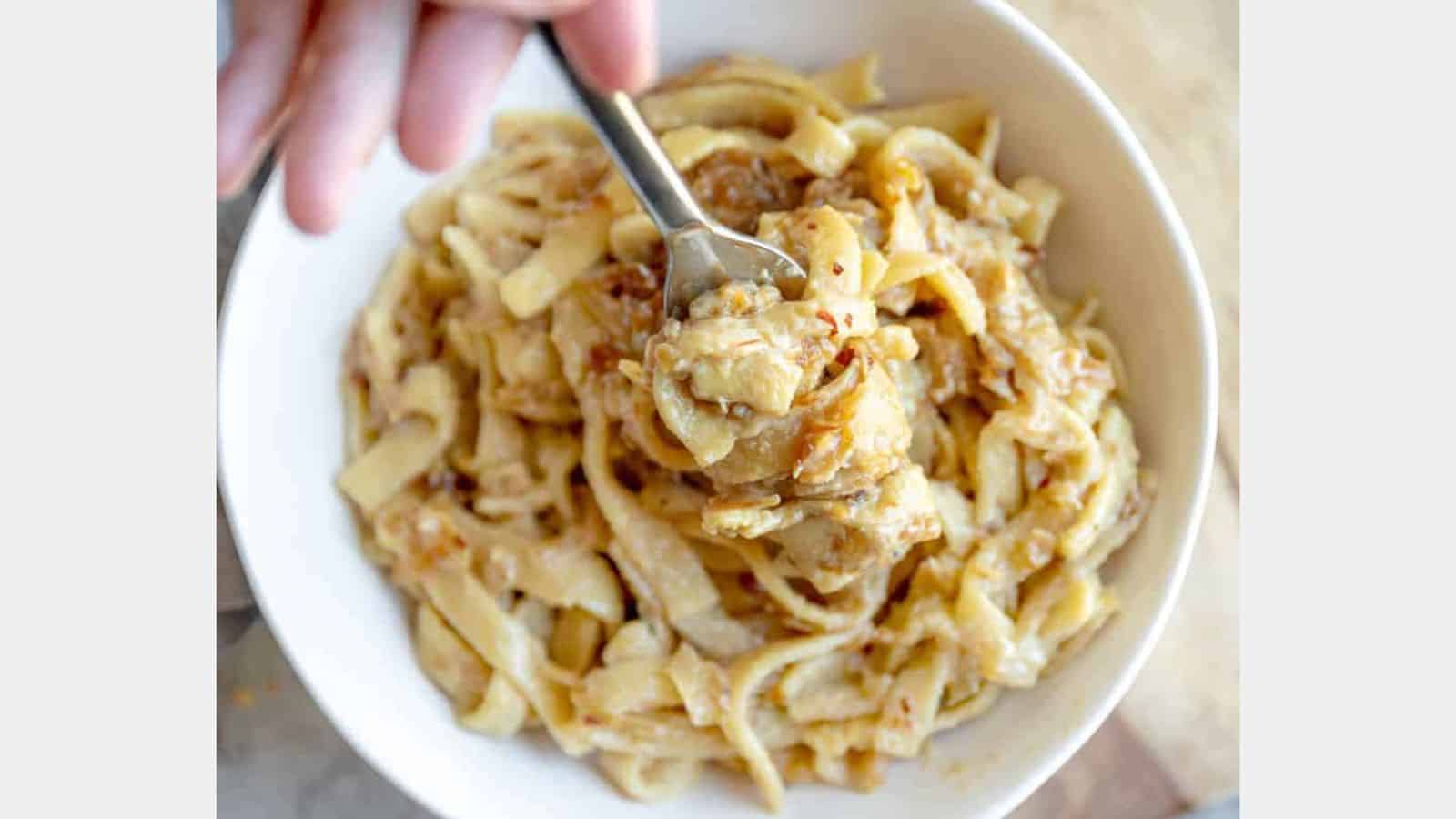 Caramelized Onion Fettuccine! This vegan pasta recipe is so delicious. It's incredibly luxurious, umami-rich and a MUST-Make. No one will believe this one is vegan! Get the recipe.
Shrimp Carbonara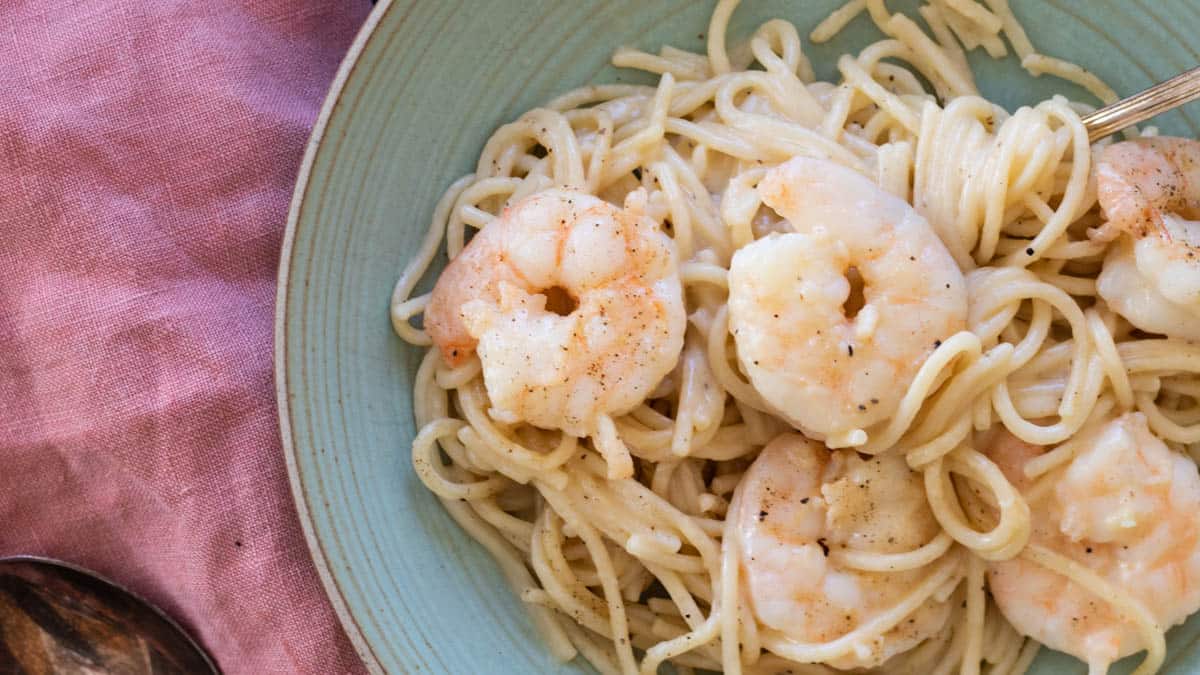 This 10-minute Shrimp Carbonara is a delicious twist on the classic Italian pasta dish. All the creamy texture of traditional Carbonara, with the addition of perfectly cooked shrimp. A delightful fusion that will satisfy your cravings for both seafood and pasta, all with an easy no-fail no-cream carbonara method! Get the recipe
Mushroom Bolognese Pasta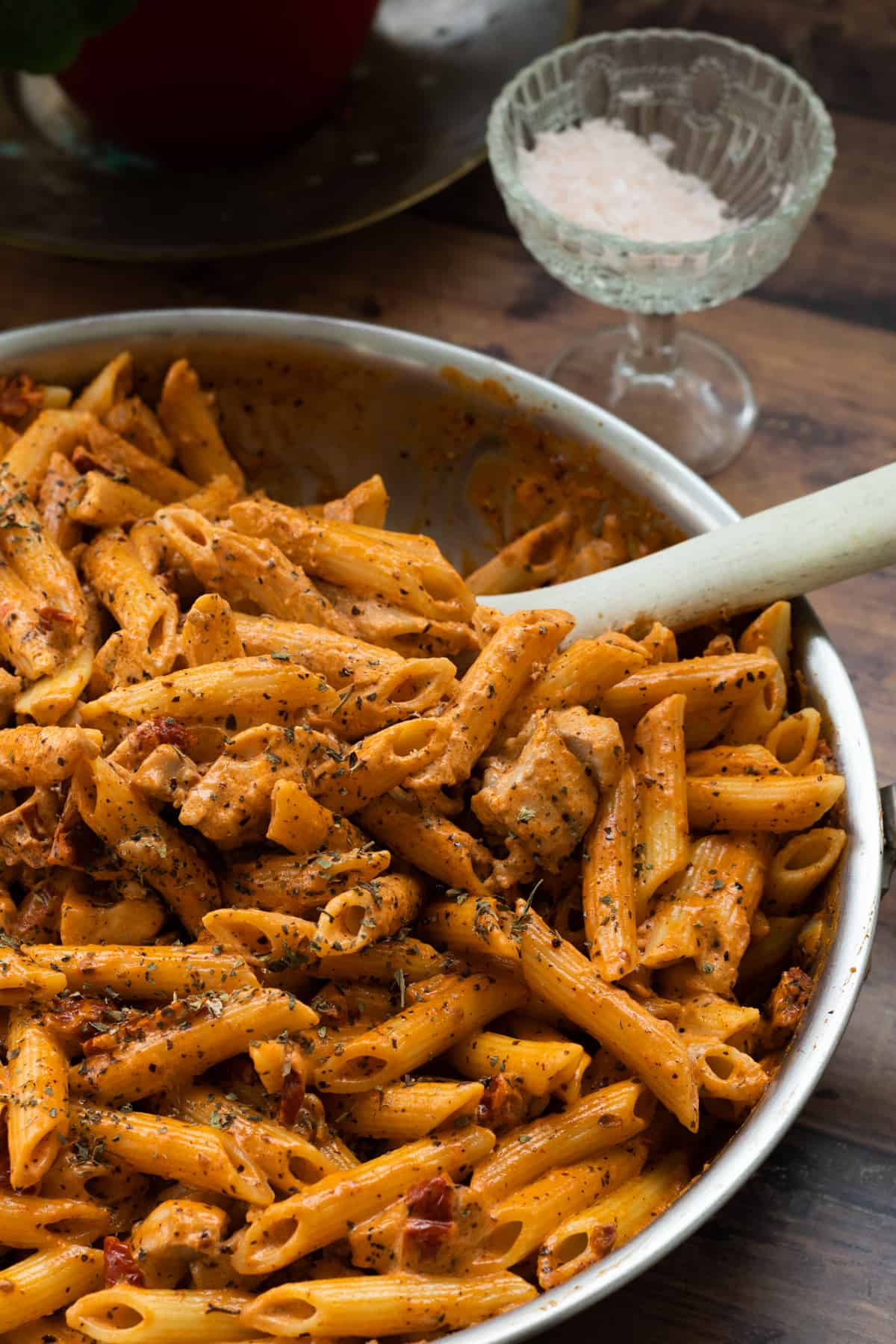 Make this flavor packed Marry Me Chicken Pasta in just 20 minutes - and don't be surprised if everyone asks for seconds (or your hand in marriage!). It's a super creamy sauce with a delicious flavor combo of crème fraîche, sun-dried tomatoes, basil, paprika & oregano. All achieved with pantry staple dried herbs & minimal prep. Get the recipe.
One Pot Pasta with Spinach and Tomatoes
One pot pasta with spinach and tomatoes makes a wonderful dinner. It's quick and easy to rustle up. I love making this easy spinach pasta and, since it's a one pot dish, clean-up afterwards is a breeze! You will love all the fresh ingredients for this baby spinach and cherry tomatoes dinner. It is so easy to make this pasta with spinach and cherry tomatoes so it will be a go-to on busy nights. Get the recipe.
No-Cook Sun Gold Tomato Pasta
This recipe for No-Cook Sun Gold Tomato Pasta takes just 6 simple ingredients and less than 20 minutes to make! Get the recipe.
Pumpkin Pasta
This creamy Pumpkin Pasta is so easy and perfect for fall especially on busy weeknights. Pick your favorite pasta, toss it with my pumpkin sage sauce and you have a healthy and satisfying autumn meal ready in minutes. Get the recipe.
Cajun Sausage Pasta
Unleash the rich, vibrant flavors of Louisiana with this delightful Cajun pasta with sausage recipe. A wonderful melting pot of cultures and cuisine, Cajun food offers an explosion of flavors that's not just tantalizing but deeply satisfying. This recipe combines hearty sausage, a blend of delicious vegetables, and pasta all smothered in a creamy, spicy Cajun sauce. Get the recipe.
More from Lavender & Macarons
All of these recipes are easy to follow and can be made at home with relatively simple ingredients. Bring the European Cafe to Your Kitchen With These 28 Amazing Recipes
A Taste of France: 17 Delicious Desserts That Are Worth Making At Home
France is known for its delicious food, and its desserts are no exception. From the traditional chocolate eclairs to the delicate creme brûlée, there's something for everyone in French pâtisserie. A Taste of France: 17 Delicious Desserts That Are Worth Making At Home
17 Salad Recipes That Will Change Your Mind About Salad
Salads get a bad rap. They're often seen as boring and bland, or as something you only eat when you're trying to be healthy. But that's not the case! Salads can be incredibly delicious and satisfying, and they're a great way to get your daily dose of fruits, vegetables, and whole grains. 17 Salad Recipes That Will Change Your Mind About Salad
17 Ways to Cook Broccoli That You'll Actually Enjoy
Find out how to make broccoli delicious in 17 different ways. These fantastic recipes will make you actually enjoy eating this healthy vegetable! 17 Ways to Cook Broccoli That You'll Actually Enjoy
17 Fantastic & Easy Seafood Recipes Everyone Needs To Try At Least Once
Indulge in the freshest seafood dishes with these 17 easy and delicious recipes. This blog post features a variety of seafood recipes that are perfect for any occasion, from risotto to baked salmon. 17 Fantastic & Easy Seafood Recipes Everyone Needs To Try At Least Once