Find 18 easy dinner recipes that use the best fruits and veggies of fall. Think tasty meals with pumpkins, apples, and other fresh autumn ingredients.
Whether you want cozy soups with butternut squash or new ways to cook sweet potatoes and Brussels sprouts, these recipes have you covered. They're easy to follow and help you bring the fall vibes to your dinner table.
Easy Brussels Sprouts with Honey Vinaigrette
These Easy Brussels Sprouts are healthy, delicious and take little time to prepare. Roasted until tender and crispy and drizzled over with a tangy and sweet honey balsamic vinaigrette. This recipe will quickly become your favorite! Get the recipe.
Butternut Squash Chili Recipe
You'll love this Butternut Squash Chili Recipe. Minimal prep work and bursting with flavor, this healthy slow cooker chili is really delicious. Get the recipe.
Pumpkin Chicken Curry
Pumpkin Chicken Curry is juicy, tender chicken breasts cut into bite-size pieces and simmered in a flavorful and creamy canned pumpkin sauce. This easy and quick one-skillet recipe is bursting with flavor and is perfect for a cozy autumn meal. Get the recipe.
Acorn Squash with Mushrooms and Chickpeas
Ultimate Stuffed Acorn Squash With Mushrooms And Chickpeas is perfect for the holidays. With mushrooms, rice, chickpeas and cranberries, this healthy autumn-inspired dish is packed with protein and fiber. This veggie stuffed squash is sure to please meat eaters, too. Get the recipe.
Eggplant Potato Stew
This thick and hearty Eggplant Potato Stew Recipe features chewy eggplants, tender potatoes, and aromatics full of flavor. Made with plenty of veggies in just under an hour. Get the recipe.
Chicken and Butternut Squash Bake
This Chicken And Butternut Squash Bake is a quick and delicious dinner recipe for busy weeknights. It's easy to make, delicious and full of cozy autumn flavors. Get the recipe.
Roasted Butternut Squash, Bean and Quinoa Salad
This Roasted Butternut Squash, Black Bean And Quinoa Salad is one of the easiest, most flavorful fall salad recipes, full of nutrients and healthy ingredients. Served warm or cold, this delicious salad is also a great make-ahead lunch for work or back to school. Get the recipe.
Pear Tarte Tatin
Easy to prepare, moist and flavorful, this Pear Tarte Tatin is a crowd-pleasing dessert. Get the recipe.
Cheesy Eggplant Gratin
This creamy and scrumptious Eggplant Gratin is smothered with a secret white sauce and topped with a generous layer or Gruyere cheese. It is a side dish that is so easy to make and will be gone before you know it. Get the recipe.
Pumpkin Fritters
This Pumpkin Fritter recipe will give you delightfully crispy, golden brown fritters with a soft and fluffy interior for the most delicious, savory fall patties. They're incredibly easy to make and also include zucchini for added flavor! What's best is that you can make them in just 30 minutes for the perfect fall lunch or dinner! Get the recipe.
Butternut Squash, Bacon, Kale, + Cheese Frittata
This simple recipe for Butternut Squash, Bacon, Kale, + Goat Cheese Frittata is an easy and flavorful egg dish using seasonal fall vegetables. Get the recipe.
Butternut Squash and Tomato Soup
I tried many squash soups before, but let me tell you, this creamy Butternut Squash And Tomato Soup is by far the best thing I've ever had. It's simple, easy to make and bursting with warm fall flavors. Get the recipe.
Apple Sponge Cake
Super delicious and moist Apple Sponge Cake, also called Russian Sharlotka will become your new favorite apple dessert. It's so easy to make, topped with a sweet and crispy almond layer which literally melts in your mouth. Give this decadent fall treat a try and it won't disappoint! Get the recipe.
Farro Risotto with Wild Mushrooms and Peas
Hearty and healthy mushroom dinner that features Farro, Porcini and Shiitake mushrooms. Burst of flavor in a one simple dish. Get the recipe.
Creamy Pumpkin Pasta
This creamy Pumpkin Pasta is so easy and perfect for fall especially on busy weeknights. Pick your favorite pasta, toss it with my dairy-free pumpkin sage sauce and you have a healthy and satisfying autumn meal ready in minutes. Get the recipe.
Thai Eggplant Red Curry with Tofu
This Thai Eggplant Red Curry is simple yet flavor packed meal perfect for meal prep or busy weeknights. Zucchini and tofu add richness and nutrients to this already healthy freezer-friendly dish. Made in one pot and ready in just 30 minutes. Get the recipe.
Roasted Pumpkin Baked Pasta with Sage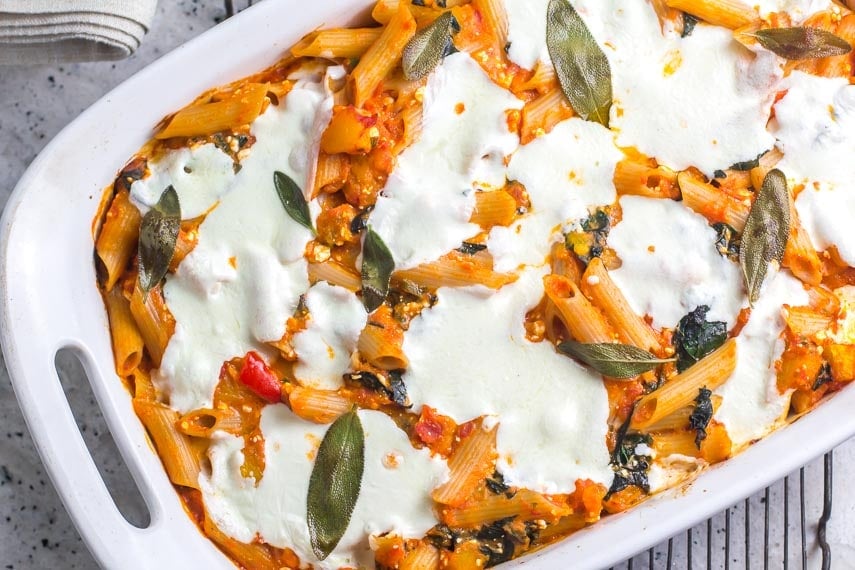 Roasted Pumpkin Baked Pasta with Sage is hearty, yet a bit elegant. Comfort food and easy to make. Reheats well, too. Get the recipe.
Tasty Baked Eggplant
Tasty Vegan Baked Eggplant - slathered with white "cheese" sauce, coated in crispy breadcrumbs, baked, and then served with more sauce and toasted corn. Easy to prepare, hearty, and satisfying meal approved by meat-eaters and perfect for dinner or holidays. Get the recipe.
More from Lavender & Macarons
Ready for a tasty adventure with cod fish? These 15 amazing recipes will introduce you to exciting flavors you haven't tasted before. 15 Fantastic Recipes With Cod Fish You Haven't Tried Yet
13 Dessert Recipes That Are So Good, They'll Never Guess You Didn't Make Them Yourself
Indulge in these 13 delectable dessert recipes that taste so amazing, nobody will suspect you didn't create them from scratch. 13 Dessert Recipes That Are So Good, They'll Never Guess You Didn't Make Them Yourself.
15 Noodle Recipes That Are So Good, You'll Want to Make Them All
Discover 15 amazing noodle recipes that taste so fantastic, you'll be excited to cook and enjoy every single one. 15 Noodle Recipes That Are So Good, You'll Want to Make Them All
27 Really Good Comfort Food Dishes You Need To Be Cooking All Year Long
Explore a collection of 27 truly satisfying comfort food dishes that are perfect to cook year-round. 27 Really Good Comfort Food Dishes You Need To Be Cooking All Year Long
13 Really Good Slow Cooker Recipes You Haven't Made Yet
Explore 13 fantastic slow cooker recipes that you haven't tried yet but are really delicious. 13 Really Good Slow Cooker Recipes You Haven't Made Yet