Cheese is a delicious and versatile ingredient, but it's not always necessary. In fact, there are many dishes that are just as good, or even better, without cheese. Discover 18 dishes that are so good, you won't need the cheese. From creamy pasta dishes to flavorful curries to hearty stews, there's something for everyone here.
Spanish Chicken And Rice
This Spanish Chicken And Rice is a super comforting recipe your family will thank you for. This Chicken Paella Easy recipe is bursting with flavor and is perfect for busy weeknight meals. Get the recipe.
White Bean Mushroom Soup
This White Bean Mushroom Soup is super easy to make, comforting, and satisfying. Made with fresh vegetables and pantry staples, this is an easy vegan soup packed with plant-based protein and lots of flavors. Get the recipe.
Seared Cod In Tomato-Caper Sauce
The easiest and most delicious cod recipe you'll ever need. Seared to flaky perfection and served with a tangy tomato-caper sauce over mashed potatoes or rice, this cod recipe makes an easy and delicious weeknight meal. Get the recipe.
Italian Chicken Contadina
Fall-off-the bone chicken is smothered in a rich vegetable-infused sauce. This One Pot Chicken Contadina or a Country Style Chicken is an easy Italian recipe for a hearty weeknight meal. Simple ingredients - insanely delicious result. Get the recipe.
Chicken Pumpkin Curry
Pumpkin Chicken Curry is juicy, tender chicken breasts cut into bite-size pieces and simmered in a flavorful and creamy canned pumpkin sauce. This easy and quick one-skillet recipe is bursting with flavor and perfect for a cozy autumn meal. Get the recipe.
Miso Pesto Pasta
This 30-minute Creamy Miso Pesto Pasta with Pecans is simply the best. Packed with a savory white Miso paste, garlic and crunchy Pecans, this easy vegan pasta makes a perfect recipe for busy weeknights. Get the recipe.
Creamy Mushroom Risotto
This is hands down, the best Creamy Vegan Mushroom Risotto. It's uniquely flavorful, rich, and indulgent. Ready in just 30 minutes, this easy, gluten-free risotto is a perfect choice for a date night or family dinner. Get the recipe.
Turkish Lentil Soup
This traditional Turkish Lentil Soup also called Mercimek çorbası is a uniquely fragrant, cozy and satisfying soup perfect for chilly days. You can make it in no time and enjoy for lunch or a hearty dinner. This soup is vegan and gluten-free. Get the recipe.
Finnish Salmon Soup
Tired of baked salmon dishes? Try my Lohikeitto recipe - delicious and the easiest ever salmon soup that is so popular in Finland. Made in just under 40 minutes, this cozy and hearty fish soup is sure to warm you on chilly winter nights. Get the recipe.
The Best Dairy-Free Caesar's Salad
This easy Vegan Caesar Salad is so good, you'll never go back to the original. Even omnivores will never know there're no anchovies or cheese in the dressing. Get the recipe.
Chicken In A Walnut Garlic Sauce
Chicken Satsivi is a Georgian national dish of tender chicken coated in a decadent and creamy Walnut Garlic Sauce. It's a crowd-pleasing comfort food perfect for family dinners or holidays. Get the recipe.
The Best Mushroom Stroganoff
This creamy one-pot Mushroom Stroganoff is as easy to make as it is delicious to eat. It's the ultimate comfort dish that gets along nicely with mashed potatoes, rice, or pasta. What's even better? It's easy to make with everyday ingredients. Get the recipe.
Easy Vegetable Stew
This thick and hearty Eggplant Potato Stew Recipe features chewy eggplants, tender potatoes, and aromatics full of flavor. Made with plenty of veggies in just under an hour, it's the ultimate vegan stew. Get the recipe.
Best Chickpea Curry
This easy Curry Recipe with chickpeas and coconut milk is perfect for cleaning out the fridge. Use any vegetables you have, add some aromatic spices and coconut milk, and boom; you have a fantastic and healthy plant-based meal perfect for busy days. Get the recipe.
Loaded Baked Potato
This Healthy Baked Potato is stuffed with the tastiest vegetables like spinach and mushrooms. It's easy, healthy and makes the ultimate comfort food. This Healthy Loaded Vegan Baked Potato is perfect for any occasion. Get the recipe.
Lentil Tacos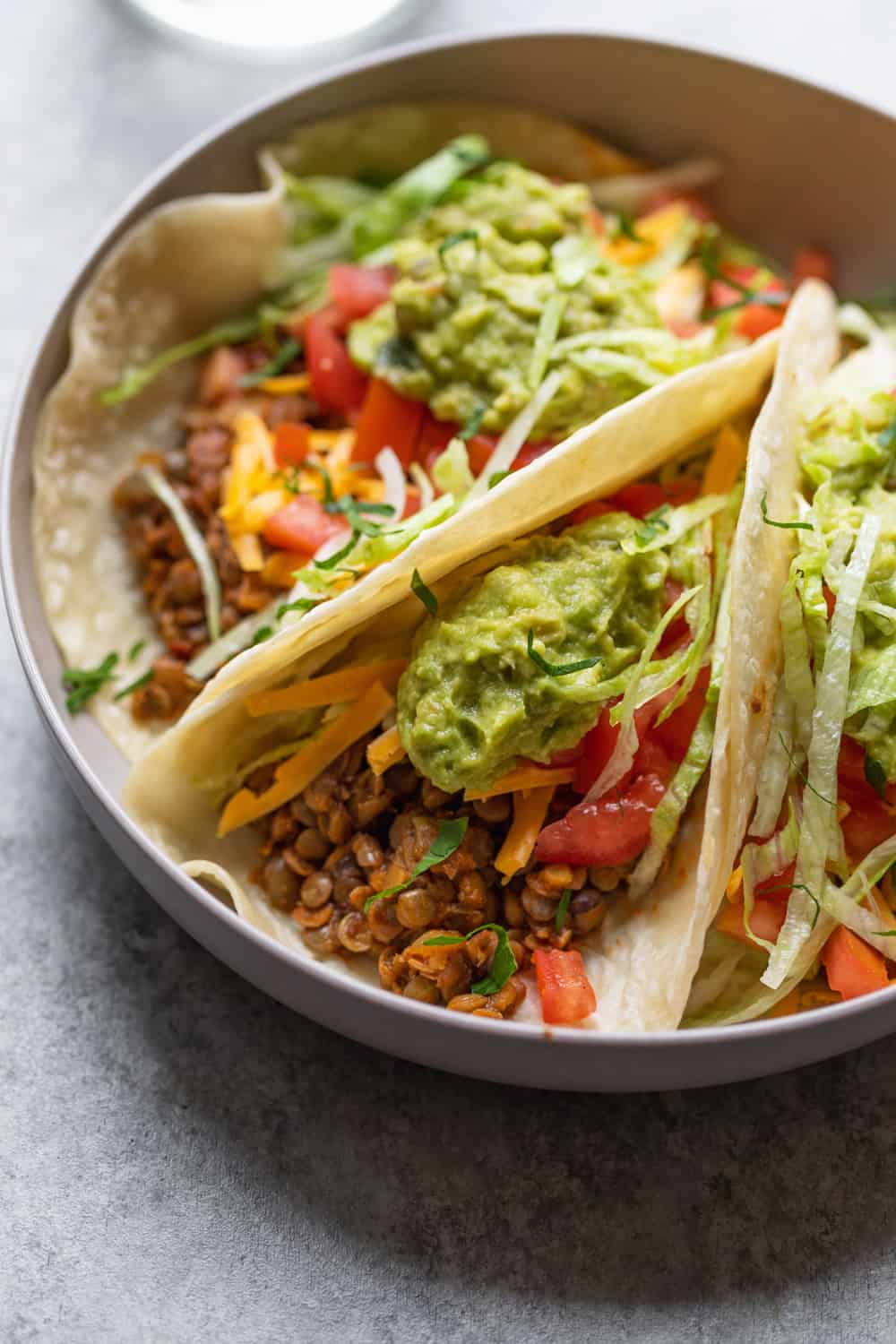 These are the BEST swap for ground meat tacos with the same amount of protein and half the fat! Get the recipe.
Creamy Tomato Risotto
This Tomato Risotto is an incredibly simple recipe but is still packed with flavor in each bite to give you a dinner meal that's sure to become a family favorite! It features perfectly cooked risotto with a beautiful, creamy texture and the fresh summer flavors of cherry tomatoes. What's best is that it's also vegan and can be made in just 30 minutes from scratch! Get the recipe.
Smoked Salmon Nicoise Salad
Smoked Salmon Nicoise Salad is vibrant, festive and so delicious! It's a perfect recipe for dinner or when you have friends over and need to make something quick yet impressive. Get the recipe.
More from Lavender & Macarons
13 Dessert Recipes That Are So Good, They'll Never Guess You Didn't Make Them Yourself
Indulge in these 13 delectable dessert recipes that taste so amazing, nobody will suspect you didn't create them from scratch. 13 Dessert Recipes That Are So Good, They'll Never Guess You Didn't Make Them Yourself.
15 Noodle Recipes That Are So Good, You'll Want to Make Them All
Discover 15 amazing noodle recipes that taste so fantastic, you'll be excited to cook and enjoy every single one. 15 Noodle Recipes That Are So Good, You'll Want to Make Them All
27 Really Good Comfort Food Dishes You Need To Be Cooking All Year Long
Explore a collection of 27 truly satisfying comfort food dishes that are perfect to cook year-round. 27 Really Good Comfort Food Dishes You Need To Be Cooking All Year Long
13 Really Good Slow Cooker Recipes You Haven't Made Yet
Explore 13 fantastic slow cooker recipes that you haven't tried yet but are really delicious. 13 Really Good Slow Cooker Recipes You Haven't Made Yet