Soups are a classic comfort food that can be enjoyed year-round. They are also a great way to get your daily dose of vegetables and other nutrients. And while meat-based soups are certainly delicious, there are also many meatless soups that are just as hearty and flavorful. Here are 22 meatless soups that are so good, even meat-eaters will love them.
Creamy Mushroom Soup
It's a Ukrainian Mushroom Soup. After you take the first sip of it, you'll instantly feel cozy and warm. Classic autumn soup with a ton of flavor. Get the recipe.
Polish Dill Pickle Soup
This Dill Pickle Soup always gets rave reviews. It is a savory bowl of deliciousness perfect for busy weeknights. Perfect for lunch or dinner, especially in cold winter weather. Get the recipe.
Mushroom And White Bean Soup
This White Bean Mushroom Soup is super easy to make, comforting, and satisfying. Made with fresh vegetables and pantry staples, this is an easy vegan soup packed with plant-based protein and lots of flavors. Get the recipe.
Finnish Salmon Soup
Tired of baked salmon dishes? Try my Lohikeitto recipe - delicious and the easiest ever salmon soup that is so popular in Finland. Made in just under 40 minutes, this cozy and hearty fish soup is sure to warm you on chilly nights. Get the recipe.
Curried Cauliflower Soup
This rich Curried Cauliflower Tomato Soup is packed with comforting flavors and good-for-you ingredients. It's easy to make, naturally vegan, paleo, and gluten-free, and is sure to warm you up from the inside out. Get the recipe.
Green Borscht
Such a delicious Green Borscht with Spinach. Classic Ukrainian recipe your whole family will enjoy. Ready to be served in 30 minutes. Get the recipe.
Old-Fashioned Minestrone
This Hearty Old-Fashioned Minestrone soup is filled with wholesome ingredients like leeks, beans, and potatoes. It's popular among kids and adults and is sure to fill you up on chilly winter days. Be sure to add some crusty bread to round out the meal. Get the recipe.
Austrian Garlic Soup
Garlic lovers rejoice! This Austrian Garlic Soup is the easiest and most delicious soup you've ever tried. So rich in flavor, creamy, and lick-your-bowl good soup. Get the recipe.
Roasted Garlic Butternut Squash Soup
A secret to making the best Healthy Butternut Squash Soup is to add a whole head of roasted garlic and a splash of coconut milk. Super easy and delicious. Eating healthy never tasted so good. This creamy soup is vegan and gluten-free too. Get the recipe.
Savory Potato And Bean Soup
This delicious and healthy Potato and Bean Soup is a light yet filling soup. It's made with crunchy cauliflower, and protein-packed Pinto beans, and comes together in just 30 minutes! Vegan and gluten-free! Get the recipe.
Hearty Sweet Potato Chili
The spicy and hearty taste of this vegetarian chili recipe will make it a family favorite. It will turn into a warm bowl of deliciousness when you pour it over some baked potatoes and cover it with cheese and sour cream. Get the recipe.
Quick Lentil Soup
This traditional Turkish Lentil Soup also called Mercimek çorbası is a uniquely fragrant, cozy, and satisfying soup perfect for chilly days. You can make it in no time and enjoy for lunch or a hearty dinner. Get the recipe.
French Onion Soup
This French Onion Soup is so easy to make! Practically hands-off. Very cozy, delicious, and perfect for chilly fall and winter nights, but also fancy to make for a date night. Replace chicken broth with a homemade (or store-bought vegetable broth). Get the recipe.
Soupe Au Pistou
This Soupe Au Pistou or Provencal Vegetable Soup is refreshing, healthy, and delicious. Great for lunch or light dinner. Get the recipe.
Solyanka Soup
This Vegetarian Solyanka is an easy soup recipe idea for busy days. It comes together quickly, requires just a handful of ingredients, and tastes refreshing and delicious. Get the recipe.
Vegetarian Taco Soup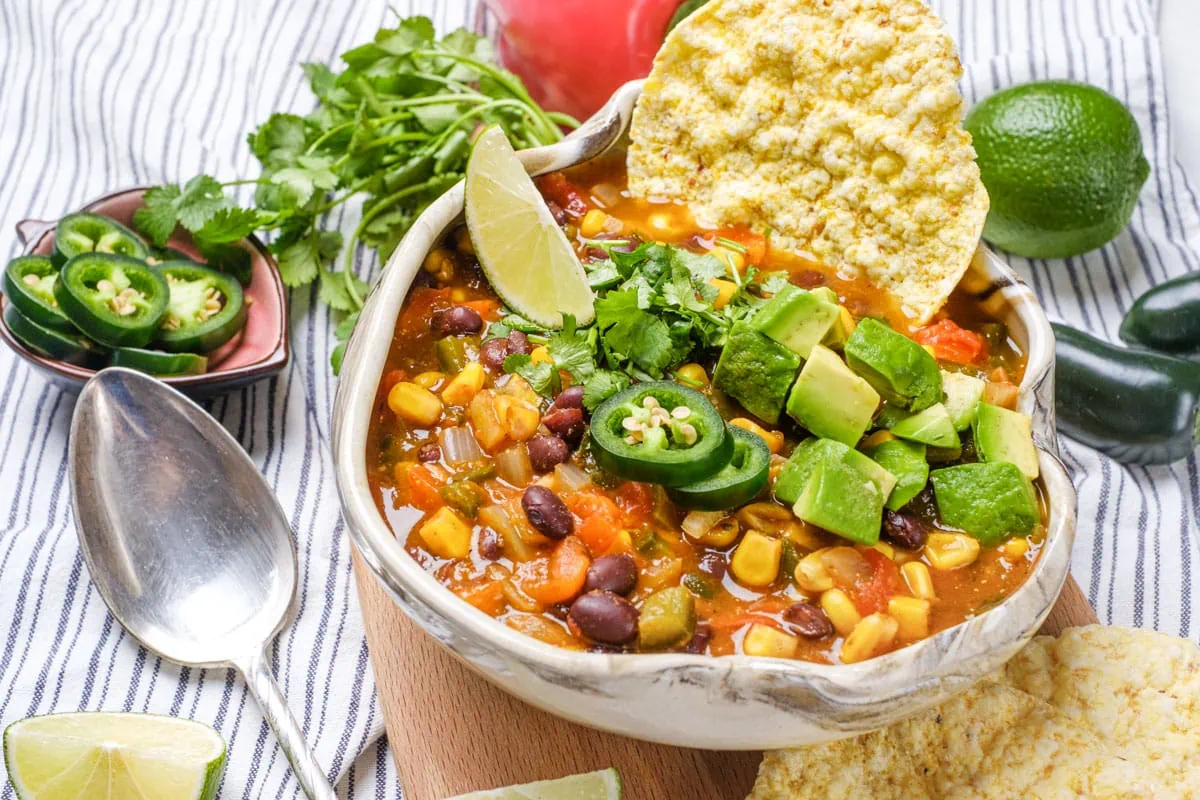 Stay warm with this healthy Vegetarian Taco Soup made in a pressure cooker. This hearty soup is a dump-and-go recipe with lots of black beans, corn, peppers, and tomatoes to create a delicious, satisfying dinner. Get the recipe.
Vegetarian Goulash (Authentic Hungarian Bean Goulash)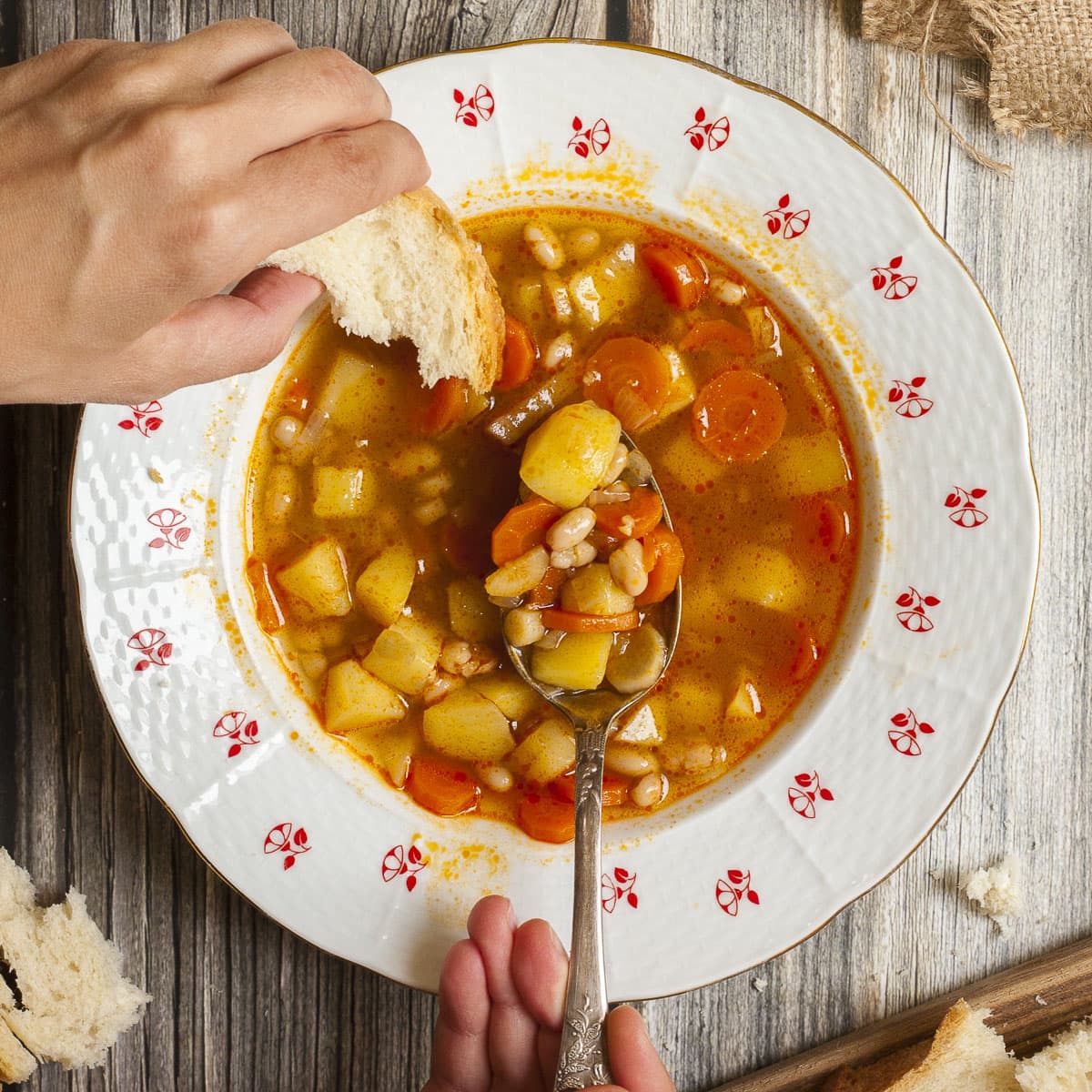 If you would like to eat a vegetarian goulash soup EXACTLY how Hungarians eat it, you should try this recipe. Our family has been making bean goulash this way for generations. It is a 30-min simple, one-pot soup using only veggies and beans. Get the recipe.
Creamy Chickpea Tortellini Soup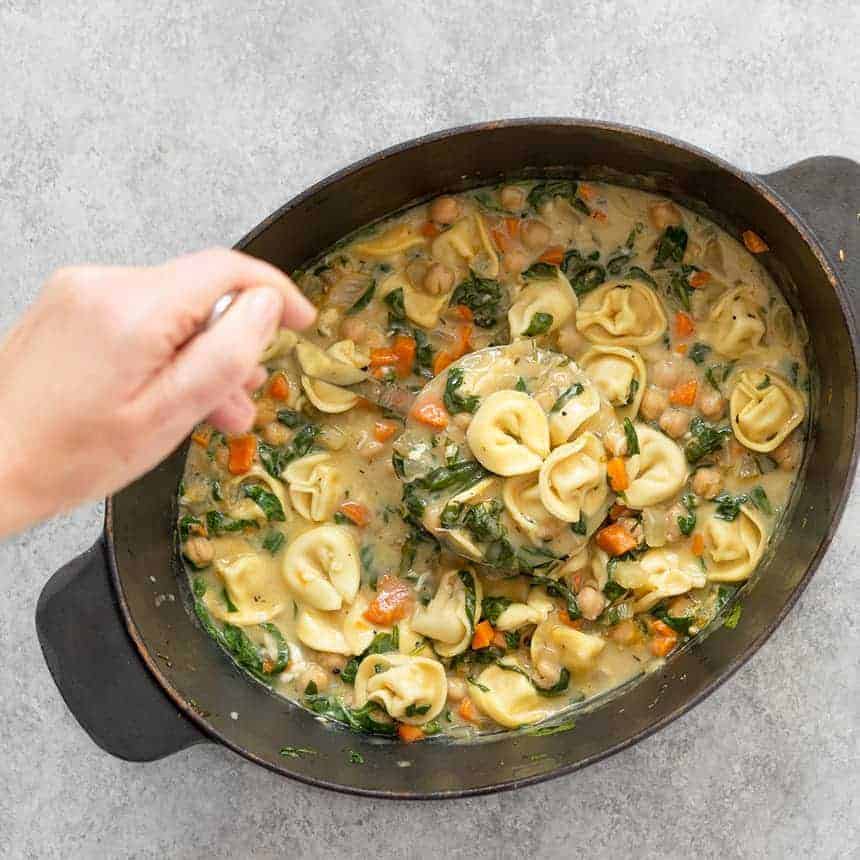 This creamy chickpea tortellini soup is the perfect weeknight meal! It's ready in less than 60 minutes and comes packed with vegetables and chickpeas.
Whoever first added tortellini to a soup was a true genius. For this recipe, I use prepackaged vegan tortellini in my own creamy base alongside all the other veggie goodies. It's comfort food perfection! Get the recipe.
Slow Cooker Tomato Basil Soup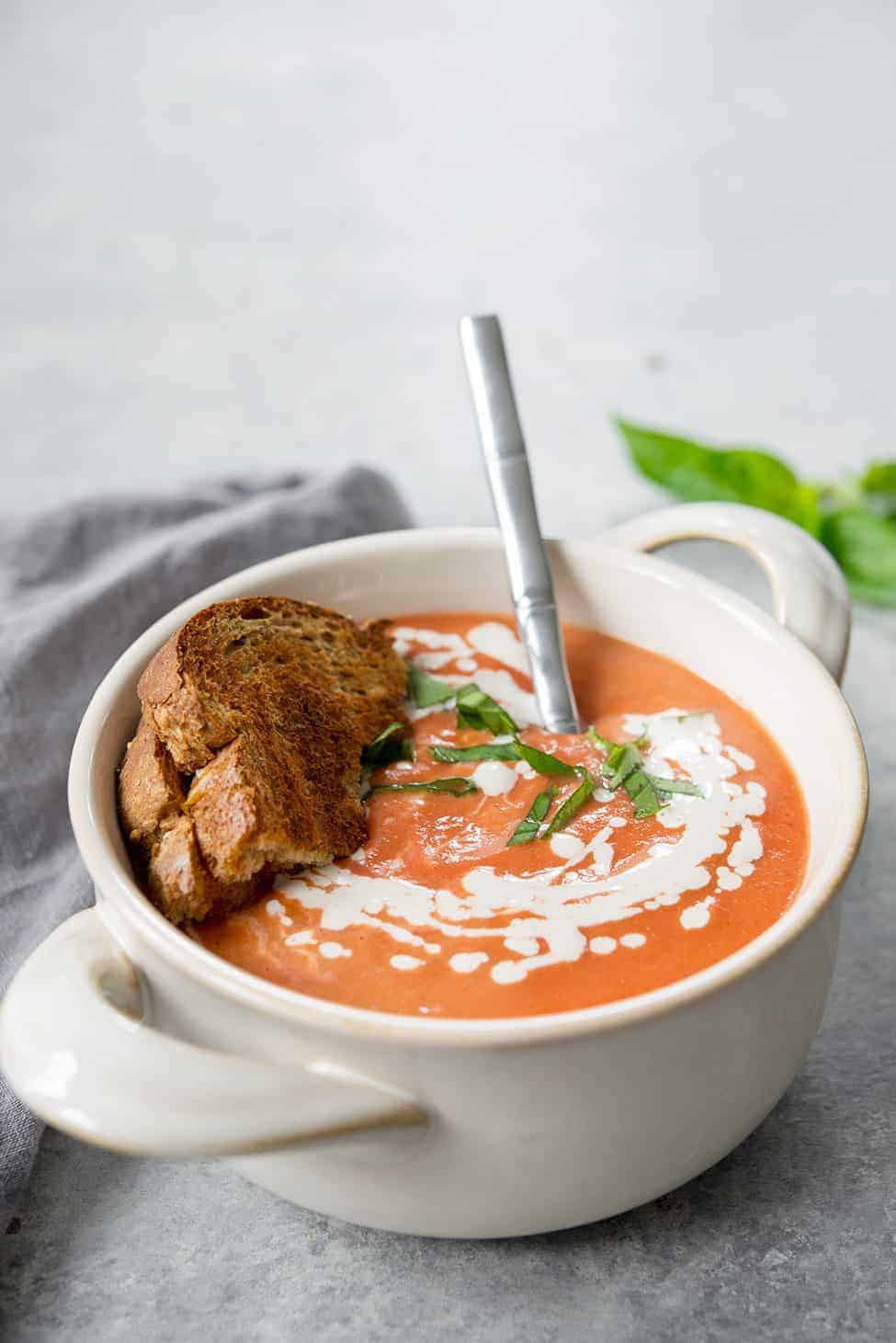 Sure, canned tomato soup is easy, but have you ever tried homemade tomato soup? It isn't even a close comparison! This soup is SO delicious and perfect for fall and winter. Throw it into the slow cooker, and dinner is served.
Creamy and delicious, this vegan soup recipe uses cashew cream at the end. Then, I use it as a dip with vegan grilled cheese, veggies, crackers, or a big hunk of crusty bread. Get the recipe.
Roasted Butternut Squash and Red Pepper Soup
Roasted butternut squash and red pepper soup with fresh sage is fragrant, thick, creamy and full of a rich intermingling of spices. Perfect for a cooler weather! Get the recipe.
Pappa al Pomodoro Soup – Italian Tomato and Bread Soup
Pappa al pomodoro soup is an Italian tomato and bread soup. This authentic Italian recipe can be prepared with stale or leftover bread and tomatoes and it makes a delicious lunch. If you love fresh flavours, this light, sweet Tuscan tomato soup will definitely appeal to your palate. Pappa al Pomodoro Soup – Italian Tomato and Bread Soup
Spicy Salsa Verde Soup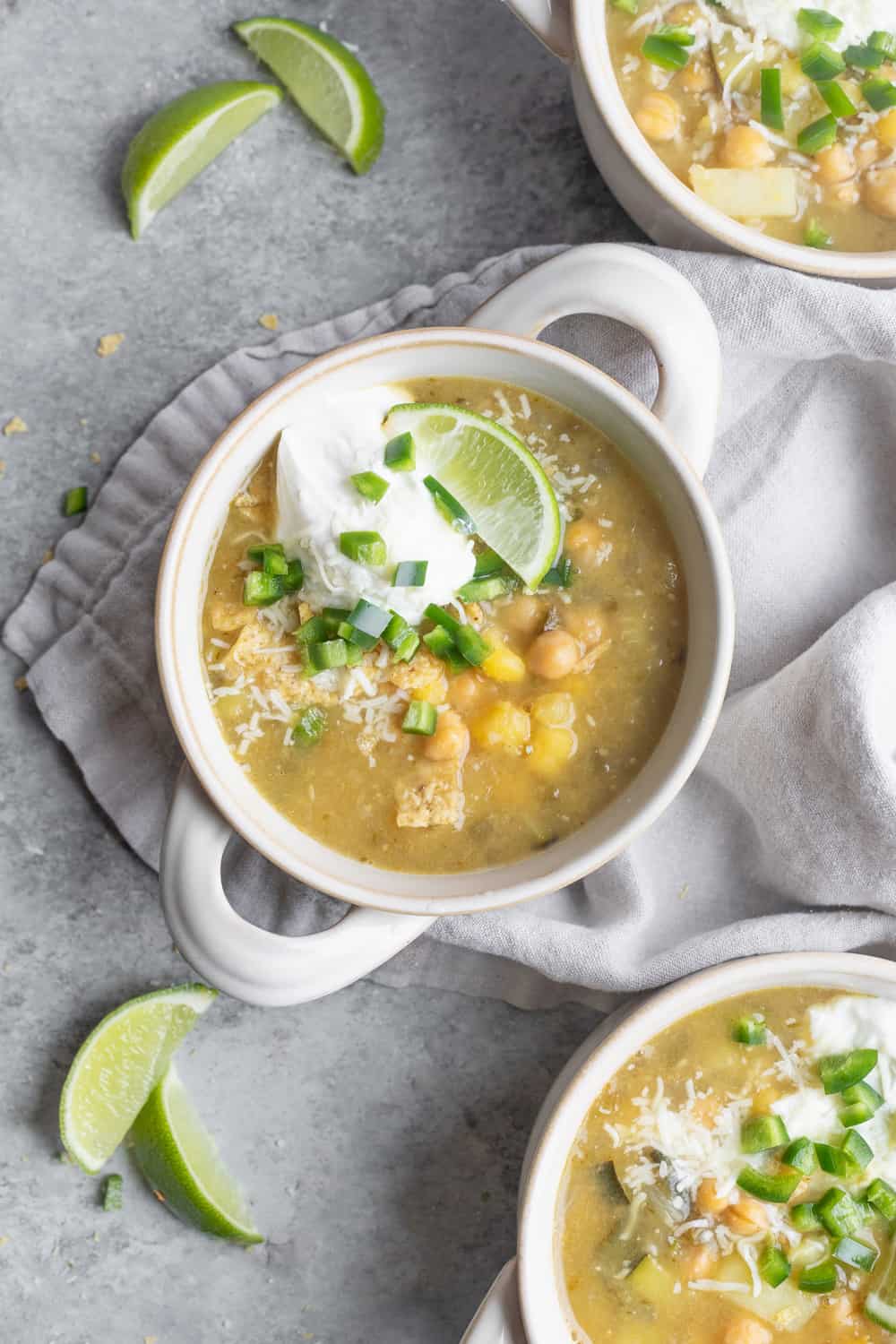 Inspired by Mexican pozole, this salsa verde soup is packed with plant-based protein and fiber! A simple, gluten-free soup that comes together quickly. Get the recipe.
More from Lavender & Macarons
All of these recipes are easy to follow and can be made at home with relatively simple ingredients. Bring the European Cafe to Your Kitchen With These 28 Amazing Recipes
A Taste of France: 17 Delicious Desserts That Are Worth Making At Home
France is known for its delicious food, and its desserts are no exception. From the traditional chocolate eclairs to the delicate creme brûlée, there's something for everyone in French pâtisserie. A Taste of France: 17 Delicious Desserts That Are Worth Making At Home
17 Salad Recipes That Will Change Your Mind About Salad
Salads get a bad rap. They're often seen as boring and bland, or as something you only eat when you're trying to be healthy. But that's not the case! Salads can be incredibly delicious and satisfying, and they're a great way to get your daily dose of fruits, vegetables, and whole grains. 17 Salad Recipes That Will Change Your Mind About Salad
17 Ways to Cook Broccoli That You'll Actually Enjoy
Find out how to make broccoli delicious in 17 different ways. These fantastic recipes will make you actually enjoy eating this healthy vegetable! 17 Ways to Cook Broccoli That You'll Actually Enjoy
17 Fantastic & Easy Seafood Recipes Everyone Needs To Try At Least Once
Indulge in the freshest seafood dishes with these 17 easy and delicious recipes. This blog post features a variety of seafood recipes that are perfect for any occasion, from risotto to baked salmon. 17 Fantastic & Easy Seafood Recipes Everyone Needs To Try At Least Once