Warm up to the season with 12 cozy and effortless autumn soup recipes that are new and delightful. These comforting soups go beyond the usual suspects, offering unique flavor combinations that will surprise your taste buds.
White Bean Mushroom Soup
This White Bean Mushroom Soup is super easy to make, comforting, and satisfying. Made with fresh vegetables and pantry staples, this is an easy vegan soup packed with plant-based protein and lots of flavors. Get the recipe.
Crockpot Chili Recipe
Not to brag, but if I had another Cook-off, I would have won it again and again. This Crockpot Chili Recipe combines all the flavors of my original Award Winning Chili but also has some new unexpected ingredients. Get the recipe.
Easy Butternut Squash Soup
A secret to making the best Butternut Squash Soup is to add a whole head of roasted garlic and a splash of coconut milk. Super easy and delicious. Eating healthy never tasted so good. Get the recipe.
Polish Dill Pickle Soup
Dill Pickle Soup is my all-time favorite soup recipe for busy weeknights. It requires merely 30 minutes of your time and provides you with a hearty and satisfying bite. This easy soup is savory and creamy and kids love it too. Perfect for lunch or dinner, especially in cold winter weather. Get the recipe.
Austrian Garlic Soup
Garlic lovers rejoice! This Austrian Garlic Soup is the easiest and most delicious soup you've ever tried. So rich in flavor, creamy, and lick-your-bowl good soup. Get the recipe.
White Chicken Chili
This yummy White Chicken Chili is ready to be served in 40 minutes. This easy and hearty soup features ground chicken, canned Cannellini beans, jalapeño pepper, and tomatoes all cooked in an aromatic and savory broth.This hearty and easy Chili recipe will keep you full and satisfied for hours. Pair it up with cornbread for the ultimate and cozy meal. Get the recipe.
Ukrainian Mushroom Soup
It's a Ukrainian Mushroom Soup. After you take the first sip of it, you'll instantly feel cozy and warm. Classic autumn soup with a ton of flavor. Get the recipe.
French Parmesan Soup
I won't lie when I tell you that French Parmesan Soup will knock your socks off. Intense Parmesan flavor, unforgettable taste, crispy bacon and garlicky croutons make this silky soup an ultimate comfort food for a cold weather. Your family will love it! Get the recipe.
Green Borscht with Spinach
Such a delicious Green Borscht with Spinach. Classic Ukrainian recipe your whole family will enjoy. Ready to be served in 30 minutes. Get the recipe.
The ABSOLUTE BEST Slow Cooker Lasagna Soup
You are going to agree that this is the best slow cooker lasagna soup recipe! There are quite a few ingredients that go into a crockpot lasagna soup but, trust me, it's an easy crockpot Italian dinner and this hearty slow cooker soup tastes amazing! Get the recipe.
Simple Ribollita Italian Bean Soup
Ribollita Italian bean soup combines a variety of vegetables with beans, broth, wine, garlic, and seasonings. The resulting white bean kale soup is hearty, healthy and delicious. You can get creative with it, adding in any veggies in the salad drawer you wish to use up or anything approaching the end of its prime. This simple Italian soup recipe is sometimes known as Tuscan bean soup or Italian bread and vegetable soup. Get the recipe.
Coconut Curry Noodle Soup with Butternut Squash
This Coconut Curry Noodle Soup with Butternut Squash + Spinach is an easy, warm and flavorful soup recipe that's naturally gluten free and vegan optional! Get the recipe.
Creamy New England Clam Chowder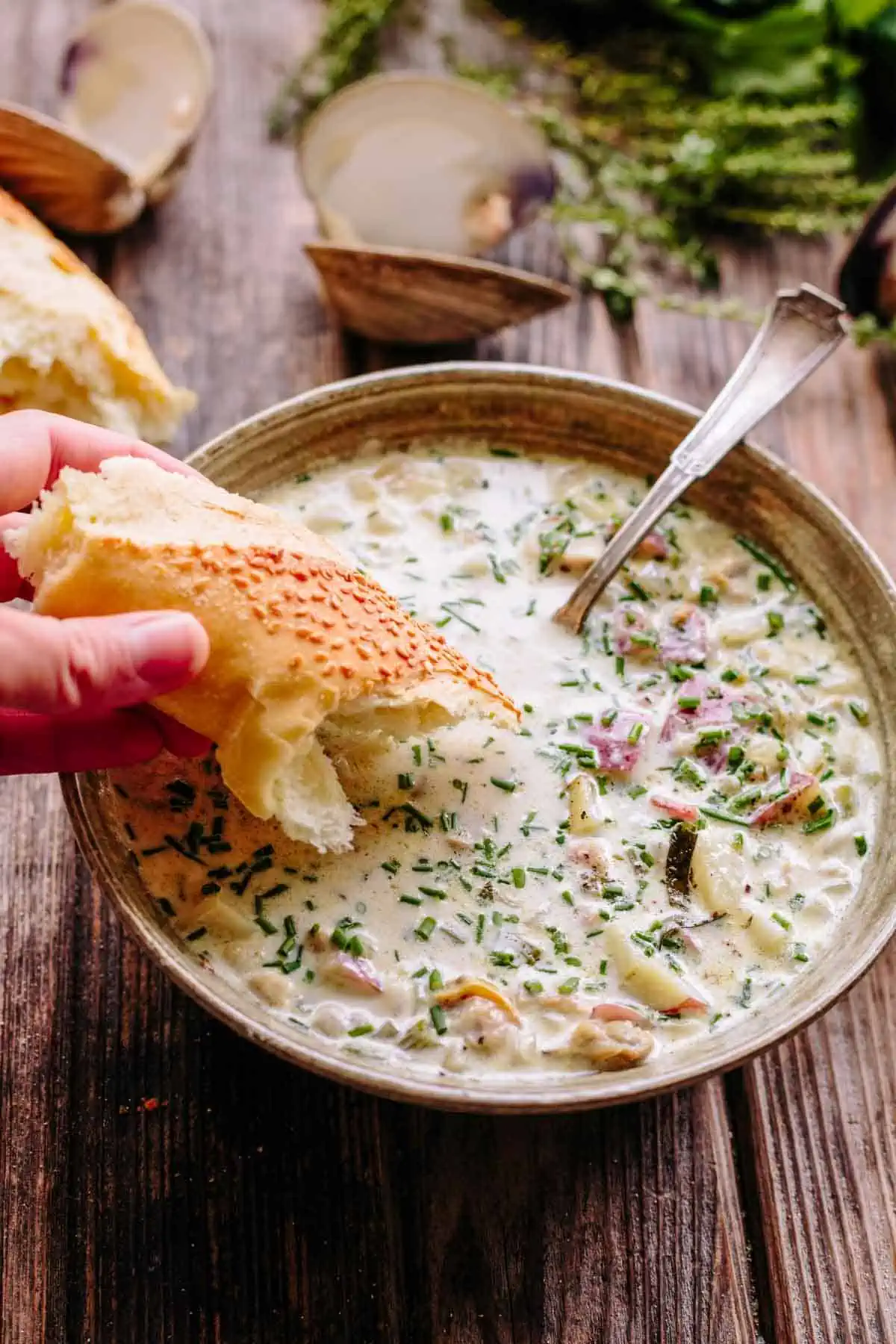 This classic, Creamy New England Clam Chowder recipe is even better than what you'll find at the best seafood restaurant. Unlike Manhattan Clam Chowder, it's creamy and filled with bacon, potatoes and tender clams. The flavor is unbeatable, plus, it's ready in less than 60 minutes! Get the recipe.
More from Lavender & Macarons
All of these recipes are easy to follow and can be made at home with relatively simple ingredients. Bring the European Cafe to Your Kitchen With These 28 Amazing Recipes
A Taste of France: 17 Delicious Desserts That Are Worth Making At Home
France is known for its delicious food, and its desserts are no exception. From the traditional chocolate eclairs to the delicate creme brûlée, there's something for everyone in French pâtisserie. A Taste of France: 17 Delicious Desserts That Are Worth Making At Home
17 Salad Recipes That Will Change Your Mind About Salad
Salads get a bad rap. They're often seen as boring and bland, or as something you only eat when you're trying to be healthy. But that's not the case! Salads can be incredibly delicious and satisfying, and they're a great way to get your daily dose of fruits, vegetables, and whole grains. 17 Salad Recipes That Will Change Your Mind About Salad
17 Ways to Cook Broccoli That You'll Actually Enjoy
Find out how to make broccoli delicious in 17 different ways. These fantastic recipes will make you actually enjoy eating this healthy vegetable! 17 Ways to Cook Broccoli That You'll Actually Enjoy
17 Fantastic & Easy Seafood Recipes Everyone Needs To Try At Least Once
Indulge in the freshest seafood dishes with these 17 easy and delicious recipes. This blog post features a variety of seafood recipes that are perfect for any occasion, from risotto to baked salmon. 17 Fantastic & Easy Seafood Recipes Everyone Needs To Try At Least Once