Explore 13 clean eating recipes for lighter, healthier meals. From vibrant salads to protein-rich bowls, these dishes are both nutritious and delicious. Embrace fresh, wholesome ingredients for nourishing, energizing dining experiences.
Pumpkin Chicken Curry
Pumpkin Chicken Curry is juicy, tender chicken breasts cut into bite-size pieces and simmered in a flavorful and creamy canned pumpkin sauce. This easy and quick one-skillet recipe is bursting with flavor and is perfect for a cozy autumn meal. Get the recipe.
Moroccan White Bean Stew
This Moroccan Slow Cooker Bean Stew, also called Loubia is the ultimate comfort food full of flavor. Made with Cannellini Beans, tomatoes and spices, these slow cooker white beans recipe are sure to warm you up on a chilly fall or winter night. Get the recipe.
Lentil Tacos With Avocado Dressing
These Lentil Tacos are one of the easiest and healthiest vegan recipes that have the perfect meat replacement! Not only does it taste amazing, but it's also budget-friendly and a great way to get started with a vegan diet. It's a protein-packed, iron-rich, and full of flavor in each bite thanks to the homemade avocado dressing. Get the recipe.
40-Minute Salmon Soup
Tired of baked salmon dishes? Try my Lohikeitto recipe - delicious and the easiest ever salmon soup that is so popular in Finland. Made in just under 40 minutes, this cozy and hearty fish soup is sure to warm you on chilly winter nights. Get the recipe.
Roasted Butternut Squash, Black Bean And Quinoa Salad
This Roasted Butternut Squash, Black Bean And Quinoa Salad is one of the easiest, most flavorful fall salad recipes, full of nutrients and healthy ingredients. Served warm or cold, this delicious salad is also a great make-ahead lunch for work or back to school. Get the recipe.
Mushroom Shawarma With Garlic Yogurt Sauce
Shawarma with fresh vegetables and homemade garlic yogurt sauce is a real crowd-pleaser. This traditional Middle Eastern recipe is quick, easy, and perfect for dinner or a party. Get the recipe.
Herbed Chicken With Farro Risotto
A new and delicious twist on a regular risotto. This Parmesan Farro Risotto in a combination with Herbed Chicken makes an easy and hearty dish for a casual get-together. Get the recipe.
Eggplant Bolognese Pasta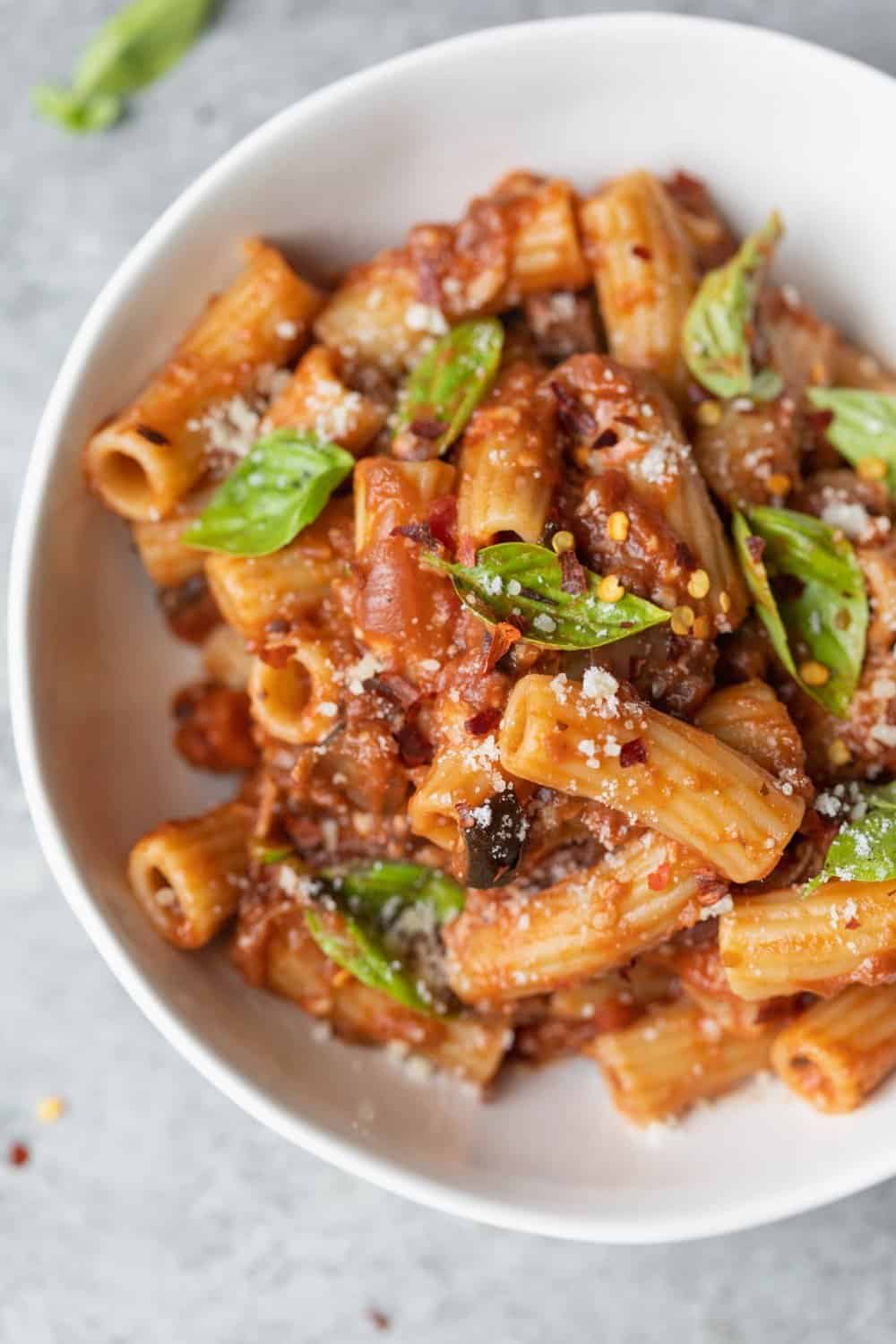 Eggplant Bolognese! You've gotta try this plant-based eggplant ragu, so hearty and full of flavor. Roasted eggplant bolognese with mushrooms served over pasta with plenty of basil. Get the recipe.
Sweet Potato Kale Salad
Craving something healthy and delicious? Look no further than this sweet potato kale salad! This dish is packed with nutrient-rich ingredients like sweet potatoes, kale, and crispy chickpeas, making it the perfect choice for those looking to fuel their bodies with wholesome goodness. Get the recipe.
Slow Cooker Chicken with Olives and Peppers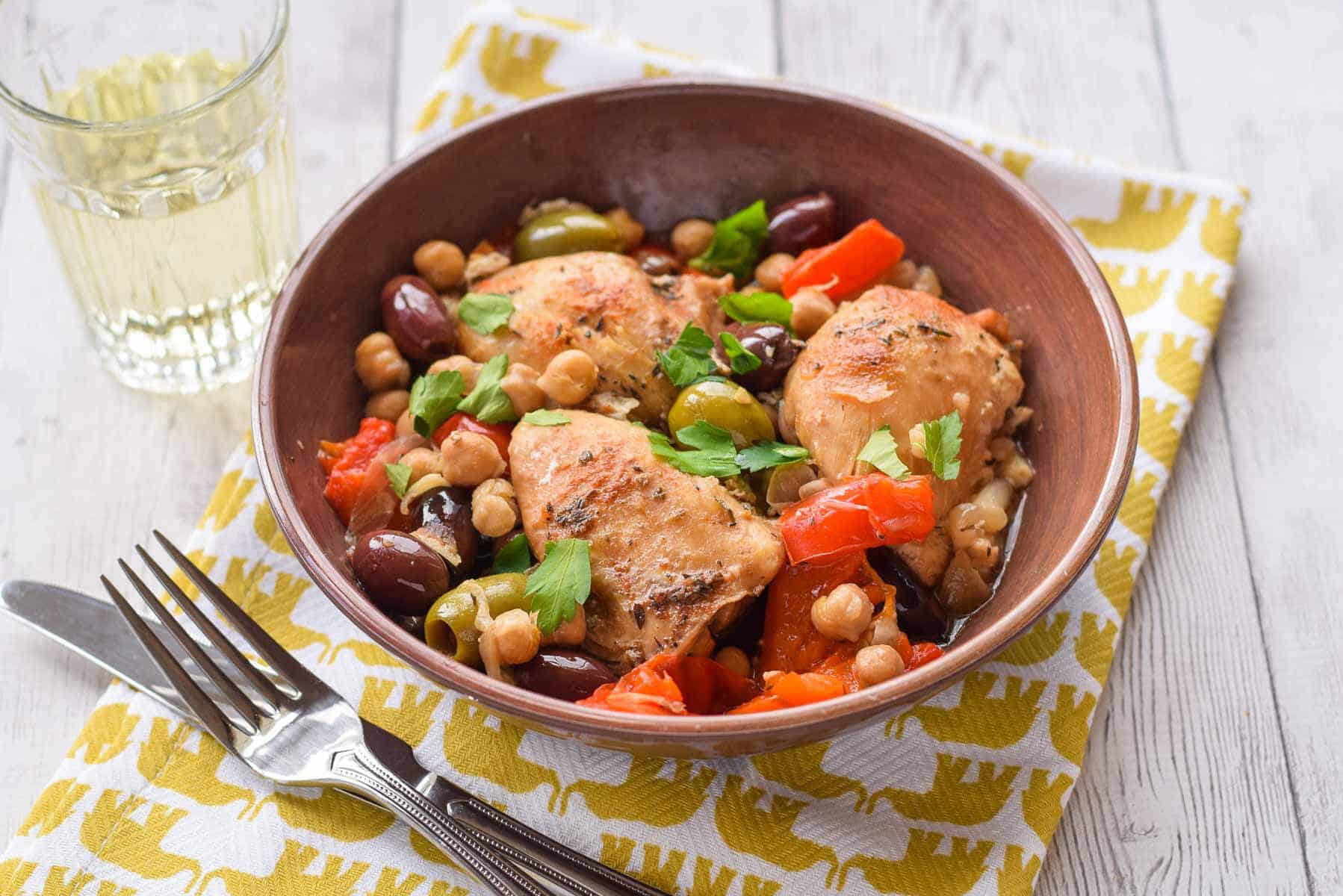 Slow Cooker Chicken with Olives and Peppers is a set-it-and-forget-it weeknight dinner the whole family will love. The chicken gets so tender, and the sauce is full of salty flavor from the olives. Get the recipe.
30-Minute Stir-Fry
These Vegan Stir Fry Noodles are incredibly easy to make, packed with flavor, and the perfect recipe for busy weeknights! It features perfectly stir-fried veggies, tasty tofu, and delicious noodles coated in a simple, flavorful homemade stir-fry sauce! Get the recipe.
20-Minute Seared Cod With Tomato-Caper Sauce
The easiest and most delicious cod recipe you'll ever need. Seared to a flaky perfection and served with a tangy tomato-caper sauce over mashed potatoes or rice, this cod recipe makes an easy and delicious weeknight meal. Get the recipe.
More from Lavender & Macarons
Ready for a tasty adventure with cod fish? These 15 amazing recipes will introduce you to exciting flavors you haven't tasted before. 15 Fantastic Recipes With Cod Fish You Haven't Tried Yet
13 Dessert Recipes That Are So Good, They'll Never Guess You Didn't Make Them Yourself
Indulge in these 13 delectable dessert recipes that taste so amazing, nobody will suspect you didn't create them from scratch. 13 Dessert Recipes That Are So Good, They'll Never Guess You Didn't Make Them Yourself.
15 Noodle Recipes That Are So Good, You'll Want to Make Them All
Discover 15 amazing noodle recipes that taste so fantastic, you'll be excited to cook and enjoy every single one. 15 Noodle Recipes That Are So Good, You'll Want to Make Them All
27 Really Good Comfort Food Dishes You Need To Be Cooking All Year Long
Explore a collection of 27 truly satisfying comfort food dishes that are perfect to cook year-round. 27 Really Good Comfort Food Dishes You Need To Be Cooking All Year Long
13 Really Good Slow Cooker Recipes You Haven't Made Yet
Explore 13 fantastic slow cooker recipes that you haven't tried yet but are really delicious. 13 Really Good Slow Cooker Recipes You Haven't Made Yet