Side dishes are often overlooked, but they can be just as important as the main course. A delicious and well-prepared side dish can really make a meal, and can be the star of your dinner table.
20-Minute Korean Style Carrot Salad
Crunchy and Spicy Korean Carrots Salad will win people over at potlucks, and picnics, and as a unique side dish in any home. Made with fresh carrots, coriander, garlic, and oil, these Korean-style marinated carrots are easy, quick, and always delicious! Ready in 20 minutes. Get the recipe.
Roasted Smashed Potatoes With Garlic Dill Sauce
So easy and delicious, these Crispy Smashed Red Potatoes With Garlic And Dill are a comfort side dish that never disappoints. Naturally vegan and made with just 4 simple ingredients, these crushed red potatoes are great for any occasion. Get the recipe.
Mediterranean Roasted Asparagus
Really easy Mediterranean Asparagus With Balsamic Drizzle And Pine Nuts. Trimmed asparagus spears are baked in olive oil until tender but crispy and then finished with a quick homemade Balsamic drizzle. This healthy vegan recipe is kid-friendly and makes a delicious dinner side. Get the recipe.
Creme Fraiche Mashed Potatoes
A side dish that goes with everything. These Mashed Potatoes With Creme Fraiche And Roasted Garlic are creamy and so flavorful. Put this recipe in your cookbook, it's going to become your favorite mashed potato recipe ever! Get the recipe.
Balsamic Roasted Green Beans And Tomatoes
A simple recipe for Roasted Green Beans And Cherry Tomatoes is taken to another level with quick Balsamic reduction and a sprinkling of vegan Parmesan cheese. An easy side dish that goes with any meal. Get the recipe.
Potato And Cauliflower Bake
This Potato And Cauliflower Bake or also called Cauliflower Au Gratin is an easy comfort food recipe that has quickly become one of the favorites in my house. It's creamy, cheesy, and such a delicious side dish for holidays as well as for Sunday night dinner. Get the recipe.
Georgian Flatbread
This Georgian Flatbread can be served as a side dish or as a vegetarian main dish with a side salad. Filled with a combination of creamy and delicious cheeses and topped with an egg, these perfectly baked Khachapuri are sure to please your family and friends. Get the recipe.
Perfect Stovetop Basmati Rice
Cooking Basmati rice on the stove has never been easier if you follow my few simple tips. As a bonus, I'll also show you how to cook rice properly to remove as much arsenic as possible. Get the recipe.
Baked Lemon Potatoes
These Roasted Mediterranean Potatoes are fully loaded with lemony oregano, garlic, and olive oil flavors. Plus, they couldn't be easier to make! No boiling is needed. Try this simple side dish the next time you're craving something fresh, unique, and flavorful. Get the recipe.
Creamy Zucchini Potato Gratin
Cheesy Potatoes And Zucchini Au Gratin is a simple recipe that requires little preparation and great rewards. Get the recipe for cheesy potatoes and zucchini au gratin here. It's an ultimate comfort food side dish for any occasion. Get the recipe.
Spicy Beet Salad
A roasted vegan beet salad is prepared by cooking the beets and then marinating them in a few flavorful ingredients. This simple beet recipe is incredibly delicious, healthy, and perfect for any time of the year. Get the recipe.
Italian Bean Salad
This Italian Cannellini Bean Salad is healthy, flavorful, and satisfying. Made with white beans, juicy roasted bell peppers, olives, marinated red onions, and dollops of vegan cashew cheese, it's the perfect cold side dish or easy lunch. A good option for picnics, potluck, or work lunches too. Get the recipe.
French Eggplant Gratin
This creamy and delicious Eggplant Gratin is smothered with a secret white sauce and topped with a generous layer or Gruyere cheese. It is a side dish that is so easy to make and will be gone before you know it. Get the recipe.
Hasselback Potatoes
These Best Hasselback potatoes are the most beautiful potato dish you'll ever make. Cut into a funky accordion shape, this crispy and delicious side dish is sure to delight your family and friends. Get the recipe.
Best Sauteed Swiss Chard
Want to know How To Cook Swiss Chard? Look no further. My Sautéed Swiss Chard recipe with garlic and tomatoes is simple yet unique. It's ready in minutes and is loaded with nutrients. This easy red chard recipe makes a wonderful and delicious addition to any recipe. Get the recipe.
Tomato Salad With Garlicky Crunch
Simple but so delicious vegan Heirloom Tomato Salad made with fresh heirloom tomatoes and addictive crunchy topping! Super easy and healthy summer side dish that goes with everything! You'll be hooked! Get the recipe.
Creamy Cauliflower Salad
Vibrant, healthy, and delicious Creamy Cauliflower Salad With Cucumber And Corn is going to be on repeat this summer. So easy to make. You'll love the creamy and herby sauce. The best part - it's mayo and oil-free. Get the recipe.
Smashed Potatoes with Parmesan Cheese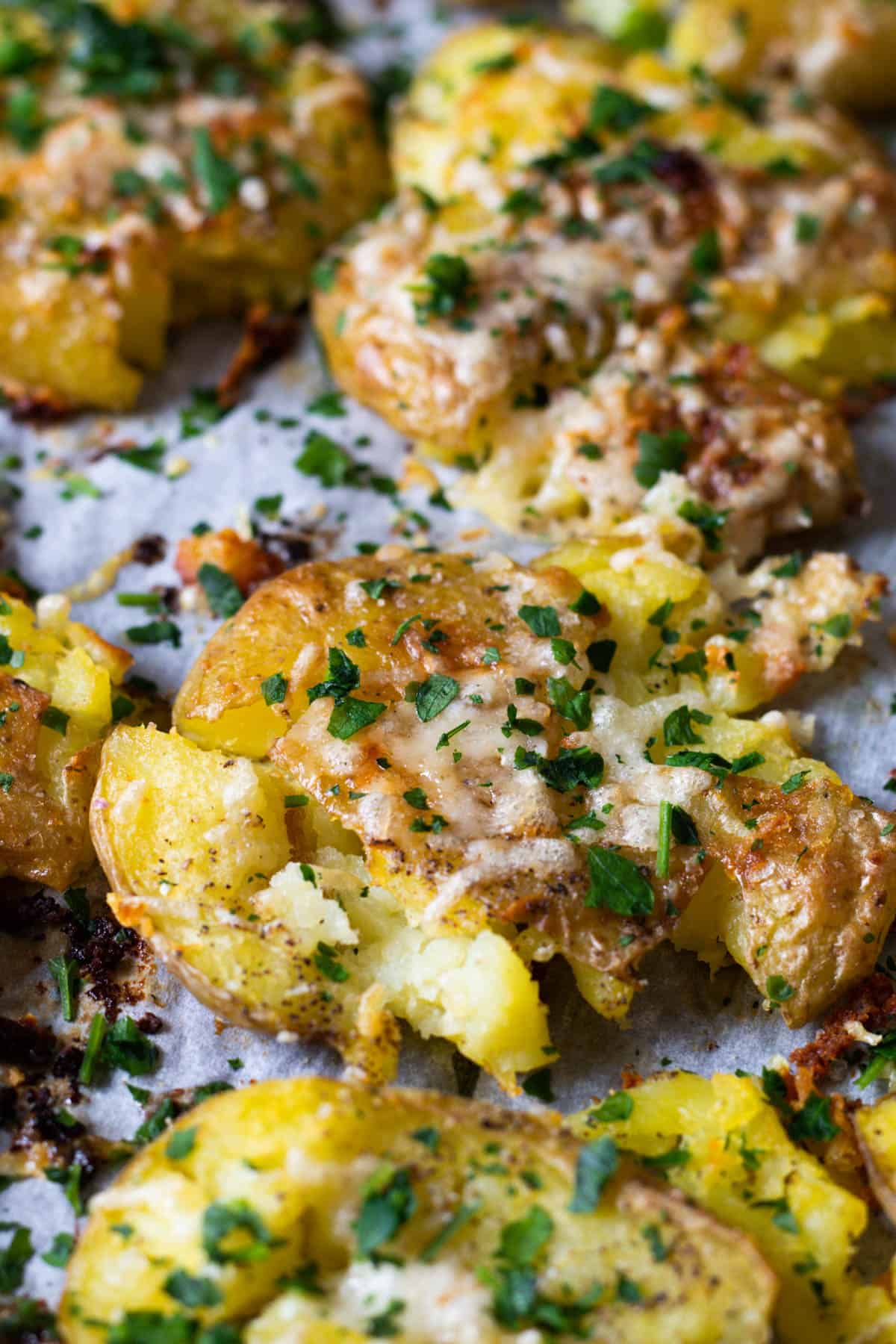 Crispy Roasted Smashed Potatoes with parmesan cheese is the perfect preppable dinner party dish. Easy to make with just a few ingredients, they turn out crispy, cheesy and just plain delicious. Get the recipe.
Avocado Salad
For us Dominicans, there is no need to dress up an avocado, but you can fancify it a bit in this simple Ensalada de Aguacate (Avocado Salad). Get the recipe.
Kale, Peach and Cabbage Slaw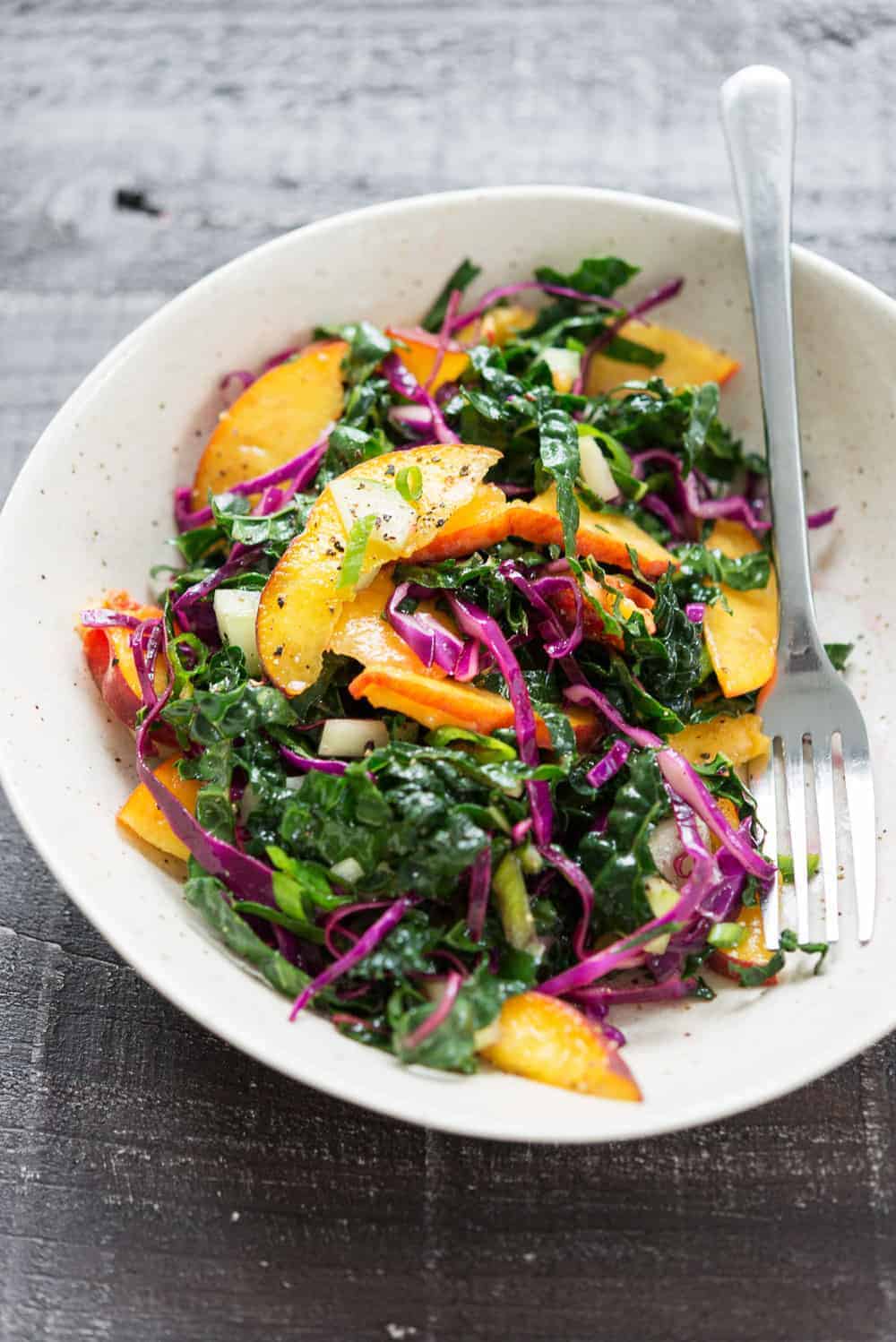 Enter this sweet and savory slaw, packed with shredded kale, cabbage and a tangy lime dressing. Get the recipe.
More from Lavender & Macarons
All of these recipes are easy to follow and can be made at home with relatively simple ingredients. Bring the European Cafe to Your Kitchen With These 28 Amazing Recipes
A Taste of France: 17 Delicious Desserts That Are Worth Making At Home
France is known for its delicious food, and its desserts are no exception. From the traditional chocolate eclairs to the delicate creme brûlée, there's something for everyone in French pâtisserie. A Taste of France: 17 Delicious Desserts That Are Worth Making At Home
17 Salad Recipes That Will Change Your Mind About Salad
Salads get a bad rap. They're often seen as boring and bland, or as something you only eat when you're trying to be healthy. But that's not the case! Salads can be incredibly delicious and satisfying, and they're a great way to get your daily dose of fruits, vegetables, and whole grains. 17 Salad Recipes That Will Change Your Mind About Salad
17 Ways to Cook Broccoli That You'll Actually Enjoy
Find out how to make broccoli delicious in 17 different ways. These fantastic recipes will make you actually enjoy eating this healthy vegetable! 17 Ways to Cook Broccoli That You'll Actually Enjoy
17 Fantastic & Easy Seafood Recipes Everyone Needs To Try At Least Once
Indulge in the freshest seafood dishes with these 17 easy and delicious recipes. This blog post features a variety of seafood recipes that are perfect for any occasion, from risotto to baked salmon. 17 Fantastic & Easy Seafood Recipes Everyone Needs To Try At Least Once